Using Potato Juice to Promote Hair Growth
Both the meat of the potato and its peel can fight hair loss and stimulate new growth, while also adding shine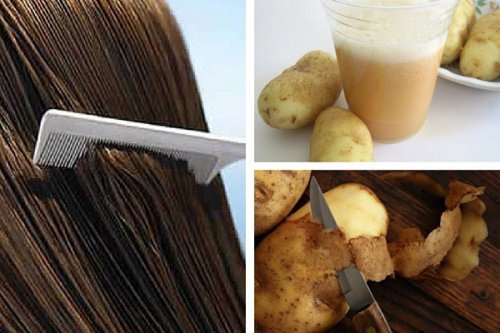 Of all the hair-related problems affecting men and women today, hair loss continues to be the number one.
This disorder, which can be caused by a variety of factors, is both a beauty and health issue that might indicate a nutritional deficiency.
It can also be caused by genetic factors and most of the time, there's a solution.
Hair loss can be accompanied by trouble growing hair, preventing it from staying healthy or long.
In response to the need to fight symptoms like these, the beauty industry has created hundreds of chemical products that can help improve the appearance and health of your hair.
These aren't preferred by everyone, however, and sometimes they're too expensive to use them on a regular basis.
Fortunately, there are some excellent natural alternatives like potato juice, which is highly valued when it comes to natural beauty treatments.
When used on the hair it promotes growth, and in a few days you'll have stronger and healthier hair.
How can potato juice promote hair growth?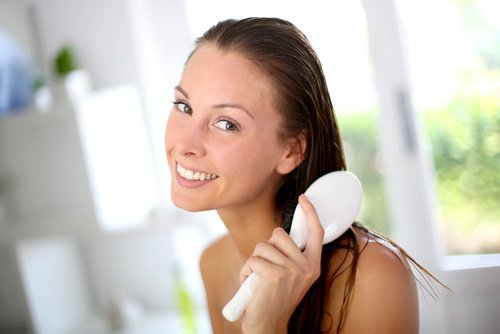 Juice from potatoes as an alternative hair treatment is a great way to provide essential nutrients like vitamins A, B, and C.
Having a deficiency in any of these can cause your hair structure to weaken, in addition to making it dry and fall out more easily.
It also provides important minerals like calcium, manganese, zinc, and iron, which play a role in both health and beauty.
Regular and moderate use of this vegetable in cooking is one way to take advantage of its benefits, but applying it directly to the hair is your best option for resolving these issues.
We recommend you read: 8 tricks for amazing hair
How to make potato juice for your hair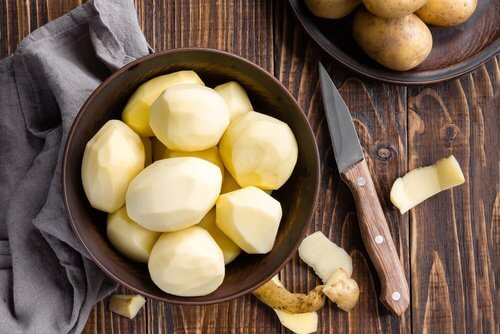 There are several ways to use potatoes to fight hair loss.
The juice is one of the best options because it includes all the vitamins from this vegetable as a more effective solution.
Ingredients
4 potatoes
1/2 cup of water (100 ml)
Preparation
To begin, wash the potatoes and cut them into large pieces.
Add them to a blender with the half cup of water and process until they're well incorporated.
Once you achieve a puree-like consistency, press the pulp through a muslin cloth and into a container.
Once you've separated the juice from the pulp, go ahead with the following treatment.
Mode of application
To stimulate hair growth and give you thicker, healthier hair, you should first apply the potato juice to your scalp using a gentle massage.
Then apply the juice to the rest of your hair and cover your head with a shower cap.
Wait 20 to 25 minutes and then rinse with warm or cold water.
You should use this treatment every day until you start to see results. Once you notice an improvement you can continue using it up to three times a week.
In addition to its ability to promote healthy hair growth, this treatment will also give you incredible shine and body.
Potato water for stronger hair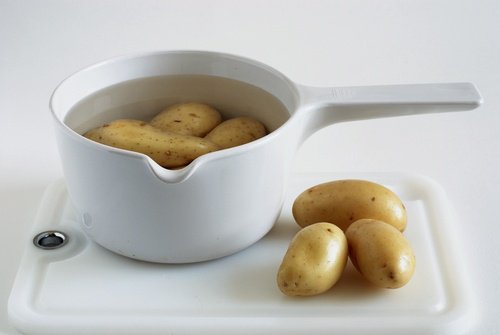 The pulp of the potato isn't the only part you can use to nourish your hair.
Using the peel you can make a different kind of juice to strengthen it
and complement the above treatment for hair loss.
See also: Benefits of potatoes for health
Ingredients
Potato peels
1 liter of water
Preparation
Thoroughly wash the potato peels to remove any traces of soil and then bring them to a boil with the liter of water.
After they've cooked for a few minutes, remove from heat and allow it to cool.
Mode of application
You can use the cooking liquid as a final rinse after washing your hair.
Repeat this two to three times a week for the best results.
What's more is that this not only improves hair growth: it acts as a natural conditioner for brighter and less damaged hair.
In conclusion, it's worth seeing if potatoes can improve the health of your own hair. While the effects aren't going to be immediate, people who use it on a regular basis swear by its many benefits.