Colorful Smoothie Recipes for Every Day of the Week
Given that it's good to consume 5 portions of fruit and vegetables a day, thanks to these smoothies, you can now do it more easily, as well as getting lots of benefits for your body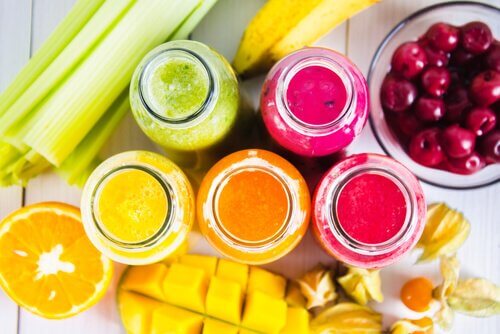 The colour of each food indicates what its main properties are, and for that reason a balanced diet should include foods of all colours, every day. So that you don't miss any nutrients, in this article we suggest a smoothie of each colour so that you can make sure you get everything your body needs throughout the week.
Try these delicious smoothies for six days, and on the seventh day mix the ingredients to suit your tastes.
Monday: White Smoothie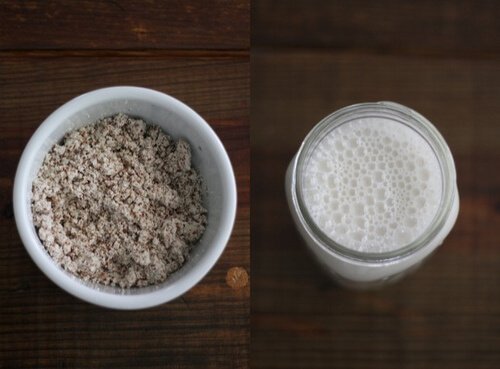 The white smoothie is nutritious and has a slight tropical and spicy taste. But, mainly, it's good for the following reasons:
Improves circulation.
Fights liquid retention.
Acts against infections and strengthens your defences.
Works as an expectorant.
Ingredients for two smoothies
5 tbsps. of crushed almonds (50 g)
10 tsps. of grated coconut (50 g)
1 tbsp. of ground ginger (10 g)
2 glasses of water (400 ml)
How to make it
Soak the almonds overnight
In the morning, blend them in the water for at least two minutes, until you get an almond milk. Remove the solids, but you can use them like flour to make biscuits or cake.
Blend the almond milk with the coconut and ginger.
If you like, you can sweeten it with some honey or agave syrup.
As an alternative you can buy the almond milk ready-made to speed things up.
Tuesday: Red Smoothie
This delicious and anti-oxidant red smoothie will surprise you with how many benefits it has:
Protects the heart.
Improves circulation.
Increases libido.
Prevents cancer.
Improves the health of the urinary system.
Helps maintain a good memory.
Ingredients
5 tbsps. of red fruits of your choice (50 g)
½ grenadine (just the seeds)
1 organic red apple with the skin
1 pinch of cayenne pepper
A glass of water (200 ml)
How to make it
Blend all the ingredients until you get a smooth mixture.
Strain it to remove any remnants of the seeds.
Use only a very small amount of cayenne pepper, especially the first time, in case you make it too spicy.
This smoothie is slightly acidic, so you may wish to sweeten it a little.
Wednesday: Orange Smoothie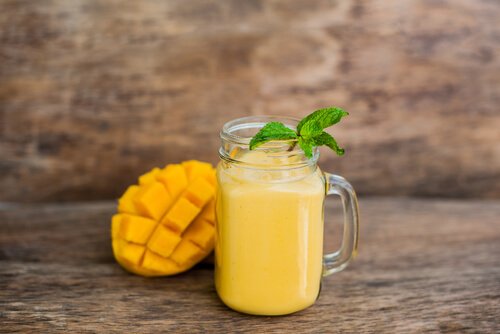 This smoothie includes ingredients of yellow and orange colours for the famous beta-carotenes.
They provide the following benefits:
Protects the skin.
Prevents cancer
Combats ageing.
Improves the health of joints and bones.
Helps treat digestive problems.
Improves sight.
Ingredients
½ ripe mango
¼ papaya
2 glasses of oat milk (400 ml)
1 tsp. of turmeric (5 g)
How to make it
Blend all the ingredients until you get a smooth mixture.
If you don't have oat milk, you can make some yourself at home.
Thursday: Green Smoothie
Green smoothies are currently very in fashion because they're very healthy and detoxifying. Despite their colour, they're really delicious.
Here are the benefits:
Improves the function of the liver and general digestive system.
Prevents constipation.
Prevents cardiovascular illnesses.
Detoxifies the body.
Improves sight.
Helps keep your teeth white.
Ingredients
½ avocado
2 ripe kiwis
A bunch of spinach
Some fresh celery leaves
A glass of water (200 ml)
How to make it
Blend the ingredients well until you get a smooth mixture. The avocado will provide a very creamy texture.
Friday: Purple Smoothie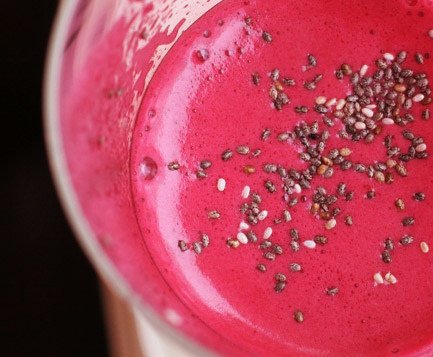 This striking smoothie is full of anti-oxidants, so it has to be in your diet.
Here are the benefits:
Fights ageing.
Prevents cancer.
Stops urinary problems like cystitis.
Helps preserve memory.
Improves vision problems.
Relaxes the nervous system.
Ingredients
3 figs, fresh or dried
3 plums, fresh or dried
½ beetroot, peeled and grated
1 glass of natural purple grape juice, without added sugar (200ml)
How to make it.
If the figs and plums are dried, leave them to soak overnight.
Blend the ingredients until you get a creamy mixture.
Saturday: Brown Smoothie
This dark smoothie includes foods that vary from brown to black.
Here are the benefits:
Provides a lot of energy and is a stimulant.
Improves the healthy of the urinary system.
Has digestive properties and improves intestinal function.
Ingredients
4 dates
1 tbsp. of cocoa (10 g)
1 tsp. of chia seeds or brown flax seeds (5 g)
Two glasses of water (200 ml)
How to make it
Put the dates and the seeds to soak overnight, and use them in the same water for the smoothie.
Blend the ingredients well until you get a smooth mixture.
Images courtesy of Food Loves Writing, madlyinlovewithlife, Antonio Picascia and Food Thinkers.