A Natural Way to Give Fine Hair More Volume
On top of giving fine hair more volume, coconut oil nourishes and repairs hair, leaving it really shiny and not oily.
Fine hair is the result of a gradual weakening of the hair follicle due to stress, environmental toxins, and harsh chemicals. While it can sometimes be genetic, it's most often the direct result of neglect, hormonal imbalances, and other factors that directly alter the scalp and strands.
This not only makes the hair have less volume. It also leads to excessive hair loss and dryness and scalp sensitivity. For this reason, it's really important to nourish your hair and scalp with revitalizing products to restore shine and strength.
Is your hair really weak and dry? Does it look dull? Below, we'll show you a 100% natural ingredient to give your hair more volume without any undesirable side effects.
A natural volumizer for fine hair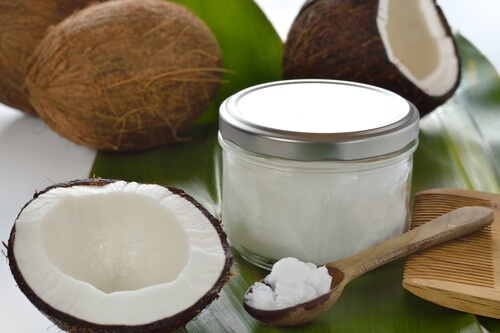 To restore hair's natural strength and volume, we recommend an ingredient that's used in many alternative cosmetic treatments: Coconut oil.
This natural product that's obtained from coconut pulp contains medium-chain fatty acids and powerful antioxidants that are good for your hair.
It doesn't contain any silicones and its active compounds easily penetrate damaged strands to stimulate repair.
Its texture makes it easy to apply and it leaves your hair soft without altering its natural oil production.
Coconut oil also contains moisturizing properties that reduce the appearance of dead cells, split ends and other problems associated with dry hair.
Its essential nutrients strengthen the roots, preventing hair loss, and promoting healthy, natural growth.
Discover: Home Remedies to Treat and Prevent Split Ends
How to make coconut oil to add volume to fine hair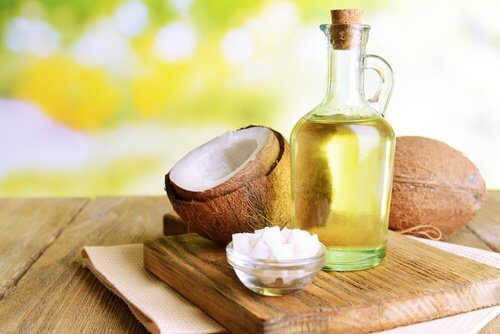 Although you can buy coconut oil at any store, you can also make it at home in a very easy way. You'll see that the recipe we share below is very simple.
Besides being excellent for volumizing hair, you can also use it to moisturize your skin.
Materials
2 coconuts
1 grater
1 cloth strainer
Instructions
Put two openings into each coconut and extract their water.
Open the coconuts and extract the pulp and grate to obtain a fine paste.
Put the pulp through a cloth strainer and squeeze all the milk out.
Now, add the coconut pulp to the coconut water and allow it to absorb before squeezing again.
Put the resulting milk into a saucepan over low heat and slowly stir with a wooden spoon.
The heat will make the oil and milk separate (you can also use a colander to separate them).
Store the oil in a glass container.
Use with moderation.
We recommend you to read: 7 Tips to Prevent Hair Loss and Promote Fast Hair Growth
How to use coconut oil to volumize fine hair
The use of coconut oil to moisturize your hair is widespread and considered to produce very good results.
To volumize fine hair with this natural product, you must apply it several times a week. It smells delicious and has a very nice texture. And, as if that weren't enough, it also absorbs easily.
Instructions
Take two tablespoons of coconut oil and heat in the microwave until it melts.
When it reaches a comfortable temperature, massage from the middle of the strands to the tips.
Work a small amount toward the scalp and massage with your fingertips until it's fully absorbed.
Cover your hair with a shower cap and leave on for at least 40 minutes.
After this time, rinse with plenty of cool water, comb your hair, and let it air dry.
In order to say goodbye to fine hair, you must care for your hair properly
After using coconut oil as part of your routine for several weeks, you'll be able to repair damaged and prevent thinning and breakage. And by applying it to healthy areas, you'll increase its volume, strength, and shine. In short, you'll be able to say goodbye to fine hair!
Remember that if you decide to use a bit of coconut oil with another ingredient as a mask, you'll be giving your hair extra nutrition. But, this alone isn't enough when it comes to caring for your hair properly. Give your hair the care it deserves by maintaining other healthy life habits as well.
Of course, the external care you give your hair is important. However, don't forget about the importance of good nutrition and hydration. Keep this in mind!
---
All cited sources were thoroughly reviewed by our team to ensure their quality, reliability, currency, and validity. The bibliography of this article was considered reliable and of academic or scientific accuracy.
---
Rele, A. S., & Mohile, R. B. (2003). Effect of mineral oil, sunflower oil, and coconut oil on prevention of hair damage. Journal of Cosmetic Science.
Gavazzoni Dias, M. F. (2015). Hair cosmetics: An overview. International Journal of Trichology. https://doi.org/10.4103/0974-7753.153450
Burnett, C. L., Bergfeld, W. F., Belsito, D. V., Klaassen, C. D., Marks, J. G., Shank, R. C., … Andersen, F. A. (2011). Final Report on the safety assessment of cocos nucifera (Coconut) oil and related ingredients. International Journal of Toxicology. https://doi.org/10.1177/1091581811400636
Asenov, A., Oliveira, F. A., Speare, R., Liesenfeld, O., Hengge, U. R., & Heukelbach, J. (2010). Efficacy of chemical and botanical over-the-counter pediculicides available in Brazil, and off-label treatments, against head lice ex vivo. International Journal of Dermatology. https://doi.org/10.1111/j.1365-4632.2009.04335.x
Burgess, I. F., Brunton, E. R., & Burgess, N. A. (2010). Clinical trial showing superiority of a coconut and anise spray over permethrin 0.43% lotion for head louse infestation, ISRCTN96469780. European Journal of Pediatrics. https://doi.org/10.1007/s00431-009-0978-0
---