How to Make Moisturizing Aloe Vera Soap
Both olive oil and aloe vera contain super moisturizing properties. Combine them in a homemade soap for extra skin softness.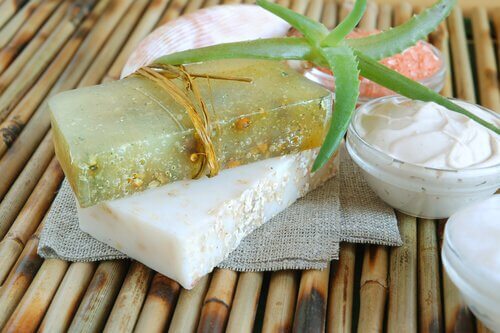 Some people find that using commercially made soaps can dry out or irritate their skin.
This is why a good alternative option is to make your own soap at home using aloe vera and olive oil to help maintain your skin's natural moisture while keeping it clean of impurities.
In today's article, find out how to make a moisturizing aloe vera soap for your face, hands, and body.
What can aloe vera do for you?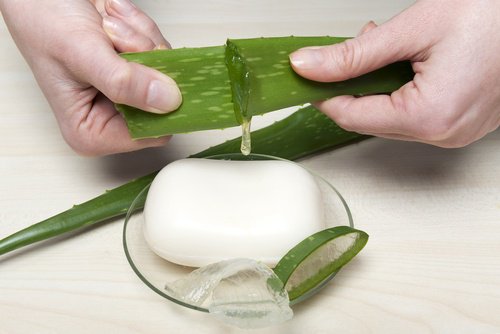 Aloe vera is a plant whose leaves contain a gelatinous pulp with numerous health benefits, whether you consume it orally or apply it to the skin.
Thanks to the soothing, antioxidant, anti-inflammatory, and regenerative properties of aloe, countless cosmetic products also incorporate the gel from this plant.
Aloe helps maintain the skin's natural moisture without making it too oily, so it's ideal for caring for combination and oily skin types, as well as those with problems with acne.
Aloe is also a favorite ingredients for gels and shampoos.
Many people already have an aloe plant growing in their garden or patio because it doesn't require a lot of care and provides a quick and effective remedy for burns, wounds, and more.
See also: Prepare a homemade soap for skin with acne
The advantages of homemade aloe vera soap
More and more people are making their own hygiene and cosmetic products at home because they get to choose and customize the ingredients that go into them. They're also able to try different recipes to see what's most suitable for their skin types.
In addition to that, making these products at home allows you to leave out some of the less beneficial ingredients for your skin and health, like synthetic perfumes, sulphates, parabens, and more.
Aloe vera soap is great for people of all skin types, so your whole family can use it. Nevertheless, you might want to explore a variety of different types through the addition of essential oils.
What ingredients do you need?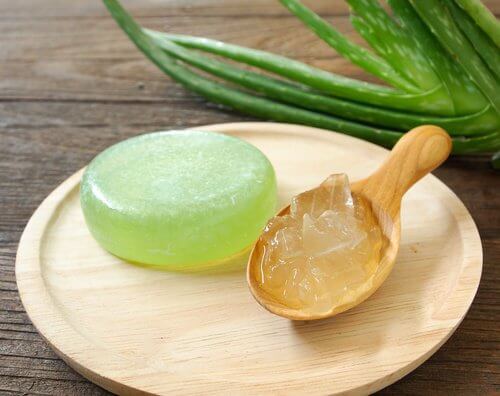 1 cup of olive oil or coconut oil (220 g)
3 tablespoons of sodium hydroxide (30 g)
6 1/2 tablespoons of distilled water (65 ml)
3 tablespoons of aloe vera gel (fresh or bottled) (45 g)
15 drops of essential oil (optional)
We recommend you read: Home remedies with olive oil
What equipment do you need?
A mold for soap, or the base of a plastic bottle
Eye protection when handling the sodium hydroxide
A hand mixer
A saucepan
A glass container
A wooden spoon
How do you make the aloe vera soap?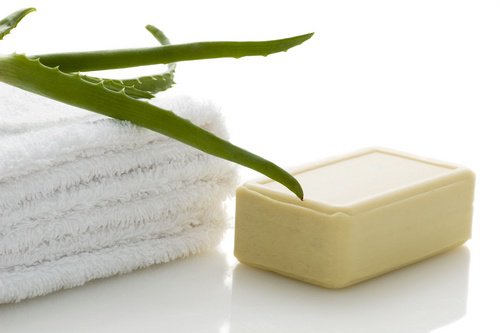 Put on the safety glasses and carefully set the glass container in the sink.
First add the sodium hydroxide and then the distilled water.
Take care to avoid any splashing.
Vapors will be produced and you should leave the mixture to cool.
Be sure to run a fan or air out the room you're working in.
Now add the olive oil and coconut oil to a saucepan over low heat, and when it reaches about 115 ° F (fairly hot), remove it from the heat and mix in the soda and water with a hand mixer.
Start with low speed to avoid splashing, and gradually beat it until it has the consistency of a gel.
Without waiting for it to cool, add the aloe vera and essential oils, and mix well.
Pour this mixture into the mold and cover it with a towel to keep the heat in.
Let it stand until cool, between 12 and 24 hours.
Once it is cool, you can remove your soap from the mold.
Store it in a cool, dry place to harden and mature, usually in a month's to two and a half months' time.
Caution
Handle sodium hydroxide very carefully and be sure to keep children and pets away from your working area.
Always use eye and hand protection because it's a very corrosive material.
If any of it gets onto your skin, immediately apply some vinegar to the area.
Glycerin soap with aloe
An easier option for making soap with aloe vera is to buy a bar of glycerin soap, warm it using a double boiler, and mix in the aloe vera gel.
Then you can pour this mixture into your mold and you'll soon have a bar of glycerin aloe vera soap.