Hair Follicle Infection Solutions: 5 Home Remedies
While an infection of the hair follicles isn't usually serious, it can be annoying because it comes with itching and inflammation and sometimes ingrown hairs.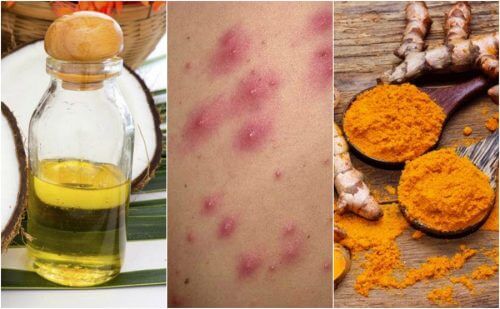 Hair follicle infection, also known as folliculitis, is a condition caused by the spread of germs. And, it is almost always of the estafilococos variety.
Also, hair follicles are found naturally on your skin. But, they can turn into pathogens if they receive certain stimuli from external agents.
It's common after shaving or using harsh methods of hair removal. However, it's also associated with wearing tight clothing, poor hygiene, and obesity.
While it's not a serious health issue, hair follicle infection can cause irritation, itching, and ingrown hairs that sometimes fill with pus.
They tend to form on areas like the glutes, underarms, and neck, since these are areas that are subject to frequent friction.
Fortunately, there are ways to speed up the healing. Certain ingredients have the ability to fight bacteria and reduce inflammation.
Here we'd like to tell you about 5 of the best options to use if you get this infection.
Take notes!
1. Turmeric and coconut oil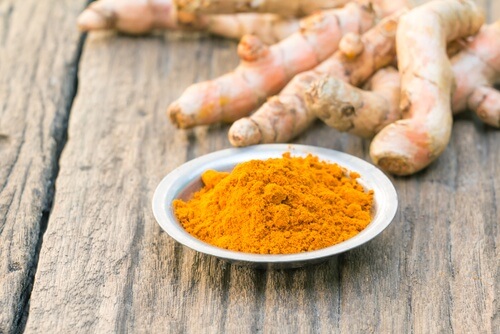 Combining turmeric with coconut oil gives you an antibacterial, exfoliating remedy. Additionally, it can help with folliculitis caused by bacteria.
It removes dead skin cells that are blocking your pores, and since it reduces inflammation, it minimizes the pain and itching.
Ingredients
1 teaspoon of powdered turmeric (5 g)
1 tablespoon of organic coconut oil (15 g)
Preparation
Add the ingredients to a container and mix until a thick paste is formed.
How to apply
First, smooth the treatment over the areas affected by folliculitis and make gentle massaging motions to stimulate your circulation.
Then, repeat every day until the hair follicle infection is under control.
"Read this too: The 8 Benefits of Turmeric That You'll Want To Know"
2. Tea tree and olive oil
Olive oil along with the special properties of tea tree oil makes an antiseptic and antibacterial solution. And, it has the ability to help with hair follicle infections.
The ingredients cleanse the surface of your skin, moisturize it, and speed up the healing process.
Ingredients
3 tablespoons of olive oil (48 g)
1/2 teaspoon of tea tree essential oil (2 g)
Preparation
How to apply
Smooth the oil over the affected areas and let sit without rinsing.
Use every day until the folliculitis has improved.
3. Oregano and coconut oil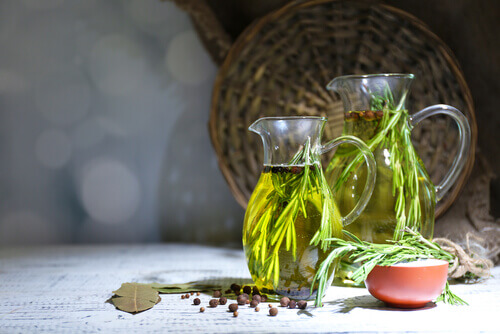 Oregano essential oil is an antibacterial and antifungal that can be applied topically to speed up the healing of foliculitis and other infections.
Its anti-inflammatory compounds help with the bumps that the condition causes, while at the same time helping remove any ingrown hairs.
Ingredients
1 teaspoon of oregano essential oil (5 g)
2 tablespoons of coconut oil (30 g)
Preparation
Add the oils to a container and mix well.
How to apply
Massage the oil into the affected areas for 5 to 8 minutes.
Let sit without rinsing and use every day.
4. Apple cider vinegar
The natural acids in apple cider vinegar give it antibacterial and anti-inflammatory properties, which are ideal for folliculitis.
They fight the bacteria that is causing the hair follicle infection. They also get rid of dead skin cells and contaminants in the follicle.
Ingredients
5 tablespoons of apple cider vinegar (50 ml)
1/4 cup of warm water (62 ml)
Preparation
Dilute the apple cider vinegar with the warm water.
How to apply
Spray the liquid over the affected areas and let it absorb without rinsing.
Repeat 2 or 3 times a day until the hair follicle infection goes away.
"Take a look at this article: Say Goodbye to Ingrown Hairs"
5. Aloe vera and rose oil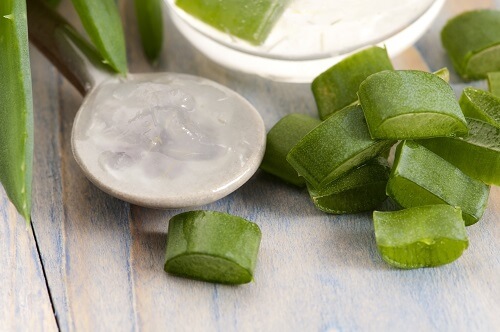 The gel found in aloe vera leaves can be combined with a bit of rose oil to make an anti-inflammatory moisturizing cream that's perfect for your skin if you have folliculitis.
Also, ot eliminates the microorganisms that are causing the problem. And, it clears your pores, it also helps with inflammation and itching.
Ingredients
2 tablespoons of aloe vera gel (30 g)
1 tablespoon of rose oil (15 g)
Preparation
Combine the aloe vera gel with the rose essential oil until well-mixed.
How to apply
First, apply the product to the irritated skin and let sit for up to 2 hours.
Then, rinse with warm water and repeat every day.
As you can see, there are many ways to disinfect and protect your skin if you ever get this kind of infection.
So, pick the one you like the best and use until you see good results.