4 Breakfast Protein Smoothies
Thanks to the combination of protein, vitamins, and minerals these smoothies help you face the start of your day with energy and keep you satisfied until lunch.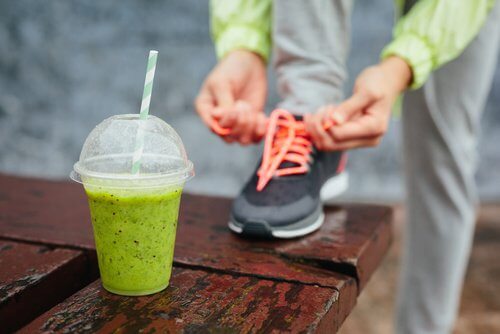 There are two reasons why it's important to add a breakfast protein smoothie to your routine. On one hand, breakfast protein smoothies can help control your appetite throughout the morning. And on the other, they give you the energy you need to start your day.
Did you know that when you skip breakfast it actually causes you to quickly gain weight?
It's true. Your metabolism slows down and by the time you get to lunch you're starving, making you load up your plate even more than normal. Instead you should start off your day with a breakfast that's high in protein, something that nutritionists can all agree on.
In today's article we invite you to try these four delicious breakfast protein smoothies that will help control your weight and give you the basic nutrients you need to get through the early hours of the day with more energy.
You wouldn't want to miss out, would you?
1. Spirulina smoothie
This rich smoothie is great for helping you recover your energy stores through protein. If you're going through a stressful time and your immune system is weakened, add a little spirulina to your breakfast protein smoothie twice a week.
You'll get the following nutirents:
Protein
Enzymes
Chlorophyll
Essential fatty acids
Vitamins A, B, E, and H
Calcium
Phosphorus
Magnesium
Discover why you should eat beets



Ingredients
1 teaspoon of spirulina powder (5 g)
1 cup of oat milk (200 ml)
1 teaspoon of ground hazelnuts (5 g)
Half of a green apple
Preparation
It's so easy. The first thing you need to do is prepare the oat milk. The kind you find in stores is usually enriched with vitamins, which makes it even better for you.
Add all ingredients to your blender.
Process until you obtain a homogeneous blend, and enjoy an egg on the side with your breakfast. It's delicious!
2. Banana, strawberry, and nut smoothie
This is one of the protein packed smoothies that's most popular and easiest to prepare. It contains multiple vitamins, antioxidants, and minerals that are great to help you start the day and fight fatigue.
Please note that we recommend drinking these smoothies in the morning, when you'll digest them better and reduce fatigue while improving your energy stores.
Ingredients
1 ripe banana
1 cup of skim milk or any vegetable-based milk (200 ml)
5 strawberries
5 nuts
1 tablespoon of honey (25 g)
Also read: 10 energy thieves
Preparation
Start by cleaning the strawberries and cutting them in half. Next, add the berries, milk, the banana, the nuts, and honey to your blender.
Process all ingredients until they're well integrated.
This breakfast protein smoothie has a fantastic flavor. Drink it while it's fresh, accompanied by a slice of rye toast with a little olive oil. You'll be amazed by how good you feel.
3. Breakfast protein smoothie with coffee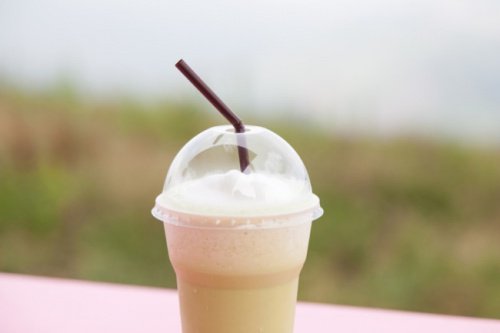 If you're one of those people who can't start their day without a cup of coffee,
here's a delicious opportunity to enjoy a cappuccino that includes lots of vitamins, minerals, and protein
. You'll love it!
Ingredients
1 cup of coffee, chilled (100 ml)
1 cup of plant-based milk, preferably hazelnut or walnut (100 ml)
1/2 teaspoon of chocolate protein powder (2 g)
1/2 teaspoon of ground cinnamon (3 g)
2 ice cubes
Sweetener (to taste)
Preparation
First of all, chocolate protein powder can be found in pharmacies or health food stores. Chocolate protein powder packs a lot of energy in small amounts and your whole family will enjoy the flavor.
In this recipe it's going to make your cappuccino taste delicious. Once you've prepared the coffee and chilled it (or try a cold press!), add it to the blender along with the milk and two grams of the protein powder.
Next, include the ground cinnamon, ice, and sweetener. Blend until you obtain a homogeneous mixture.
This is a refreshing beverage that will also help clear your head to face the day.
Discover the tips for a healthy breakfast
4. Protein-rich blueberry smoothie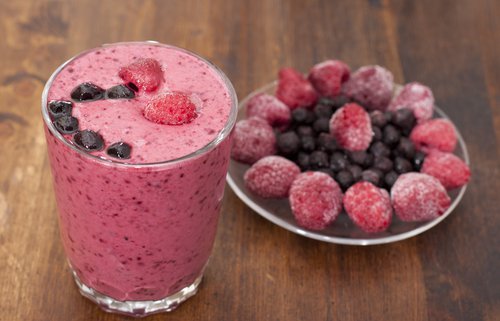 This is one of the healthiest, protein-rich smoothies you can find. You should make it any time you can find fresh blueberries, although you can also substitute strawberries.
This smoothie is packed with antioxidants, protein, and minerals that will help you feel energized and full all morning long. Try it today!
Ingredients
3 tablespoons of strawberry gelatin (20 g)
150 ml of almond milk
20 g of blueberries
1 kiwi
Honey (optional)
Preparation
To make this breakfast protein smoothie you'll need some strawberry gelatin on hand. When you blend it, it comes out very smooth and has its own beneficial properties.
Add the gelatin to the blender along with the almond milk, blueberries (thoroughly wash them first), and the peeled kiwi fruit. Process until you have a homogenous drink and add sweetener if desired. The flavor is already amazing whether you use blueberries or strawberries – just make sure that the fruit you choose is ripe.
To complete this breakfast beverages you can complement it with toast, a little ham, and a sprig of arugula. This helps you fight fatigue and make it to your main meal of the day without snacking.
Which one of these breakfast protein smoothies will you try today?