Coconut, Mint, and Cinnamon Remedy to Stimulate Hair Growth
Depending on whether you have dry or oily hair, in order to stimulate hair growth you'll have to apply this remedy either only on the ends, or over your entire head.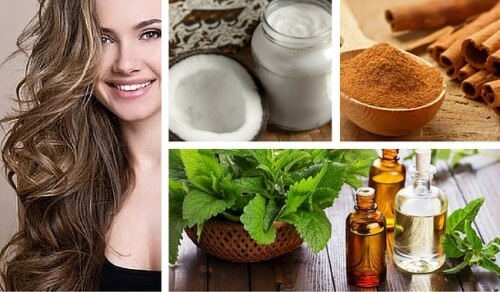 Do you feel like your hair grows too slowly or is weak?  Is your hair weak from using the blow dryer, the flat iron, or from other hair treatments?
We are going to suggest a homemade and natural remedy that will help stimulate hair growth from the roots.
Discover the properties in these three excellent medicinal remedies, along with how to make them: coconut oil, mint essential oil, and cinnamon.
How should I stimulate hair growth?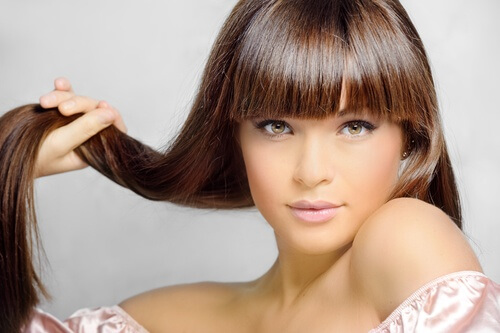 Masks and conditioners are frequently applied from mid-hair to the tips, with the intent of moisturizing, nourishing, and repairing.
But if you want to stimulate hair to grow faster and stronger, and to prevent hair loss, you'll need to treat the roots, at the scalp.
This homemade and natural treatment also helps to stabilize oil production, especially for people that easily get oily hair.  It's also effective at treating dandruff.
To prepare this remedy, you'll need the following ingredients in the suggested amounts:
Three heaping spoonfuls of extra virgin coconut oil (45 grams)
5 drops of mint essential oil
2 heaping spoonfuls of powdered Ceylon cinnamon
Below we will discuss its properties.
Oils that stimulate hair growth
Extra-virgin coconut oil is very rich in vitamins and minerals, including magnesium, copper, and selenium.  It includes antioxidant properties that make this an essential health and beauty remedy, both for hair and skin.
Even though it's an oil, which scares people with oily hair, it has nourishing and stabilizing properties for the scalp, if used continually.  It's also easily absorbed by the pores.
It also adds shine and softens hair.  This effect is often obtained artificially with conventional masks, and its effect does not last.  They use silicon and other synthetic and harmful ingredients.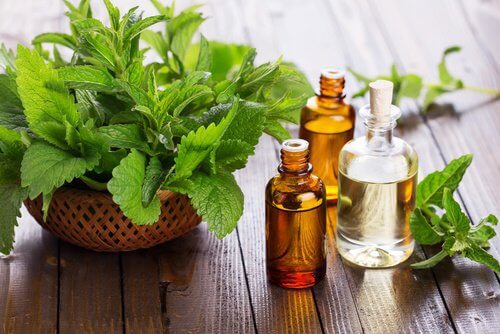 This natural treatment cannot go without essential oils, because they have extremely powerful properties in a very small amount of oil.
In this case, we've chosen mint essential oil because of how it regulates oils, both in dry hair as well as oily hair.  It also stimulates blood flow, adds freshness, and fights dandruff, thanks to its antiseptic properties.
Although you could use an infusion made from fresh mint concentrate, we suggest using essential oil for this remedy.
If using oil, make sure you're using a high quality oil that is not infused with synthetic oils created for fragrance only.
Ceylon cinnamon to stimulate hair growth
Ceylon cinnamon, just like mint, has stimulating properties that improve blood flow to the hair follicle.  But it's also great because of its benefits that prevent hair loss.
If cinnamon is used continually, you can also see beautiful cinnamon tones reflected in your hair (red-brown), and it could even lighten really dark hair.
For this hair-stimulating remedy, we suggest using powdered cinnamon because it's less expensive and convenient.  But you could also use the essential oil.
How to prepare this remedy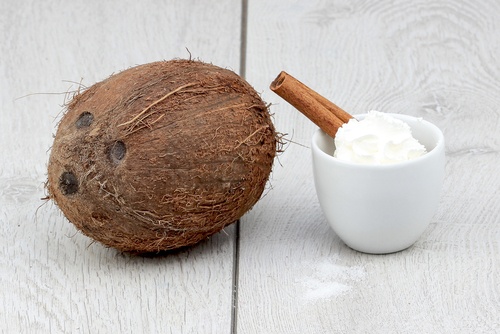 Mix all ingredients well.  You'll need to use coconut oil that is warmer than 24 degrees C, so that it melts and can be easily mixed with the other ingredients.
How to apply it
Separate your hair into sections and apply the remedy to the entire scalp.  Gently massage with your fingertips so that it is worked into the scalp.
If you have normal to dry hair, you can also apply this remedy to the rest of your hair.  If you have oily hair, simply apply it to the roots.
Cover your head with plastic and a towel to keep it warm.
Do this treatment at night before going to bed so that it can work for 6 hours.  You could also do it some day when you'll be at home.
Then wash your hair with shampoo.
Do this once or twice a week for one month.