Smoothie to Combat Alopecia and Achieve Spectacular Hair
Thanks to the vitamins and nutrients provided by this smoothie, we can combat alopecia from within with natural ingredients.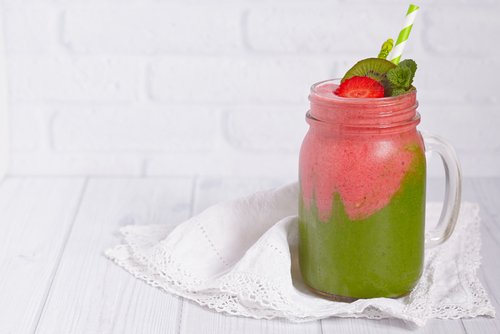 As the seasons change, especially to autumn and to spring, many men and women suffer from temporary alopecia, which in some cases can be distressing.
However, there are natural ways to prevent this, which derive form providing our body with all the nutrients it needs so our hair doesn't suffer.
In this article, we will show you how to make a delicious and healthy smoothie that will help you combat alopecia.
Combat alopecia with your diet
Alopecia can have different causes, such as endocrine disorders and nutritional deficiencies. These are the two main causes we're going to focus on.
Both hormonal disorders and deficits in vitamins and minerals can cause hair loss that can be reversible when consuming the right food.
In this article, we've selected some of these foods, which have medicinal properties that will give us what our body needs without having to take medication or supplements.
Smoothies are a simple and convenient way to consume several of these foods at the same time. Therefore, we suggest consuming a smoothie every day to prevent or combat alopecia and get healthy hair.
How to prepare the smoothie
Here are several ingredients that can be part of our smoothie which will help us combat alopecia:
Spinach
All green leafy vegetables are very beneficial for the health of the hair since they provide us with vitamins A and C, which are related to the natural hydration of the hair.
In addition, leafy vegetables also provide our body with iron as they contain abundant quantities of the nutrient. This is important because iron deficiencies can lead to alopecia.
Strawberries
Strawberries are rich folic acid and vitamins B6 and B7, and in silicon, an essential mineral for hair.
These nutrients help us to get smooth and shiny hair, while combating dandruff and other scalp problems.
Oats
All whole grains are essential for good health and for beautiful hair.
Oats contain B vitamins, which stimulate hair growth and prevent alopecia while promoting thicker, stronger hair.
Oranges
Oranges
, like the rest of citrus fruits, give us a good amount of vitamin C, which
promotes the formation of collagen, essential for healthy hair
. It also helps to have strong, soft hair.
Walnuts
Nuts are rich in minerals, which are essential for good hair health. Walnuts are a very healthy remedy for fine and brittle hair, because they give it enough elasticity so that it doesn't break, making it a great way to combat alopecia.
Flax oil
The oil extracted from flax seeds is rich in essential fatty acids, which stimulate growth from the hair follicle and help us to have hydrated hair.
It is an essential ingredient if we have dry hair or damaged ends.
Brewer's yeast
Brewer's yeast is an ideal hair, skin and nail supplement and many people take it to prevent alopecia thanks to its high vitamin and mineral content.
Visit this article: Remedy for memory with oatmeal and brewer's yeast
Maca
This root vegetable, originally from Peru, is also a very beneficial food for our hair, as it gives us a lot of vitamins and minerals, especially iron.
In addition, it's an excellent hormonal regulator for both men and women, but without the side effects.
Amounts for the smoothie
We'll need the following amounts to prepare the smoothie:
A handful of tender spinach
5 ripe strawberries (organic, if possible)
A tablespoonful of oat flakes (10 g)
One glass of freshly squeezed orange juice (200 ml)
One tablespoon of flax oil (15 g)
4 raw and unsalted nuts
One tablespoon of brewer's yeast (10 g)
One teaspoon of maca powder (5 g)
How to prepare it
First, you squeeze the juice out of an orange.
The aim is blend the orange juice along with the rest of the ingredients for at least 1 minute, until you get a creamy texture and without lumps.
It's best to consume this shake every morning, on an empty stomach, to make it more effective.
We recommend that you always prepare it just before you consume it so all its beneficial nutrients can be preserved.