How To Remove Facial Hair Naturally
In case of  having sensitive skin, choose the less irritable options to remove facial hair in order to avoid unwanted side-effects. Once finished, a moisturizing cream should be applied.
Many woman want to remove facial hair without having to use invasive or costly methods such as permanent depilation, laser or electrolysis.
The good news is that there are homemade remedies that can get rid of those unwanted facial hairs. In this article, we will talk about the most effective ones.
When Facial Hair Grows Too Much
Although it is normal to have some facial hair or fuzz on the face, sometimes we notice that it has grown more than usual. This can be due to a variety of factors.
In many cases no cause is able to be determined for the increase growth of facial hair.
How to Eliminate Facial Hair Naturally
If for some reason you have started to notice that you have more facial hair than usual, don't worry. There a many homemade recipes that can help you.
It is just a matter of having some patience and repeating the procedures as indicated.
Papaya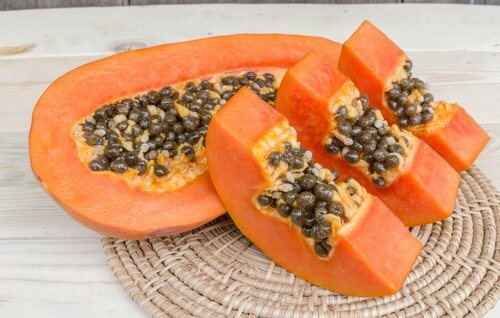 This tropical fruit has many active enzymes (for example, papain) with the capacity to break down hair follicles and prevent their growth.
The papaya helps hair to be finer and unnoticeable, and also helps to exfoliate the skin. It is perfect for women who have a sensitive dermis.
You can combine this fruit with other ingredients to increase its effectiveness.
Ingredients
2 tablespoons of papaya pulp (20g)
1/2 teaspoon of turmeric powder (2g)
Preparation
Cut the papaya in slices and process it until creamy.
Add 2 teaspoons of it in a container and add the turmeric.
Combine well and apply it on your face in circular motions.
Let it sit for 15 minutes and rinse off with warm water.
Repeat twice a week.
Read More: 6 Papaya Smoothies You Can't Miss
Bicarbonate Sodium
It is necessary to do this treatment at night time. The bicarbonate will help eliminate facial hair within days.
Ingredients
1 cup of water (250ml)
1 teaspoon of bicarbonate sodium (10g)
Preparation
Heat up water and when it reaches boiling point pour it into a cup.
Add the bicarbonate, mix well and let it cool down (at least, 15 minutes).
Soak a cotton ball with the liquid.
Put on the areas of the face you would like to remove hair from.
Hold in place with a bandage and leave on all night.
In the morning, remove the bandage and apply a moisturizing cream.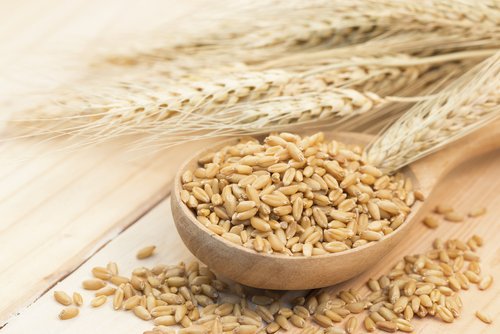 This cereal can be found in dietary areas or naturist stores in the form of flour or powder.
You can use it to remove facial hair if you repeat the procedure at least 3 times a week.
We recommend you apply it during the night to avoid skin blemishes. If you can not find barley you can substitute it with oatmeal flour.
Ingredients
1/2 cup of lemon juice (100ml)
1/2 cup of milk (100ml)
1 tablespoon of barley flour or powder (10g)
Preparation
Squeeze the lemon and put the lemon juice in a cup.
Add warm milk and the barley flour.
Stir and mix well until a semi thick consistency is obtained.
Apply on the face or over the area you wish to remove facial hair from and let it sit for 20 minutes.
Rinse with warm water and if you wish, hydrate the area with a moisturizing cream.
Chickpea Flour
Another excellent option to eliminate facial hair is chickpea flour along with other great elements that have the capacity to not only leave your skin soft but also clean and youthful.
1/2 cup of chickpea flour (100g)
1 teaspoon of turmeric powder (5g)
1/2 cup of milk (125ml)
1 tablespoon of natural yogurt (only for dry skin) (20g)
Preparation
Pour the chickpea flour in a container.
Add the turmeric and milk.
Mix well and add the yogurt (if needed).
When you accomplish a paste consistency, apply it on the areas of your face where you would like to remove hair from.
Let it sit for at least, 30 minutes.
Once time has passed, rub in soft circular motions (in the opposite direction of hair growth).
Wash with warm water and if you want, apply a moisturizing cream.
Nettle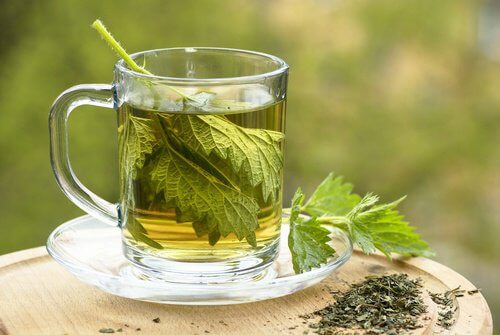 This has been used for some time because of its medicinal and esthetic properties.
The nettle oil is also useful in maintaining skin young and healthy. Therefore, you can not underestimate it!
Ingredients
4 nettle seeds
1/2 cup of olive or sunflower oil (100ml)
Preparation
Put the nettle seeds in a clean and dry glass container.
Add the chosen oil and cover with a vacuum sealed top.
Let it marinate for 15 days in a dark and warm spot.
Filter the  concoction and apply every night with a cotton ball or gauze.
Let it rest for 30 minutes and remove with warm water and neutral soap.
Read more: Treat Anemia with Nettle and Lemon
Sugar
Sugar has many uses for skin beauty. It is an excellent exfoliant but it is not recommended for women with sensitive skin because it can irritate it pretty bad.
If that is not an issue for you and you wish to remove facial hair, pay attention to this recipe (always apply at night time)
Ingredients
2 cups of sugar (400g)
1/4 cup of lemon juice (62ml)
1 cup of water (250ml)
Preparation
Heat up the water and add the sugar.
Squeeze the lemon to obtain the juice and add it to the water and sugar mixture.
Stir well until the water evaporates and you are left with a kind of soft paste.
Remove it from the heat.
Apply it over the face, making sure to cover all the areas with facial hair present (but apply it all over your face if you desire to exfoliate).
Put a cotton strip over the hairs and press firmly.
Pull the strip in the opposite direction of the hair growth.