Improve Kidney Function with an Onion Remedy
Various properties are attributed to onions, for instance, people use it to improve kidney function. For this reason, it's been included in the elaboration of various home remedies.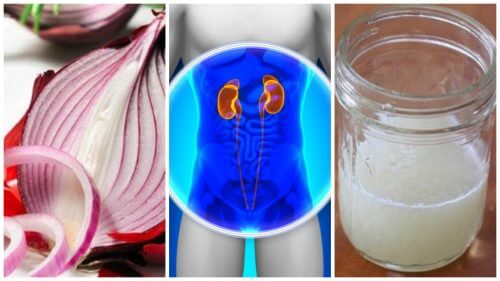 Onions are part of granny's apothecary and supposedly help improve kidney function, among other health properties. Many people also consider them useful in the relief of various discomforts such as a sore throat. Continue reading to find out more about this vegetable below.
In addition, we'll also tell you how to elaborate a remedy and explain its main ingredient along with other rather interesting facts.
Why improve kidney function?
The kidneys are the organs in charge of filtering toxins from the blood through a complex detoxification process that concludes with the expulsion of urine. Their proper functioning is decisive for the well-being of the whole organism. This is because they maintain the balance of electrolytes and other essential nutrients.
The problem is they tend to malfunction due to bad habits and it leads to several ailments that affect the quality of life.
There may not seem to be any problems early on but there may be a series of negative reactions as time goes by. These manifest through various physical symptoms. This is why you must understand the importance of maintaining the proper function of this organ and adopt a healthy diet. Also, there are some natural remedies that will help you improve it.
According to popular beliefs, an onion remedy can help improve kidney function. Continue reading to find out how to make it.
An onion remedy to improve kidney function
According to data from the Spanish Nutrition Foundation (FEN), the onion is a source of protein, potassium, vitamin C, flavonoids, and various sulfur compounds. In other words, it's a healthy ingredient everyone must include in their diet. For this reason, many already add it to countless recipes and various dishes and remedies.
The onion is one of the types of food that has been used as an ally of renal health for many centuries. It has depurative, antibiotic, and diuretic properties. Its main active ingredient, allicin, has an anti-inflammatory and diuretic action.
The onion remedy
This onion remedy supposedly helps eliminate retained fluids and, at the same time, strengthen the renal system. Some people also believe it helps relieve inflammation and various discomforts in the kidneys.
Ingredients
2 quarts of water
2 raw onions
3 sprigs of parsley
The juice of three lemons
Preparation
Incorporate the water into a pot and bring to a boil for a few minutes
Meanwhile, peel and cut the onions into smaller pieces
Once the water is boiling, pour it into a jar and add the onion
Then, add the parsley and lemon juice, and let sit for at least a couple of hours
Finally, strain the liquid and drink it
How to use this remedy to improve kidney function
Drink no more than a glass a day, as a dietary supplement
Don't ever drink large quantities of it as it could lead to unpleasant effects like stomach discomfort
You must limit sodium intake during treatment with this remedy, including table salt, as it interferes with it
In addition, skip saturated fats and sugars. Instead, increase your intake of fruit and vegetables, especially those rich in water (legumes, mushrooms, and oily fish are acceptable)
Contraindications
The consumption of this remedy may cause unwanted reactions in patients who experience acid reflux and gastric irritation
It isn't recommended for people with hypotension, as it tends to lower blood pressure
It's also not useful for those with hypoglycemia as it could lower their sugar levels to alarming levels
Consult your doctor before starting to use this remedy if you're already taking other diuretics
This onion remedy isn't a cure for any disease, nor an adjuvant treatment. However, it's a good alternative to support hydration and reduce retained liquids.
It might interest you...