What Can Oats and Green Apples Do For Your Health?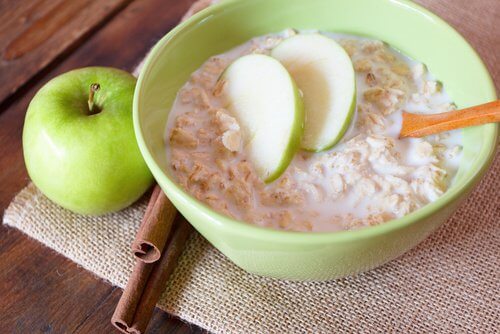 A smoothie made from oats and green apples – have you ever tried it? Lots of doctors and nutritionists recommend this simple beverage to help care for your health and lose weight. It has numerous benefits, so today we're going to talk about some of its amazing properties.
Combining oats and green apples isn't only good for helping regulate body weight, it's also an excellent choice for breakfast for the whole family! You wouldn't miss out on this, would you?
The many benefits of oats and green apples
1. Regulates the metabolism
Oats are a superfood and a great boon to your health if you consume them every day. By combining them with green apple, you get even more benefits. And would you like to know what this combo's best property is? Being an excellent regulator of the metabolism.
2. Ideal for those with high cholesterol
Don't think twice – just drink it! If your doctor has told you that you have high levels of bad cholesterol (or LDL), add oatmeal and green apple to your diet. As you know, taking better care of what you eat can, in many cases, lower harmful cholesterol levels without having to resort to medication, so it's worth considering the following:
3. Great for weight loss
We've said over and over again that oats are excellent for weight loss. Today we want to recommend yet another way you can enhance its properties… combine it with green apple! Pay attention to how you can benefit from this simple, delicious smoothie:
4. An excellent source of vitamins
This smoothie made with oatmeal and green apple is the perfect way to start off your day with a "vitamin cocktail." It's not only good for you, but can be enjoyed by any member of the family, including children and the elderly. Want to know more about what it contains?
How do you make this oat and green apple smoothie?
What do you need?
Preparation and when to drink it