How to Make a Hair Mask to Stimulate Hair Growth
Thanks to its special natural ingredients, this mask can keep your scalp healthy and make your hair stronger, better moisturized, and voluminous.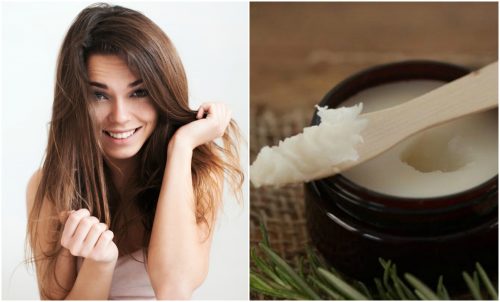 Your hair is exposed every day to all kinds of things that can impede healthy growth, especially if you tend to shed excessively.
It's such a common and bothersome problem that the cosmetic industry has been looking for ways to fight it for years.
Thus conditioners, shampoos, and a multitude of other products have been developed to help repair damage and stimulate new hair growth.
However, many are quite costly or contain chemicals that cause undesired side effects in the scalp.
What a lot of people forget is that there are actually 100% natural recipes with properties similar to the commercial options. They can even be better!
One of them is a moisturizing, rejuvenating hair mask with nutrients that will help you treat this problem while strengthening your hair.
Try it!
Homemade hair mask for healthy hair growth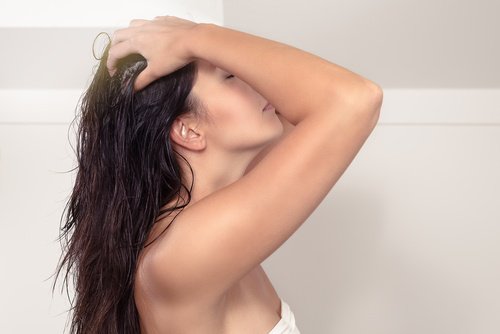 The homemade mask we'll elaborate below is a natural product that brings together the powers of ingredients like shea butter and essential oils.
They give your hair a nutrient boost that will encourage healthy growth.
It contains vitamins A and E, well-known for being rejuvenating antioxidants, ideal for minimizing damage caused by the sun and toxins.
It proves phytonutrients and essential fatty acids, which regulate your scalp's pH and help restore its natural hydration, especially when the activity of the oil glands has been affected.
The amino acids and minerals in this mask strengthen hair fibers while preventing excessive hair loss and split ends.
It is applied with a massage in order to improve blood flow to hair follicles. This is a determining factor for proper oxygenation and nutrient delivery, which helps stimulate hair growth.
It is great for people with dry hair, as it hydrates deep down and helps soften and protect cuticles to prevent damage.
It should also be noted that this mask contains castor oil, known for its ability to make hair more voluminous and correct problems like hair loss and dandruff.
How do I make this mask to stimulate hair growth?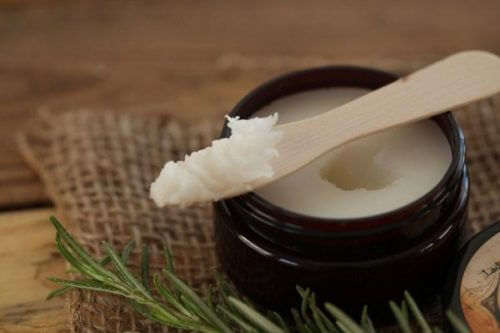 It's easy to make this homemade hair mask, and you don't need to go out and buy expensive or hard-to-find ingredients either.
In fact, if you compare the price of this mask with its conventional commercial counterparts, you'll see just how budget-friendly it is.
That said, try to get organic or 100% natural ingredients because refined varieties lack nutrients.
Ingredients
1/2 cup of shea butter (100 g)
1/4 cup of sweet almond oil (50 g)
1/4 cup of castor oil (50 g)
5 drops of rosemary essential oil
10 drops of mint essential oil
Tools
Heat-resistant container
Wooden spoon
Airtight glass jar
Hand beater
Preparation
Put the shea butter into the heat-resistant container and heat in a double-boiler for a few minutes.
Once melted, add the almond and castor oils.
Lower the heat and stir with a wooden spoon.
Add the essential oils and keep mixing for another minute.
Remove from heat, let sit for several minutes, and before it solidifies, pour into the glass jar.
Let sit in the refrigerator for a few hours and then beat with a manual beater to give it a creamy texture.
Cover well and store in a cool place.
Take a look at this article: 8 Amazing Health and Beauty Benefits of Castor Oil
How to apply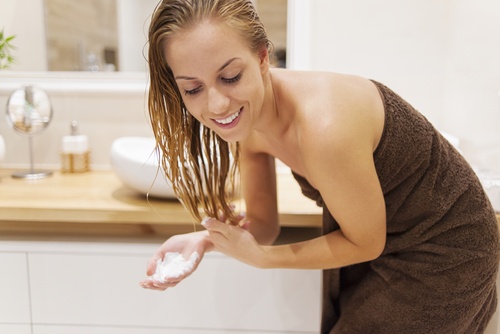 With damp hair, separate into pieces and apply the mask from the roots to the ends.
Make gentle, circular massaging movements for 5 minutes to work it into your scalp and then cover all of your hair with a shower cap.
Let sit for 20 to 30 more minutes and then shampoo like normal.
Repeat two or three times a week for best results.
Are you having trouble with dull, slow-growing hair? Try this wonderful natural mask and you'll see that you don't have to spend much to get beautiful hair.
Remember that while you won't see immediate results, you'll see a remarkable difference after multiple uses.