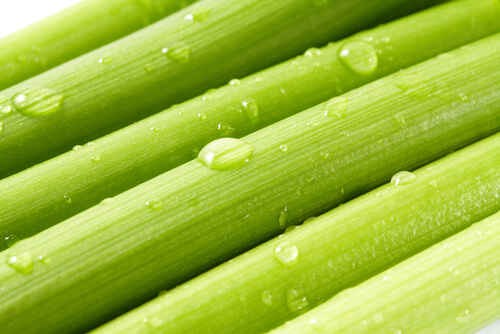 Celery is a vegetable that is just as beneficial as it is multi-purpose.  You can combine it in a wide variety of dishes and you can prepare it several different ways.  It boasts great health benefits: vitamins, minerals, fiber, and very few calories.  Would you like to know how it can also help you lose weight?
Celery has a wonderful smell and taste and it is  very low in calories (16 calories per 100 grams) which makes it commonly recommended for diets.  You can consume it in several different ways, taking advantage of its satiating function. Keep reading to find out more.
Celery's benefits for weight loss
Celery is most of all a very easily digested and healthy vegetable: comprised of 95% water, it both hydrates and cleanses us at the same time, eliminating toxins and fluid retention within the body.  Let's take a look at all of its benefits.
It contains essential oils like limonene, selenium and asparagine, which is how it obtains it cleansing and diuretic abilities.  These properties are mostly in the stalk, the seeds, and less so in the leaves.
It has a satiating effect.
It has antibacterial properties, eliminating infections and toxins.
Improves kidney transport.
Contains minerals like potassium and sodium, as well as vitamin B1, B2, and B6, basic for skin, hair, and eye care.
Regulates cholesterol and improves circulation.
Accelerates digestion, eliminates gasses.
How can I lose weight with celery?
Celery offers the possibility to eliminate fat thanks to its diuretic, cleansing and satiating function.  You must be consistent for two weeks, thereby losing up to 8 kilos in that period of time.  Below, we are going to explain to you how to do so, but remember that you should always follow a balanced diet combined with these celery preparations.
Mornings – Celery, pineapple, and cucumber smoothie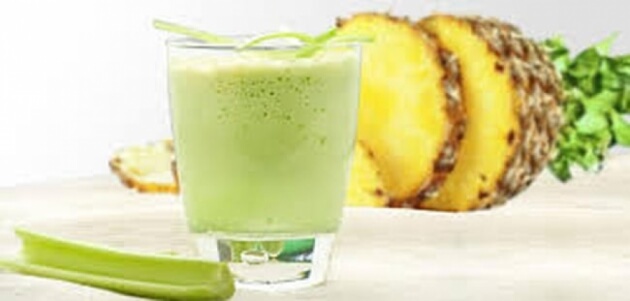 You should drink this smoothie before breakfast.  That way you will obtain the necessary vitamins and minerals to last until the following meal.  This will also provide a satiating effect on your stomach.  The pineapple and cucumber combination is definitely an excellent way of increasing its cleansing capacity.
Ingredients
Two or three celery stalks
Half of one cucumber
Two pineapple slices
One tablespoon of oat bran
Directions
Start by washing all the produce well, and then cut the cucumber into chunks, peel the pineapple, and cut the celery. Add the oat bran and blend well until forming a well-mixed juice. You can accompany it with one tablespoon of honey, and add one glass of water so it isn't so thick.
Lunch – celery soup for weight loss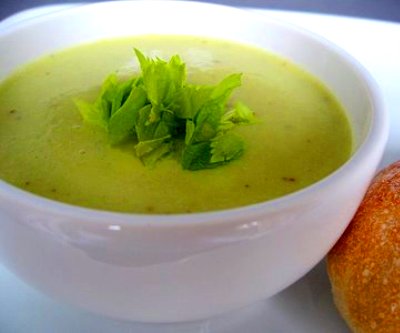 You can eat this simple soup up to three times a week.  It is cleansing, satiating, and helps burn fat.  It is also exquisitely delicious.
Ingredients
6 celery stalks
one tablespoon of olive oil
1 onion
A little bit of pepper
1 tsp. cornflower
1 liter of water with a broth cub
1 bay leaf
Directions
Start by washing and dicing the celery and onion into small pieces. Place a bit of olive oil in the pot, and when it is hot, add the celery and onion. Then add the water plus the broth cube and the bay leaf.  When it begins to boil, add the cornflower to thicken it up. Stir occasionally so that lumps do not form.
Lastly, remove the bay leaf and add a little bit of pepper.  Blend everything in the blender to make a pleasant cream.  This is very healthy and light, and as said earlier, it is good both for lunch and dinner.
 Before dinner – celery and kiwi smoothie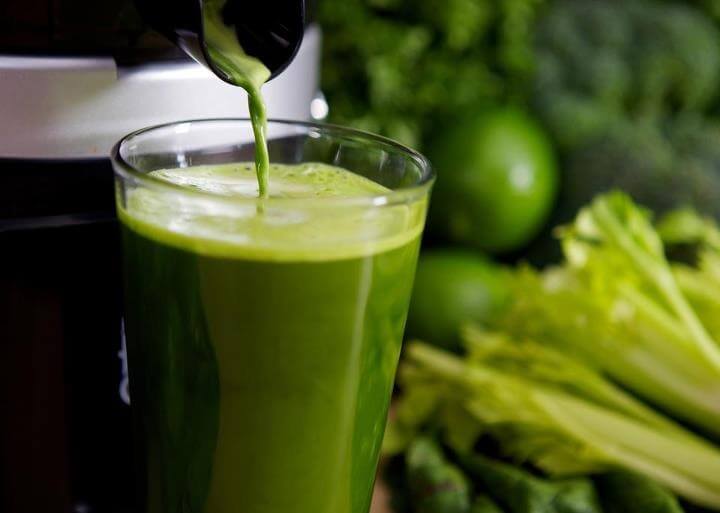 Perfect for drinking before dinner.  It provides a satiating sensation whereby you won't feel the need to eat large amounts during the last meal of the day.  It provides good nutrients and minerals as well as vitamin C and fiber.  There are perfect ingredients for eliminating retained fluids and much more.  It's also very tasty.
Ingredients
Two large kiwis
Three celery stalks
One sprig of parsley
Two oranges
Directions
Peel the kiwis and cut them into small pieces.
Dice the parsley and cut the celery into small pieces.
Squeeze the juice out of the oranges.
Add all ingredients to the blender and blend into an even mixture.  If you need to, add a sweetener, like a bit of honey.  This smoothie provides essential nutrients that are perfect for drinking 15 minutes before dinner.