Foolproof Natural Honey and Turmeric Remedy
This honey and turmeric remedy has antibiotic, analgesic and anti-inflammatory properties. But be careful—if you have some kind of health problem, it's always a good idea to see a specialist before taking it.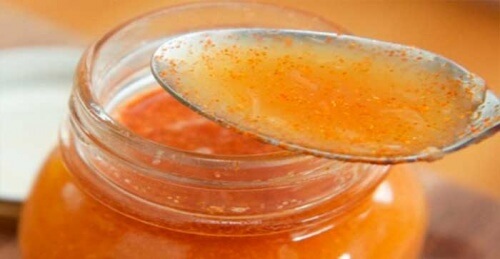 Turmeric is a traditional spice that comes from the plant family zingiberaceae, which ginger root is also a part of.
It's quite common in Asia, especially in India, where most of the world's supply of turmeric is exported from.
The root of the plant is what is used, which has active compounds that can be used both as a condiment as well as for medicinal uses.
In fact, because of its intense orange color, some companies use it as a base for making clothing dyes.
Regarding human health, however, it has been used as a natural anti-inflammatory, analgesic and for prevention.
Its high curcumin content, along with other antioxidant substances, provide it with incredible properties to fight and prevent various types of diseases.
With this in mind, there are a series of traditional cures that have been a part of alternative medicine for several centuries.
One of these also combines honey, an organic ingredient that strengthens its effects.
What benefits does this honey and turmeric remedy provide?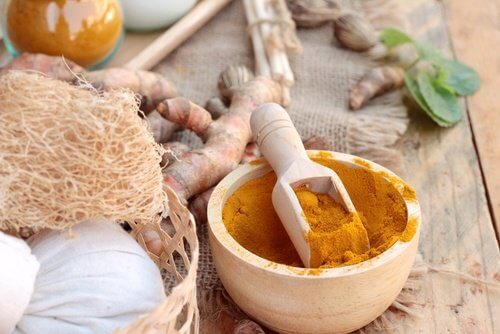 Combining turmeric with honey (known as golden honey) is a natural remedy with powerful anti-inflammatory and antibacterial properties that support the body's defenses.
It is also considered to be a potent natural antibiotic. This mixture destroys various types of viruses and bacteria which cause disease.
The advantage it has over synthetic remedies is that it doesn't cause any negative effects on intestinal flora.  In fact, it even serves as a food for increasing the presence of healthy bacteria.
It has a significant amount of polyphenols, vitamins and minerals.  It has more than 150 therapeutic uses, which includes treating inflammatory disorders and various types of cancers.
Also, because of its vitamins C and E, it prevents the destruction caused by free radicals and the deterioration associated with premature aging.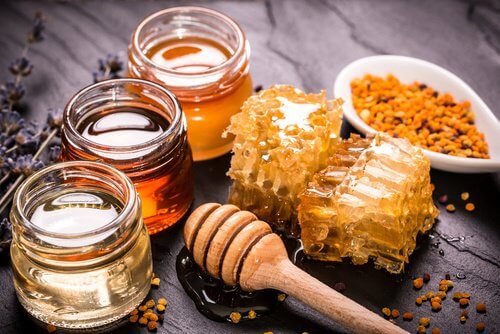 In Ayurveda, India's natural healing system, this turmeric remedy is used to fight digestive, liver and viral conditions.
But also because of its anti-inflammatory properties, it has also been shown to be effective for patients with diseases such as arthritis, osteoarthritis and gout.
More important benefits include:
Ability to fight pathogens like Sarcina, Gaffkya, Corynebacterium, and Clostridium.
Protects the brain and reduces the risk of dementia.
Eliminates toxins.
Reduces negative impact of some types of cancer treatments.
Alleviates symptoms related to the flu, colds and other respiratory conditions.
Prevents urinary tract infections.
Alleviates duodenal ulcers.
Reduces cholesterol.
Ability to improve the metabolism of fats.
 How to prepare the honey turmeric remedy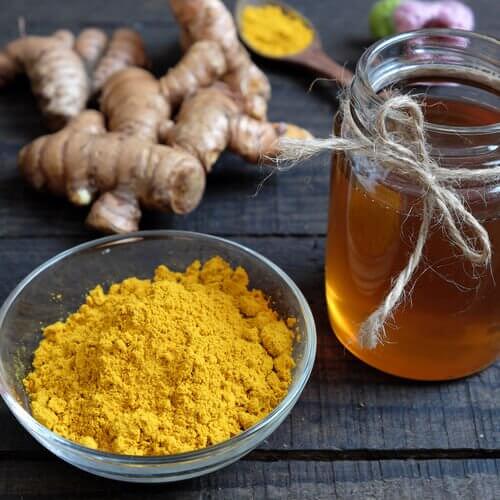 If you have any of the aforementioned health problems, it's worth trying this "golden honey" to support treatment and accelerate healing.
But it's important that we clarify that these ingredients must be 100% organic in order to get all the benefits.
Ingredients
4 Tbsp. pure honey (100 grams)
1 Tbsp. turmeric (10 grams)
Directions
Add the tablespoon of turmeric to four tablespoons of raw honey and pour the product into a hermetically sealed glass jar.
Mix before using to make sure that both ingredients are well-combined.
Method of consumption
As preventative medicine, we advise consuming 1 tablespoon of this mixture before breakfast every day.
If you have a cold, you should use half a teaspoon every hour throughout the day.  The following day, reduce the dose by one half, and take it every two hours.
Treatment lasts for about three days, or slightly longer according to the condition of your symptoms.
Make sure to hold the mixture in your mouth until it completely dissolves.  If you think it's too sweet, you could add it to a glass of warm water.
For digestive purposes, we advise taking one tablespoon diluted in water before each meal.
Important facts you should know…
Avoid consuming this and any other turmeric remedy if you suffer from gallbladder disease.
If you are pregnant or breastfeeding, consult a doctor before using this product.
Turmeric could interfere with the effect of blood thinning medications. See a specialist if you are taking pharmaceuticals for cardiac and circulatory health.
Avoid taking this if you have a surgery scheduled soon.