How to Use Ginger to Fight Abdominal Fat
In addition to leveraging the thermogenic properties of ginger to burn more fat, you can combine it with other ingredients that will help eliminate toxins and promote weight loss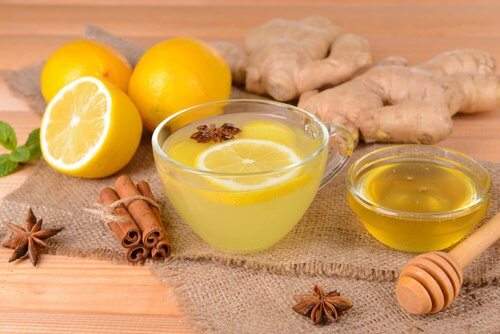 There's no doubt that the abdomen is one of those areas of the body where fat tends to accumulate.
While there are many ways to avoid it, not many people make the effort that's needed to stay slim all the time.
The key to fighting this problem is by boosting your metabolism through diet, exercise, and other healthy habits.
In addition, it's important to cleanse the body and stimulate the function of other organs like your liver, which processes fats and sugars.
This is why it's good to know that there are some natural ways to help cleanse toxins from your body and fight abdominal fat.
Among them you'll find ginger root, known for its aromatic properties and countless applications in cooking.
Today we want to share some of the main benefits of ginger to fight abdominal fat, and a variety of ways you can include it in your diet.
Don't miss out!
How does ginger fight abdominal fat and help the body?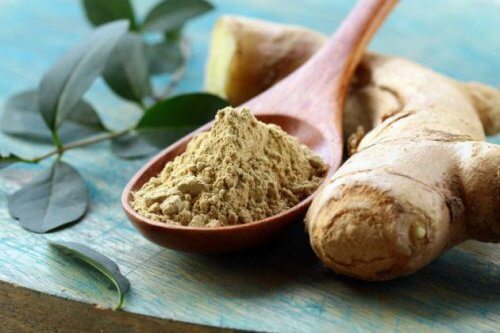 Ginger is a medicinal root that has been used for centuries as a cure for many disorders that affect the health.
It has anti-inflammatory properties and antioxidants that help improve your digestion, lower cholesterol levels, and eliminate toxins that have built up in the body.
It's been added to recipes for decades thanks to its slimming and cleansing properties.
Consumption of ginger stimulates your metabolism and improves digestion so you can fight abdominal fat.
Ginger also has diuretic effects that promote the removal of retained fluids to prevent more inflammation from occurring.
One of the main advantages of ginger is that it doesn't contain many calories and can be combined with other ingredients to enhance its properties.
We want to share several recipes that take advantage of its strengths and complement your healthy diet.
We recommend you read: 6 foods to improve digestion
How to prepare ginger to fight abdominal fat
The most common way to ingest ginger is through a simple infusion made with the root. For best results, however, you can add other ingredients that also help burn fat naturally.
Ginger and lemon tea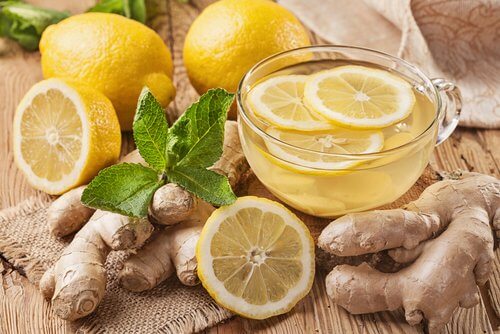 Vitamin C and antioxidants in lemon juice reinforce the effects of ginger to cleanse the liver and promote better digestion of fats.
You'll get a tea that promotes detox and the elimination of excess fluids, which supports a diet to fight abdominal fat.
Ingredients
The juice from half a lemon
1 piece of ginger root
1 cup of water (250 ml)
Honey (optional)
How do you make it?
Heat the cup of water and, just before it begins to boil, add the piece of ginger root.
Let it simmer on low heat for a few minutes before removing from heat and adding the lemon juice.
Stir well and add a little honey to sweeten, if desired.
Drink a cup of this tea before your meals.
Grapefruit and ginger juice
Grapefruit is a low calorie fruit that's been shown to have excellent effects when it comes to reducing body weight.
It has a delicious flavor that pairs nicely with the spicy touch of ginger when you combine them in a natural juice.
Ingredients
4 large grapefruits
1 teaspoon of ground ginger (3 g)
The juice of 1/4 a lemon (optional)
How do you make it?
Squeeze the juice from four large grapefruits and mix in a teaspoon of ground ginger and the lemon juice.
Drink this on an empty stomach in the morning as quickly as possible.
See also: The benefits and uses of lemon peel
Green tea with ginger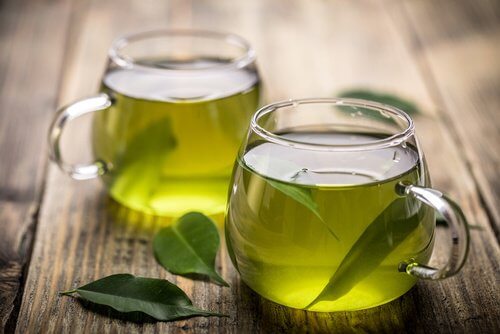 Green tea is famous thanks to its many antioxidants and incredible ability to promote weight loss.
Drinking green tea prevents fat from accumulating, controls your cholesterol levels, and improves your digestion.
Combining this beverage with a little ginger root is a great way to improve your health and trim your figure in a short amount of time.
Ingredients
1 tablespoon of green tea (10 g)
1 slice of fresh ginger
1 cup of water (250 ml)
How do you make it?
Bring the water to a boil, add the ginger, and let it simmer for a few minutes.
Remove from heat and add the green tea.
Let it steep for 10 minutes and then consume the liquid.
You can enjoy up to two cups of this tea a day.
How often should you consume these remedies?
To get all the benefits of these detoxifying remedies, we recommend you consume them regularly for a month. After this time, try drinking them 15 days on and 15 days off.
Remember that you won't see any results if you don't get some exercise and improve how you eat.