Fighting Cellulite with Sea Salt: Learn More!
Do you want to try a natural and effective way to eliminate that dimpled skin? Let us show you how sea salt can become your best friend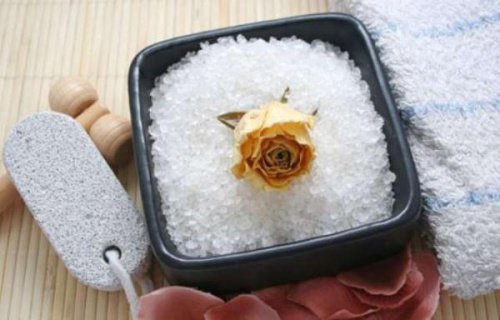 Cellulite. How could you ever get used to living with it? Almost 80% of women suffer from cellulite, and while it has a clear hereditary component, don't forget that a poor diet and leading a sedentary lifestyle will do nothing but make that dimpled skin even more visible.
Can you completely get rid of cellulite? Of course not. But you can reduce its visibility and trim your figure so that it's much less noticeable when you get back into your bikini or a pair of skinny jeans.
Fighting cellulite requires daily effort, maintaining a proper diet, and regular exercise to help you burn stored fat. But there are also some excellent treatments that you can use every week to improve its appearance.
In today's article we want to show you how you can use sea salt to fight cellulite. Are you ready to learn how?
Sea salt and its benefits against cellulite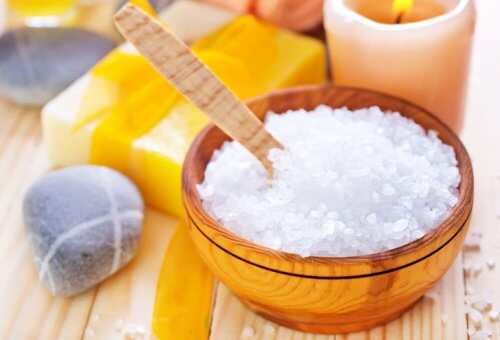 Sea salt is a great natural exfoliator,
one of the best you can find when it comes to cleansing your pores and reducing the buildup of toxins that cause inflammation, fluid retention, and that ever-present, annoying cellulite.
Not too long ago we talked about the benefits of sea salt when it comes to treating acne. This natural product that's available in nearly all grocery stores and natural food stores is a great way to decongest the tissue underneath the skin.
If you turn this sea salt treatment into more than just a part of your daily beauty routine, you'll begin to eliminate those harmful toxins that lead to cellulite.
Sea salt treatment for fighting cellulite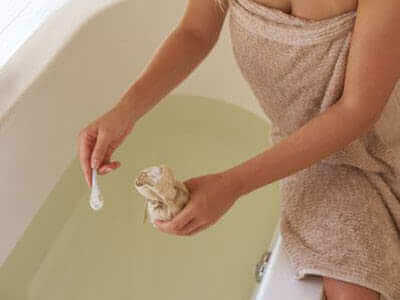 This sea salt treatment can be performed twice a week. All you need to do is prepare a detox bath to open the pores of your skin, eliminate toxins, and
provide the right nutrients you need to support a healthy tissue balance
. Pay attention to what you need and how to prepare it.
Ingredients
1 cup of sea salt (250 g)
1/2 cup of baking soda (125 g)
1 cup of magnesium sulfate salts (250 g)
20 drops of essential oil of cypress or grapefruit
20 drops of pine essential oil
15 drops of tangerine essential oil
Preparation
You should try to prepare this bath at least once or twice a week. You'll need to set aside between 35 and 40 minutes to soak and take advantage of the natural elements you use. We should also point out that you can use any essential oils you'd like for this recipe, but cypress essential oil is something that you should try to acquire. Why? It's a very effective agent against inflammation, helping to reduce those nodules of fat that cause cellulite. Cypress essential oil can be found in both specialty natural stores as well as perfumeries, and is also useful for treating acne or other inflammation of the skin.
The first thing you need to do is to mix all ingredients together in a bowl: the sea salt, baking soda, magnesium sulfate, and essential oils. Stir them thoroughly using a wooden spoon. Don't add any water at this point.
The second step is simple: pour half of this mixture into your hot bath water, which you've previously prepared.
Now, using an exfoliating sponge, you can use the other half of the sea salt mixture to massage your thighs or any other area where you have cellulite. Your massage should be energetic and circular to activate the blood flow and ensure that all the ingredients come into contact with your skin.
After you've finished with the massage, stay in the bathtub and soak for another 35 to 40 minutes. Then you can rinse and dry off normally. If you do this simple treatment every week you'll see how, gradually, your cellulite is reduced. Remember, however, that it's important to combine this treatment with the other tips we mentioned in the beginning.
Additional tips to complement your sea salt treatment for cellulite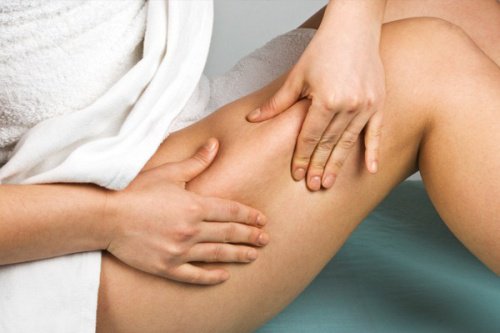 Completely eliminate salt, sugar, and soft drinks from your diet. These only cause more inflammation and fluid retention, leading to the build up of toxins!
Increase your water consumption and always start out your day with a glass of warm water and lemon juice.
Walk every day for half an hour and do some specific exercises that are targeted to increase the strength and endurance of your legs. Swimming, for example, is an ideal activity for fighting cellulite.
Add the following foods to your diet:

Beets
Bell peppers
Onion
Kale
Carrots
Spinach
Cranberries
Pineapple
Cantaloupe
Celery
Cucumber
Pumpkin seeds
Flaxseed
Chia seeds
Papaya
Blueberries
Cherries
Green tea
Sage tea
Oats