Benefits of Consuming Citrus for Breakfast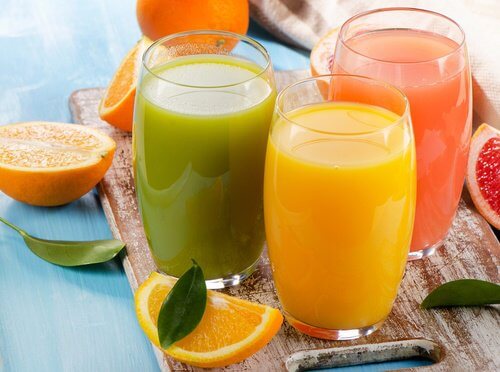 Did you know that the vitamin C and antioxidants in oranges are the perfect ally against aging and gastrointestinal problems?  Drinking this juice daily provides several health benefits.
My grandma used to say that in order to not get sick, we had to eat oranges (or drink the juice).
But citrus fruit provide a lot of other benefits, especially if you eat them during breakfast.
In this article, we are going to talk about the advantages of eating citrus for breakfast, first thing in the morning.
Properties of citrus (that you didn't know about)
We intend to demystify the amazing power of oranges, lemons and mandarins, so that you can learn about their many properties.
Beyond enhancing your immune system and helping you kick a cold (or avoiding one in the first place because of vitamin C), citrus fruits have a lot more to offer.
They're an endless source of natural benefits, and they're great to use any time of the year.
Below we are going to describe in detail a few of the benefits of consuming citrus fruit:
Care for and tone skin
Mandarin oranges have several medicinal and cosmetic benefits, thanks to their vitamin C.  You can eat them, but they're also great when used as a main ingredient in homemade masks.
But what are they used for?  For toning skin, getting rid of dirt and grime, and for treating irritation.  But when eaten, this fruit also improves blood circulation.
Reduce stress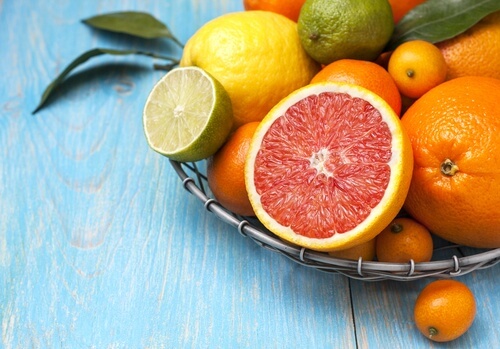 Oranges in particular are great for controlling tiredness, chronic fatigue and nerves.
This is because they contain extremely beneficial substances (including calcium, iron and magnesium) which reduce stress.  They also improve your vision, intestinal function, and strengthen bones.
Because of the citric acids and mineral salts contained in oranges, you'll also experience improved moods as well.  That's why it's so great to drink orange juice in the mornings, you'll have guaranteed smiles throughout the day!
They treat post-vacation syndrome
Lemons fight viral infections and help in weight loss.
But they've also been shown to eliminate depression, apathy, and lack of concentration, which are common when returning to work after vacation.
This syndrome, which also leads to anxiety, bad moods and headaches, can be treated simply by adding lemon to your salads.
We also recommend drinking lemon tea in the morning (half an hour before breakfast) to feel more animated and balanced with your emotions.
Fight insomnia
In this case, we also use a different part of the tree (not the fruit).  Orange leaves are perfect for relaxing at bedtime.  Unlike the juice, we advise drinking the tea at night for best results.
These sedative properties will help you get to sleep within a few minutes, so you can get the rest you need.
During the day (including at breakfast) this infusion can help reduce a fever, calms headaches, and treats digestive problems, especially when caused by stress and nerves.
Eliminate toxins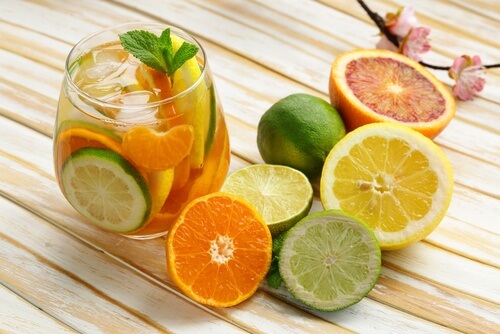 Grapefruit is one of the lesser know citrus fruits, although it also has amazing cleansing properties.  It's perfect for eliminating toxins that accumulate in the body.
And if that weren't enough, this fruit also helps:
Prevent anemia
Reduce cholesterol levels
Reduce high blood pressure
Balance blood sugar levels
It also has antiseptic properties.  Eating a grapefruit before breakfast helps burn fat that accumulates in the stomach region.
Orange juice continues to be the best option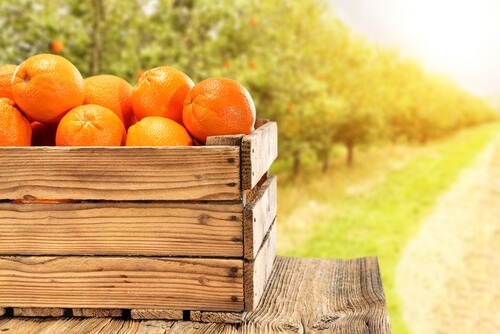 Beyond the benefits that you'll get from lemons, clementines or  grapefruit, no one can argue that oranges are the leader in households for breakfast.
Coffee or tea, a bit of milk, a few pieces of toast, and a delicious glass of orange juice.  It's even better when freshly squeezed.
Just like other citrus fruit, oranges increase bile production and stimulate gallbladder elimination.  It therefore reduces disorders related to any imbalances here: heaviness in the stomach, headache, pressure in the right side of the abdomen, etc.
A lot of people avoid drinking orange juice in the morning because if you drink it on an empty stomach, and bile levels increase, it could create nausea or stomach pains.
But you'll have to withstand these mild discomforts in order to take advantage of the benefits, like balancing hemoglobins in the blood and controlling weight.
Oranges contain a good amount of antioxidants.  They bond with vitamin C to fight aging and to alleviate gastrointestinal problems (like ulcers and gastritis).
They also help hasten wound healing or post-operation healing, and also prevent diseases.
The best option for breakfast
Adding a tablespoon of honey to your orange juice can reduce the slightly acidic or bitter taste in some varieties of oranges, and it will also add some sweetness to your breakfast.
This ingredient contains carbohydrates and essential sugars and is a kind of fuel for the body.  You won't be low on energy for the rest of the day!
A good idea for enjoying all of the benefits from citrus fruit from the first hours of the day is to prepare a "combination" juice.
Ingredients
1 orange
1/2 lemon
1/2 carrot
1/2 apple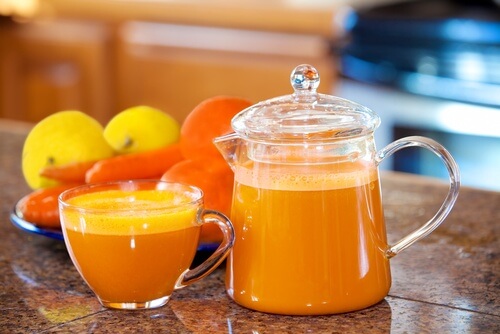 Directions
Peel and slice the carrot.
Squeeze the juice from the orange and lemon.
Remove the apple peel and cube.
Place everything in a blender and process for a few seconds.
If you like, add a bit of honey to sweeten.
Drink immediately (if it's too thick, add a bit of water or ice cubes in the summer.)