6 Ways to Eliminate Skin Tags Naturally
Although surgical removal is the most effective way to eliminate skin tags, some people choose to use natural methods.
Skin tags or cutaneous papillomas are small protrusions that are caused by friction, chaffing or general trauma. While they don't pose a risk to your health, they can become an aesthetic issue for some people.
Skin tags are benign and non-infectious, and can be removed with surgery.  However, there are those who prefer to give natural remedies a try first.
Experts at MAPFRE state that "when correctly applied by a dermatologist, any destructive method can be used to eliminate skin tags: surgery, electrocoagulation, cryotherapy or laser therapy are all good options. They may even disappear if a thread is carefully tied around them and left for a few days."
Natural ways to eliminate skin tags
According to popular belief, some natural remedies can help to eliminate skin tags. Take a look at some of the most common methods.
Note: If you suffer from sensitive skin or a chronic dermatological disorder, such as dermatitis, rosacea, psoriasis, for example, always consult your doctor before applying any type of home remedy to avoid exposing yourself to adverse reactions.
1. Apple cider vinegar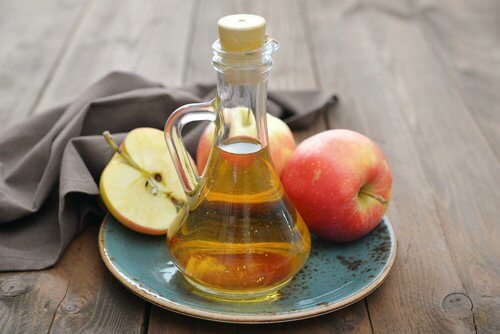 Some people say that the acetic acid in apple cider vinegar can help to eliminate skin tags and warts. It's recommended to apply it over a prolonged period of time until the growth disappears.
Ingredients
1 toothpick
1 cotton ball
A roll of medical tape
1 tablespoon apple cider vinegar (10 ml)
Directions
Wash the skin surrounding the skin tag with warm water and mild soap.
Dry thoroughly and gently scratch with a toothpick.
Wet the cotton ball with some apple cider vinegar and apply directly to the affected area.
Bind with medical tape and leave it to work overnight.
Rinse the following morning and apply again before going to sleep.
Repeat these steps until the skin tag is eliminated.
2. Castor oil and brewer's yeast
Combining brewer's yeast and castor oil results in a paste that some people say can help eliminate skin tags.
1 tablespoon castor oil
½ teaspoon powdered yeast
Medical tape
Directions
Mix the castor oil with the powdered yeast to make a sticky paste.
Once ready, apply to the growth and cover with medical tape.
Let work overnight and rinse in the morning.
3. Pineapple and lemon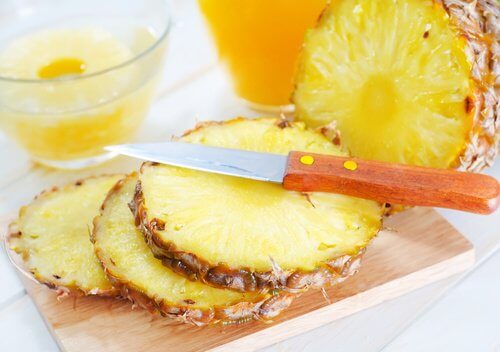 Ingredients
1 chunk of pineapple.
1 cotton ball.
3 drops of lemon juice.
Directions
Mash the pineapple chunk and add the 3 drops of lemon juice.
Soak a cotton ball in the liquid and apply to the affected area.
4. Tea tree essential oil
Another home remedy that's often recommended for eliminating skin tags and small warts is tea tree essential oil diluted with water.
Ingredients
3 drops tea tree essential oil
Water (however much you need)
1 cotton ball
Directions
Soak a cotton ball in water and clean the area around the growth.
Apply 2 or 3 drops of tea tree oil to the affected area.
Leave on without rinsing and apply twice daily until the tag is gone.
5. Oregano oil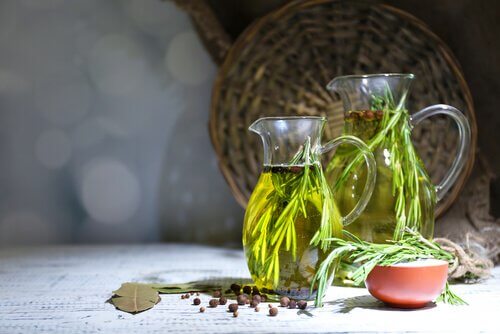 You can also use oregano oil. It's believed that its active compounds can eliminate fibromas and prevent them from appearing on other parts of the body.
Ingredients
½ teaspoon oregano oil
1 cotton ball
Directions
Soak the cotton ball with the oregano oil and apply to the affected area.
Repeat twice a day, every day.
6. Salt and onion juice
The sulfur compounds   and antibacterial  properties in onions can also be good for combating this issue.
Ingredients
1 onion
1 bandage
A tablespoon of sea salt
Directions
Finely chop an onion and place in a container with the sea salt.
The following day, extract the onion juice and use it to treat skin tags.
Apply to the affected area, cover with a bandage and allow to work overnight.
What if they don't fall off?
Keep in mind that it may take a while for effects to become noticeable and will vary from case to case.
If these remedies don't work for you, remember that it's best to go to your dermatologist for proper treatment. A professional may recommend a surgical treatment to eliminate them quickly and with 100% effectiveness.
Plus, some skin tags can be a sign of other health issues, such as high levels of insulin and type 2 diabetes. Consult a specialist for a full examination as soon as possible.
---
All cited sources were thoroughly reviewed by our team to ensure their quality, reliability, currency, and validity. The bibliography of this article was considered reliable and of academic or scientific accuracy.
---
Antunes, A., Rossel, B. & Adriaens, E. (2021). Efficacy Evaluation of the Pixie® Skin Tag Cryogenic Device on Skin Tags in a Prospective, Single-Blinded, Randomized, Comparative Clinical Trial. Dermatology and Therapy, 11(3), 995-1007. Disponible en: https://www.ncbi.nlm.nih.gov/pmc/articles/PMC8163951/
Bora, L., Avram, S., Pavel, I. Z., Muntean, D., et al. (2022). An up-to-date review regarding cutaneous benefits of Origanum vulgare L. essential oil. Antibiotics, 11(5), 1-20. Disponible en: https://www.ncbi.nlm.nih.gov/pmc/articles/PMC9137521/
Bunick, C. G., Lott, J. P., Warren, C., et al. (2012). Chemical burn from topical apple cider vinegar. Journal of the American Academy of Dermatology, 67(4), 143-144. Disponible en: https://www.ncbi.nlm.nih.gov/pmc/articles/PMC4479370/
Campayo, N. M., Buján, J. G. & Capdevila, E. F. (2020). Allergic contact dermatitis due to tea tree oil. Actas dermo-sifiliograficas, 111(9), 787-788.
Deenadayalan, B., Venugopal, V., Maheshkumar, K., et al. (2022). Effect of Topical Application of Tea Tree Oil (Melaleuca alternifolia) on Hand Warts. Journal of Clinical & Diagnostic Research, 16(1), 1-2. Disponible en: https://www.jcdr.net/articles/PDF/15862/51162_CE[Ra1]_F[SH]_PF1(SC_SL)_PFA(SC_KM)_PN(KM).pdf
Fredriksson, C. H., Ilias, M. & Anderson, C. D. (2009). New mechanical device for effective removal of skin tags in routine health care. Dermatology Online Journal, 15(2). Disponible en: https://escholarship.org/uc/item/7tj2800k
Feldstein, S., Afshar, M. & Krakowski, A. C. (2015). Chemical Burn from Vinegar Following an Internet-based Protocol for Self-removal of Nevi. Journal of Clinical & Aesthetic Dermatology, 8(6), 50. Disponible en: https://www.ncbi.nlm.nih.gov/pmc/articles/PMC4479370/
Goyal, A., Sharma, A., Kaur, J., et al. (2022). Bioactive-based cosmeceuticals: An update on emerging trends. Molecules, 27(3), 1-28. Disponible en: https://www.ncbi.nlm.nih.gov/pmc/articles/PMC8837976/#:~:text=Castor%20oil%20is%20rich%20in,%2C%20and%20cleansing%20%5B25%5D.&text=Chemical%20structure%20of%20ricinoleic%20acid.
Keen, M. A. & Hassan, I. (2016). Vitamin E in dermatology. Indian dermatology online journal, 7(4), 311-315. Disponible en: https://www.ncbi.nlm.nih.gov/pmc/articles/PMC4976416/
Millar, B. C., & Moore, J. E. (2008). Successful topical treatment of hand warts in a paediatric patient with tea tree oil (Melaleuca alternifolia). Complementary therapies in clinical practice, 14(4), 225-227. Disponible en: https://pubmed.ncbi.nlm.nih.gov/18940708/
Pandey, A. & Sonthalia, S. (2022, August 1). Skin Tags. StatPearls. Consultado el 16 de febrebro de 2023. Disponible en: https://www.ncbi.nlm.nih.gov/books/NBK547724/
Pazyar, N., Yaghoobi, R., Bagherani, N. & Kazerouni, A. (2013). A review of applications of tea tree oil in dermatology. International journal of dermatology, 52(7), 784-790. Disponible en: https://pubmed.ncbi.nlm.nih.gov/22998411/
---