Strengthen Your Memory Using These 5 Natural Smoothies
There are certain ingredients that yo can combine to make smoothies to include in your diet to help strengthen your memory while also benefiting from their nutrients. Try them!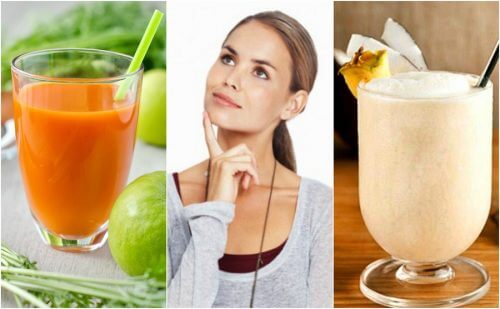 Memory is a cerebral ability that gives people the power to absorb, store, and recover all types of information, both long and short term.
Thanks to this, human beings can express their ideas, think, and carry out the endless amount of activities that make up their daily lives.
However, as a result of changes in brain activity that come with age, memory tends to deteriorate, and its abilities become limited.
Consequently, people start to have difficulties remembering things and, sometimes, they forget relevant details of their daily lives.
A lot of people ignore the fact that keeping your brain in great condition is possible and, although there are many factors that can affect it, healthy habits have a huge impact on it.
So, today we want to share 5 natural smoothies with you that, because of their nutritional value, help to protect the brain and its functions.
Try them out!
1. Tangerine and orange smoothie
This delicious smoothie contains powerful antioxidants that help to minimize oxidative stress in our cerebral cells.
Drinking this smoothie regularly will help to strengthen the memory and will reduce the risk of premature aging. 
Ingredients
1 tangerine
juice from 5 oranges
1/2 cup skim milk (125 ml)
1/2 teaspoon of almond extract (2 ml)
1 tablespoon honey (25 g)
Preparation
Remove the seeds from the tangerine and blend it in the blender with the orange juice, half cup of milk, and almond extract.
Be sure that the smoothie is well-mixed and then sweeten it with the honey.
How to drink it
Drink in the morning, at least three times a week.
2. Apple, walnut and carrot smoothie
The combination of the ingredients in this homemade smoothie provides our body with plenty of vitamins, minerals, and antioxidants.
Given that it is a natural source of energy, it is recommended for improving the memory and maximizing concentration when the body is tired.
Also, thanks to its anti-inflammatory action, its a great remedy for preventing the development of cognitive illnesses.
Ingredients
2 apples
2 carrots
4 walnuts
1/2 cup water (125 ml)
Preparation
Wash the apples and carrots well, and put them into a juice extractor with the skin still on them.
Then, put the juices in the blender and mix them with the walnuts and half cup of water
Serve immediately so that you don't lose any of the nutrients
How to drink it
Drink on an empty stomach, two or three times a week.
3. Banana and coconut smoothie
Your palate will love the taste of this delicious smoothie and the best part is that you will be providing your body many essential nutrients that will improve your health.
It contains antioxidants and essential fatty acids that help to protect brain cells and diminishes the possibility of developing memory problems.
Thanks to its energizing powers, it combats fatigue and helps maintain good physical and mental performance. 
Ingredients
1 ripe banana
1/4 of a coconut in shreds
5 almonds
1 cup of skim milk (200 ml)
Preparation
Put all of the ingredients in the blender and process them until you have a creamy liquid without any lumps.
How to drink it
Make one smoothie and drink in the morning, three times a week
4. Strawberry and oat smoothie
The strawberry and oat smoothie is a drink rich in B vitamins which are necessary to fight mental fatigue and memory problems. 
Its high concentration of antioxidants protects brain cells and decreases the risk of developing cognitive diseases.
Ingredients
1 tablespoon of ground flax (10 g)
4 tablespoons of oats (40 g)
1 banana
5 ripe strawberries
1 cup of water (200 ml)
Preparation
Wash the strawberries and add them to the blender with the oats, the banana, and the tablespoon of flax.
Add the cup of water to blend the ingredients and put the blender at its highest speed.
Blend until you have a well- mixed smoothie.
How to drink it
Drink the smoothie with breakfast at least three times a week
Drink whenever you need a boost of energy
5. Yogurt and almond smoothie
This smoothie is a great source of antioxidants and omega 3 fatty acids, both necessary to protect the brain from free radicals and inflammation.
Its significant energy value increases mental performance and decreases the tendency to have memory problems.
Ingredients
10 almonds
1/2 cup natural yogurt (100 g)
1 banana
juice from 2 oranges
Preparation
Chop up the almonds and mix them in the blender with the natural yogurt, the banana, and the orange juice.
Process everything until you have a well-mixed liquid and drink immediately.
How to drink it
Drink the smoothie before breakfast, two or three times a week.
Do you suffer from mental fatigue or is your memory failing you? Make any of the smoothies we mentioned and give your body the nutrients it needs to keep its cognitive health in perfect condition.