Restorative Smoothie with Beets, Carrots and Apples
Folic acid present in beet and carrot help to fight depression, their consumption increases fertility in both men and women and prevents colorrectal cancer.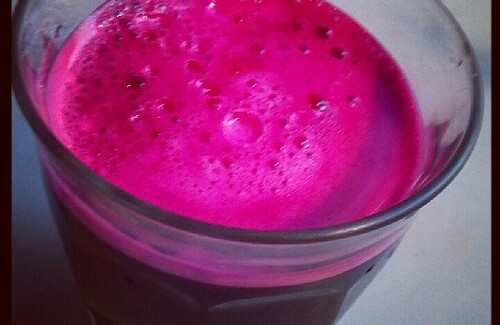 A smoothie with beets, carrots, and apples is one of the most powerful smoothies around when it comes to nutritional value and vitamin content. That's why we want to take the time to tell you all about its many nutrients and vitamins, and the best way to make this fantastic drink.  
Make it at home for yourself and your loved ones, and enjoy not only the taste, but the health and energy that come along with it. This smoothie is a wonderful drink for breakfast, as it offers special nutrients that will improve your performance in your daily activities.  It is also easy on the stomach, and aids digestion.
Nutrients in this beet, carrot, and apple smoothie
Here we will list a few of the key nutrients found in a glass of this smoothie:
Carbohydrates: the three ingredients in this smoothie (beet, apple, and carrot), contain a moderate amount of sugars, which are an important energy source.  Make the most of this energy source by drinking it in the morning hours.
Vitamin A: Carrots are vegetables extremely rich in vitamin A.  As we all know, this nutrient protects our vision and stimulates the immune system.
Vitamin B6: Beets contain a considerable amount of vitamin B6, an important nutrient in the metabolism of amino acids and in neurotransmitter synthesis.
Vitamin B9: This nutrient, also known as folic acid, is found abundantly in beets, and to a lesser extent, in carrots.  Folic acid acts as a combative agent against depression, and consuming it has also been associated with preventing colon cancer.  It has also been shown to improve fertility, both in men and women.  Folic acid is also important, because a diet which lacks this nutrient, could lead to the development of cancerous cell formation.
Vitamin C: Large amounts of vitamin C are found in carrots, apples, and beets, in that order.  Vitamin C, when consumed regularly, is a powerful antioxidant and prevents coronary heart disease and cancer.
Fiber: Fiber is found in each one of these ingredients, which aids the digestive process.
How to make this smoothie
Ingredients:
1 cup of water
1 medium beet
1 medium apple
1 medium carrot
4 ice cubes
Directions:  Wash the carrot, beet, and apple well.  Cut them into small enough pieces so as to blend easily.  Add all ingredients in the blender, and blend until the consistency looks well-blended and smooth. Now you know how to make this wonderful smoothie.  Be prepared to take in all these fantastic nutrients and feel better…feel healthy.  Serve and enjoy.
Photo courtesy of Luxomedia.