Recommendations for Pretty and Healthy Feet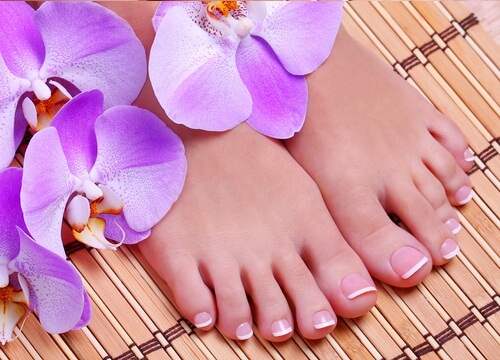 Having healthy feet isn't only about esthetics, but your health as well–so you can walk perfectly, without any pain or discomfort, look beautiful in any kind of shoe or barefoot, etc. Keep in mind these recommendations so that you can have pretty and healthy feet all year long.
Shoes: Friends and Enemies at the Same Time
The first thing you should keep in mind is the shoes that you wear. A recent study has shown that women have on average 20 pairs of different shoes, of which they use 5 regularly. The designs that they buy don't always respect the foot's anatomy and cause a lot of pain when walking or wearing them for a long time. Heels cause even more problems although they may look great and stylish. 
Even though women buy a lot more shoes than men do, neither of them tend to care for their feet and toes as much as they should. This is one of the most forgotten parts of the body. This should not be the case because your feet are essential for walking and standing up. Manicures are more popular than pedicures, for example, creams are more popular for your hands, face, or legs than for your feet.
Home treatments are truly very good and effective which is why you should take the time to "pamper" this highly important part of your body: what allows you to walk and move around.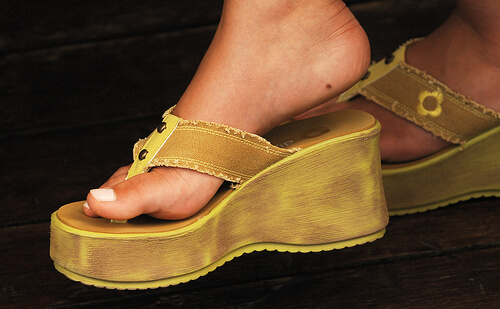 Tips for Beautiful Feet All Day
These tips are very interesting and if you follow them, your feet won't just look much prettier but you will also stop suffering from pain or problems:
Avoid extra weight: excess weight causes a lot of suffering in your feet as well as ankles. Obesity is also related to circulatory, bones, etc. problems.With every step you take, your body weight is doubled in your feet. If you add a shoe that does not support your sole completely on the ground to this, the problem gets worse.
Buy a shoe that fits your type of foot: there are three types of feet: the Egyptian, the square, and the greek. Your big toe is not always the longest. This is a very important detail when buying shoes. They should always be made of leather and flexible materials so that your foot can breath better. Try bending the shoe. If this is hard, don't buy it. Your toe should touch the end. It's also best if it fastens with shoelace or felt because your foot will swell throughout the day and if it has a clasp, for example, it will not adapt to the new width.
In the winter and summer, they should be closed so that your toes don't have to work harder to not leave the shoe. Make sure your foot has the necessary spaciousness for your foot. you should be able to put it on with no problem. If it is narrow in front, it will make your foot take on the shape of a triangle and will cause bunions.
Foot hygiene: this is a very important point. Use neutral soap. Use a pumice stone on hard areas like your heels. Don't use con cures because this chemical product could make a "hole" in your foot. Dry between your feet well when you bath so that you prevent fungus from forming. Use creams on dryer areas, especially during the summer if you wear open-toe shoes.
Use proper shoes for every occasion: the maximum height for heels in women is 5 cm, 4 for men, and 1.30 for children. The heel should be wide and never thin because this offers no protection or safety when you step. Flats are not recommended either because they cause pain in the soles of your feet and cause poor circulation. Wear proper footwear according to the activity like going to work, exercising, going to a party, etc.
Socks at all times: even if it is summertime, there are very thin and almost imperceptible socks. You can wear them just at home as well. As a result, you will prevent blisters, damages to your heels, and sweating in your shoes, which cannot be washed as easily. We suggest cotton and not synthetic materials because those make your feet sweat more.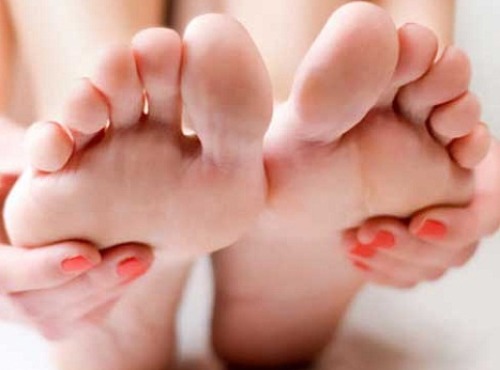 Cut your nails in a straight line: as a result, you will prevent ingrown nails, one of the most common problems, especially if you do physical activity or walk a lot because these are very painful. To solve this nail growth inside your skin, put your feet in a a bucket with warm salt water for 15 minutes twice a day until the area is no longer inflamed. Then cut the nail straight so it does not happen again.
Protect your feet in public places like pools or locker rooms. Don't walk barefoot in the house weight because you can get warts, fungus, etc. and this will damage your heels. If you like to take your shoes off when you get home from work, don't take off your socks.
Pamper your feet once a week. An excellent way to start the weekend is, for example, Friday nights when you are watching television after eating dinner, put your feet in a container with water and some kind of essential oil or salt. Let them sit for 20 minutes and then dry well, first with a towel and then air dry, with no socks or shoes on. A good massage is not a bad idea either. Ask your significant other or you could do it yourself after showering. Always use oil or moisturizing cream, starting with the heel and ending with your toes.
Images courtesy of D Sharon Pruitt, Pedro Ribeiro Simoes, Kristine Full, Sharona Gott and Andrea Rinaldi.