5 Natural Solutions to Polish Wood Surfaces
Because wood is so delicate, we need to be careful with the products we use to polish wood surfaces in order to prevent damage.
Have you ever wondered how to polish furniture and wooden floors? Although furniture and flooring comes in a wide variety of materials nowadays, wood continues to be a favorite among consumers worldwide.
It adds an elegant and attractive touch that makes it preferred over other materials for use in spaces around the home, such as metal, wrought iron, marble, and plastic.
However, it takes a lot of work to keep it looking great because as it ages it tends to crack and lose its luster.
The good news is that there are several natural solutions that we can use to polish wood and restore its appearance and shine.
Below, we'll share some of the most effective remedies that you can start using around your home today. Interested?
5 homemade solutions to polish wood surfaces and floors
First, before we begin, we want to clarify that these options are from popular culture. For example, they are remedies that your grandma may have used before there were many specialized cleaning products available.
As a result, they may not work as well or as powerfully as some other products. However, this isn't to say that they're ineffective. It just means that you'll need to rub more, always being careful not to damage the wood.
Second, it's important to keep in mind that there are different types of wood, each with its own characteristics. Therefore, although these remedies would work for any type of wood in principle, it's best to try them on a small, less visible area of the furniture or floor first.
This way, you can ensure the product is effective and compatible with your type of wood and won't damage it. Having said that, let's get started!
1. Beeswax and turpentine to polish wood surfaces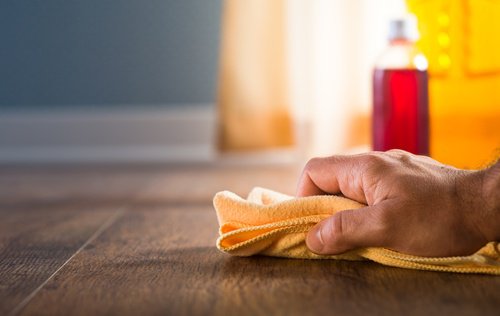 With this natural preparation you'll be able to polish wood surfaces without spotting or changing the color. It's been used by people for a long time in popular culture to create shine.
It's made with beeswax and turpentine, two ingredients with an oily texture that leaves wood surfaces smooth and radiant.
Turpentine is commonly used for cleaning during construction activities. In addition, some studies indicate that it has repellent properties, so it could help keep the furniture or floor cleaner for longer.
This way, the combination of these two elements will allow you to keep your furniture and wooden floors polished.
Ingredients
¼ cup beeswax
¼ cup turpentine
Directions
Melt the beeswax using a water bath. Then, stir with a wooden spoon as it warms.
Once fully melted, remove from heat and slowly incorporate the turpentine.
Finally, store it in a closed container.
Optionally, you can add essential oils with pleasant scents to offset the strong smell of the turpentine.
How to use
Take a small amount and rub into wood flooring or furniture with a microfiber cloth.
Read also: An Effective Trick to Remove Dents in Wood in 30 Seconds
2. Olive oil and lemon solution to polish wood surfaces
This polish with lemon and olive oil is the best solution for dark, worn furniture.
According to popular culture, the natural oils shine surfaces and leave a protective coating to protect against dust. The lemon juice disinfects and cleans surfaces.
However, we recommend not to overuse the lemon juice and to mix it well with the oil since, as an acid, any excess could damage the wood.
Ingredients
½ cup olive oil
¼ cup lemon juice
Directions
For our purposes, we can use refined olive oil since we won't be using it in our food or on our skin.
Mix both ingredients well.
How to use
Using a spray bottle, spray the solution on the surfaces you want to clean and use a microfiber or cotton cloth to polish wood surfaces in your home.
3. Petroleum jelly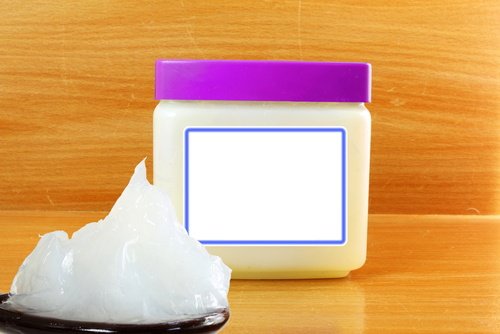 Petroleum jelly is a petroleum derivative with an oily texture that, according to popular belief, leaves dull furniture looking like it was freshly finished.
Some people also believe that that it helps repel dust, although there are currently not studies that show whether or not this true or, if so, how it works.
In addition, you can combine it with a little bit of alcohol to remove grime and accumulated oils. This is due to alcohol's proven disinfectant qualities.
However, we recommend not using too much alcohol since it is strong and could damage the wood if you use large quantities.
Ingredients
3 tablespoons petroleum jelly
2 tablespoons alcohol
Directions
Put the petroleum jelly in a container and then combine with a little alcohol.
How to use
Apply a thin layer to wood flooring or furniture and rub the wood surface with a clean cloth.
4. Almond oil and white vinegar polish
This homemade furniture polish is a great alternative to polish wood surfaces that have aged and to remove stubborn stains.
For example, many people believe that it's great for removing watermarks left by drinking glasses and restoring the surface's natural shine.
People also think that vinegar, thanks to its antiseptic qualities, will help eliminate stains while the oil will polish wood.
It's very important not to apply undiluted vinegar directly to wood. If you do so, you can damage the furniture. We also don't recommend using this on waxed products.
Ingredients
¾ cup almond oil
¼ cup white vinegar
How to use
Apply the product to the wood and then rub vigorously with a soft cloth or rag.
5. Linseed oil
The combination of linseed oil and turpentine leaves wood looking like its brand new.
In addition, linseed oil, thanks to its nutrients, is considered to have the ability to help protect wood, especially for outdoor furniture.
In fact, a research team from the Andean University of Cusco found that linseed oil, among other substances, had the ability to improve the physical properties of wood.
However, we must warn that it should be used with care as using too much can leave surfaces oily.
You should read: Linseed, a Natural Weight Loss Alternative
Ingredients
½ cup linseed oil
¼ turpentine
Directions
Warm the linseed oil, add then the turpentine and mix well.
How to use
Take a couple tablespoons of polish and rub it onto wood with the help of a soft cloth.
Why polish wood furniture and floors?
You probably have some wooden furniture or floors in your house. These offer an elegant look while maintaining a cozy atmosphere. However, sometimes you might not know how to clean and polish these surfaces, especially since there are many different types of stains.
As a result, in addition to specialized products, we hope these remedies from popular culture will help you when it comes to caring for and polishing all the wooden elements in your home.
---
All cited sources were thoroughly reviewed by our team to ensure their quality, reliability, currency, and validity. The bibliography of this article was considered reliable and of academic or scientific accuracy.
---
---