Natural Lettuce and Kiwi Smoothie to Lose Weight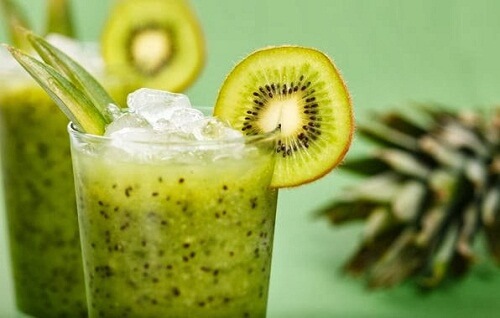 Lettuce is considered to be one of the most important foods when trying to lose weight because the calories it contains are very few and it also has large amounts of vitamins and minerals that are essential for the proper overall functioning of the body. It also has great amounts of water and provides a satiation or satisfying feeling, which prevents you from eating more than you should.
The type of lettuce that is most recommended for people on a weight loss diet is Romaine lettuce because as it gives you countless health benefits. In this article, we'll provide the recipe for a delicious lettuce and kiwi smoothie to help you jumpstart your weight loss plan.
Weight Loss Properties of Lettuce
Lettuce, especially Romaine, is one of the best additions to your diet to lose weight much faster and more guaranteed because a generous portion of lettuce contains only 17 calories. In other words, it helps you lose weight because you can eat a lot of it without consuming a lot of calories.
Its large amount of water and dietary fiber is what makes you experience that great feeling of satisfaction when you eat it. This allows you to eat only what your body truly needs, which makes you control and lose that excess weight.
Among the most important nutrients of lettuce, you can find: vitamin A, C, and K. It also has some from the B group like B1, B2, B3, B5, and B6, minerals like copper, calcium, magnesium, sodium, potassium, zinc, iron, selenium, and phosphorus.
Why Is Lettuce So Good For Us?
Lettuce has a great amount of fiber, which besides being very important to help you lose weight, it is excellent for maintaining the proper functioning of the digestive system and preventing constipation.
Lettuce is also a great natural diuretic. It helps fight fluid retention and  eliminate toxins from the body, which is a benefit for people that suffer from obesity.
Lettuce is a food that makes you feel very satisfied. It is a depurative and diuretic, helps burn fat and helps lower levels of cholesterols and triglycerides.
Remember that you can make a large variety of salads with lettuce, combining fruits, vegetables, or both, they will come out delicious either way. However, today we'll look at a lettuce and kiwi smoothie instead of a salad.
Recipe: Lettuce and Kiwi Smoothie to Lose Weight
Ingredients
2 kiwis
5 spinach leaves
5 lettuce leaves
1 tablespoon of bee honey
Instructions
Wash and disinfect the kiwis and lettuce and spinach leaves.
Peel the kiwi, cut it in half, and put it in the blender along with the lettuce and spinach leaves, and honey.
Blend on high and serve it in a large glass.
If you would like, you can strain the juice before drinking it.
One last clarification: Romaine lettuce does not necessarily need to be the only kind you eat, all lettuce varieties are good and contain nutrients that benefit the body. Only that the Romaine kind possesses it in higher amounts.