Mix Chia Seeds and Oatmeal for the Following Day
Chia seeds and oatmeal satiate hunger and help in weight loss, and also provide lots of energy to help you start the day the best way possible.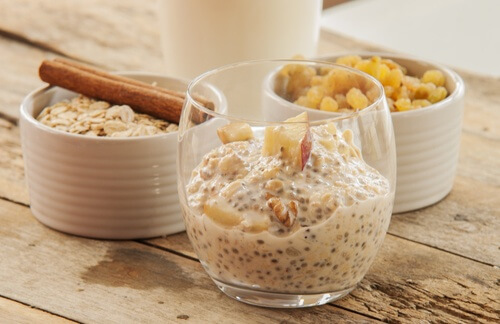 For quite some time, we've been told that breakfast is one of the most important meals of the day. A high-quality breakfast determines how your body functions for the rest of the day. 
It breaks your nighttime fast and provides the body with the necessary energy for fulfilling its tasks during the first hours of the day.
But in spite of all this, there are certain tendencies and habits that reduce the quality of breakfast you may eat, or that simply prevent you from enjoying all of breakfast's benefits.
Some people are eager to run out the door and get to work, believing that skipping breakfast can help them lose weight, while others believe that simply not being hungry is a great excuse for skipping breakfast.
But fortunately more and more people are starting to think about eating breakfast, and are making special efforts to ensure that it is healthy, from a nutritional perspective.
Keeping this in mind, we'd like to share with you an interesting recipe with chia seeds and oatmeal, that you can make the day before, and therefore have no excuse for not eating breakfast.
Are you interested?
Healthy breakfast with chia seeds and oatmeal
Combining chia seeds and oatmeal is an increasingly popular recipe because it's a great option for breakfast.
Both ingredients contain the nutrients you need at the beginning of the day to increase your energy and improve your metabolism.
Some people consider it a dietary compliment for weight loss, because it makes you feel satisfied longer, it's low-calorie, and it improves digestion.  
And if that weren't enough, it's a great alternative to the typical coffee with cookies, which only masks the hunger at the beginning of the day.
Benefits of chia seeds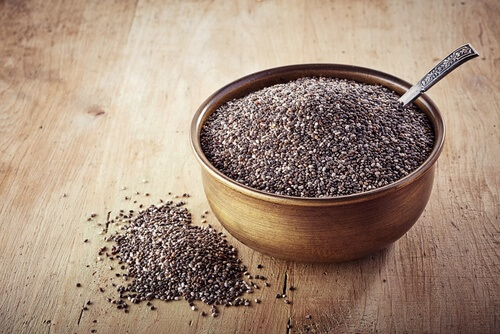 Chia seeds are one of the most popular "superfoods" because they're high in vitamins, minerals, fiber and antioxidants.
Consuming them on a regular basis helps in weight loss, as it stops your anxiety to eat and stimulates functions that take part in eliminating excess fat.
They are a rich source of omega 3 and 6 fatty acids, and they also contain twice the amount of proteins as other seeds.
They have excellent nutritional value, and provide some of the following benefits:
Improve physical and mental performance.
Reduce sugar levels in the blood.
Control cholesterol levels.
Suppress the insatiable desire to eat.
Stimulate body detoxification.
Fight constipation.
Benefits of oats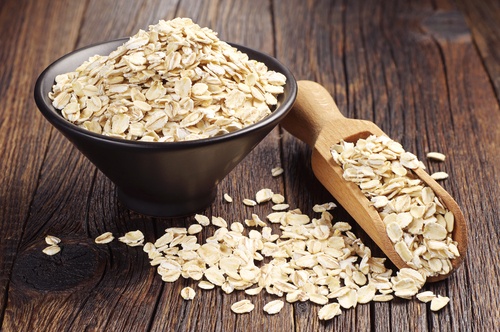 A lot of people consider oatmeal to be the most complete grain around. It is a great source of beta-glucanase, soluble fiber and polyphenols, which stimulate the body's natural cleansing process.
It contains a significant amount of fiber, which helps control cholesterol levels and the accumulation of waste in the colon.  
It is great for activating intestinal movements and for preventing bouts of constipation.
It is also one of the most satiating and energy-rich foods that nature has to offer.
Recipe for chia seeds and oatmeal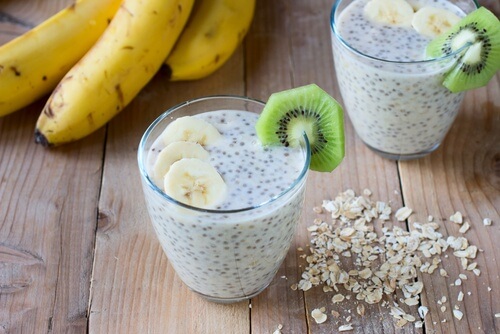 This recipe contains extremely healthy nutrients that will help you start the day with the best energy possible.
Its primary benefit, however, is that it can be prepared the night before, to solve the problem of not having enough time to prepare something healthy.
And best of all is that it doesn't lose its properties overnight, and it tastes simply delicious.
Ingredients
1 1/2 glasses of 1% milk (300 mL)
1 Tbsp. honey (25 grams)
4 Tbsp. chia seeds (60 grams)
2 heaping Tbsp. oatmeal (20 grams)
1/2 banana
Directions
Mix the milk and honey in a bowl.
Add the chia seeds and oatmeal.
Stir well to mix all ingredients, then cover.
Store in the fridge for 60 minutes, then stir once again.
You'll notice that it starts to get thick because the seeds are absorbing the water, making a type of gel.
Cover again, store in the fridge, and wait until the following morning.
Consumption method
The amount prepared will create 2 portions.
Divide it into two cups, and garnish with small slices of ripe banana.
As an option, you could eat it as a dessert or a snack.
If you don't like milk, you could also use a plant-based drink, or simply orange juice.
We recommend that you keep this recipe in mind for the days when you don't have much time to eat well.
You're going to love it!