9 Masks to Eliminate Eye Bags and Dark Circles
Our body is a reflexion of our physical and psychological state. Especially our face since, being as sensitive as it is, it quickly reflects any extra, or lack, of self-care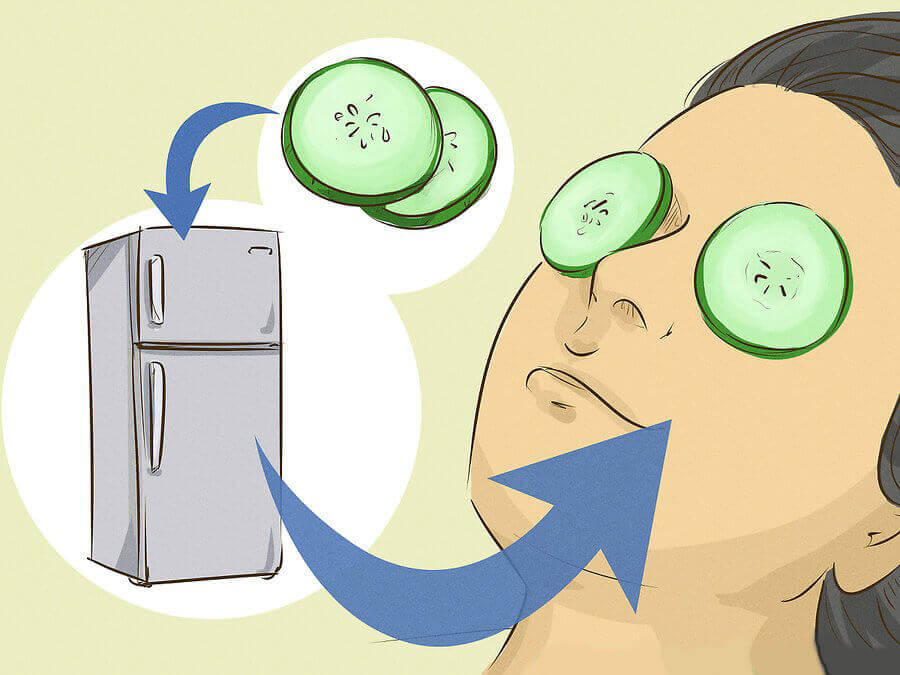 Under-eye bags are dark spots that form around our eyes and are quite noticeable because this area of the skin is very thin.
They show up because of the accumulation of toxins, fats and water. They are also caused by many factors, among them are hormonal problems and issues with circulation, as well as lack of sleep.
Without a doubt, it is one of the most frequent problems women have when it comes to beauty. They cause us to look tired, aged and they give us a closed-off appearance. 
However, they can also affect men and children.
How to prevent eye bags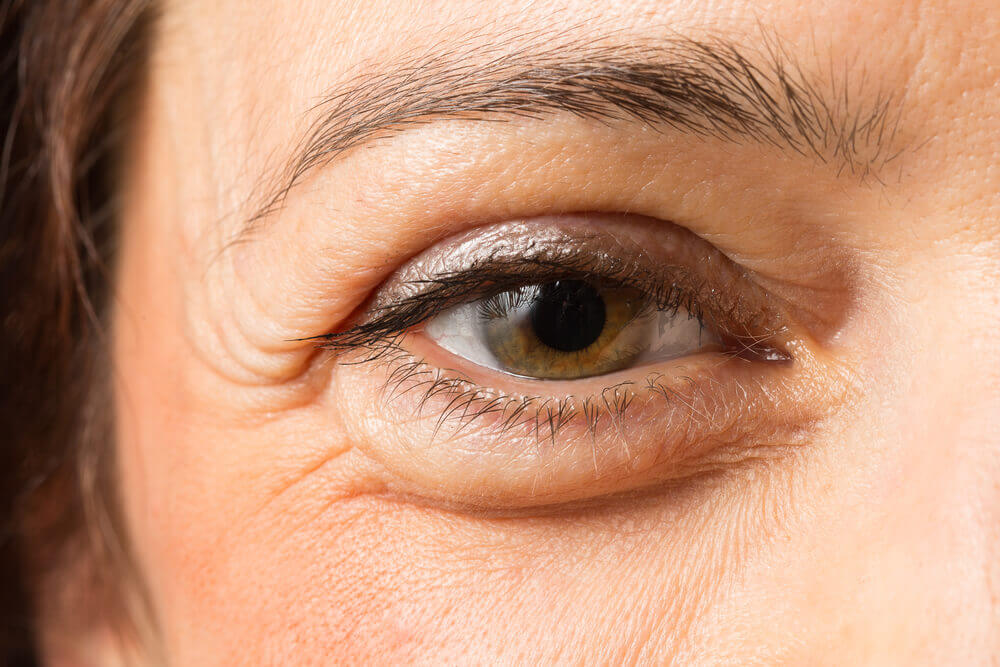 Reduce your consumption of salt in your daily diet
Watch how much, and how well, you are sleeping
Eye bags are a problem that, generally, are a response to two things:
Melanin deposits
Dilation of the blood vessels in the eye area
Causes of eye bags
Fatigue or lack of sleep
Nutrient deficiency
Overexposure to sunlight
Hyper-pigmentation disease
Aging
Dry skin
Hormonal changes, among other factors
Mental or physical stress
Retention of liquids
Smoking and alcohol
To know how to get rid of eye bags, it is important to know its causes so that you can treat them correctly.
Factors that make eye bags more visible
Skin pigmentation
Skin thickness
Luckily, there are different ways to fight eye bags that correct the factors that cause them.
One of the best ways to do so is by applying homemade masks.
1. Cucumber mask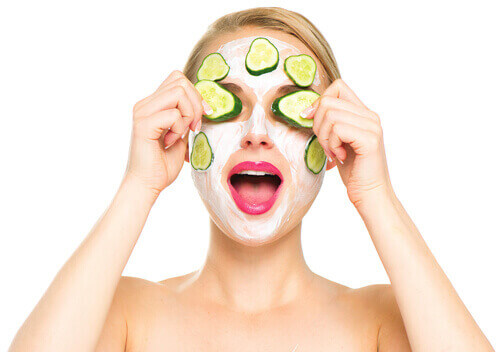 This is great remedy for eye bags and sagging of your eye lids.
Ingredients
1 piece of apple
a piece of cucumber
1 teaspoon of almond oil (5 g)
Preparation
Put the apple and cucumber in the fridge for 5 hours until they are cold. This will increase the anti inflammatory effects on your face.
Then, grate both ingredients
Mix them with the almond oil and form a paste.
Close your eyes and apply it to the affected area.
Sit back and relax and let it sit for 20 minutes
Rinse with warm water.
2. Cucumber and potato mask
These two vegetables are excellent for reducing the inflammation in your eyelids and for getting rid of eye bags.
Ingredients
1/2 cucumber
1 medium potato (100 g)
Preparation
Grate and blend the cucumber and potato and combine them into a paste
Apply the mixture below your eyes
Relax your face while the cream takes action.
After 15-20 minutes, rinse with a lot of water.
3. Chamomile tea to get rid of eye bags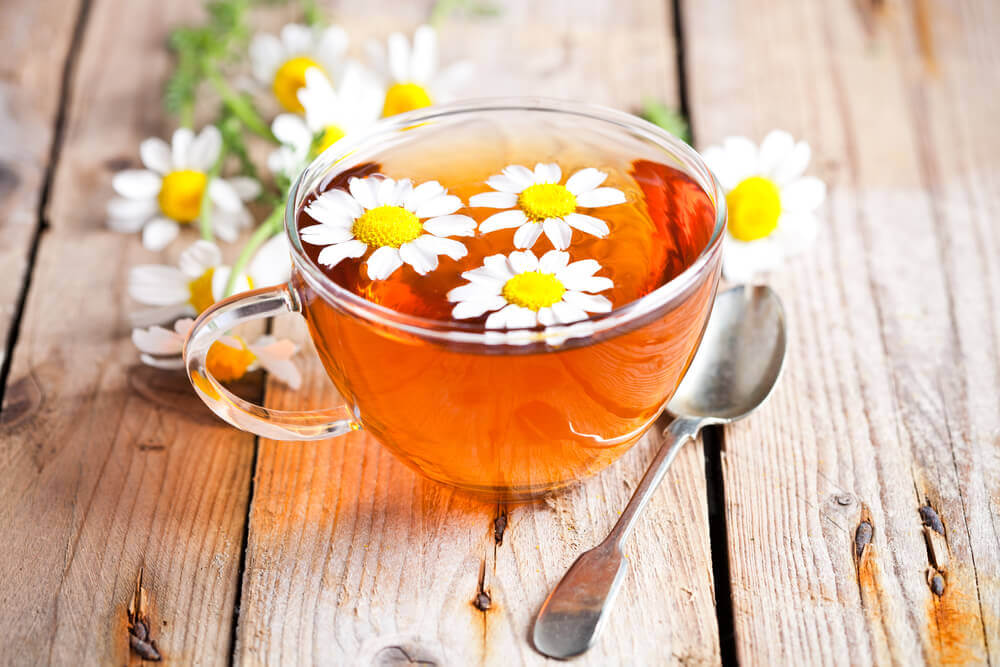 Thanks to its anti inflammatory and sedating properties, chamomile reduces inflammation under your eyes.
Ingredients
1 chamomile tea bag
1/2 cup of water (125 ml)
2 tablespoons of natural yogurt (40 g)
Preparation
First, make the chamomile tea
Add a little natural yogurt until you have a creamy mixture.
Apply over and around your eyes.
4. Carrot mask
Ingredients
1/2 carrot
2 teaspoons of vegetable oil (10 g)
1/2 fresh cucumber
Preparation
Grate the carrot, add the vegetable oil and mix well.
Let sit for 5-10 minutes
During that time, cut two fine slices of cucumber
Spread the carrot and oil paste over your closed eyes and relax them. Cover with the cucumber slices.
Let sit for 10 minutes and remove with a wet cloth
5. Tomato mask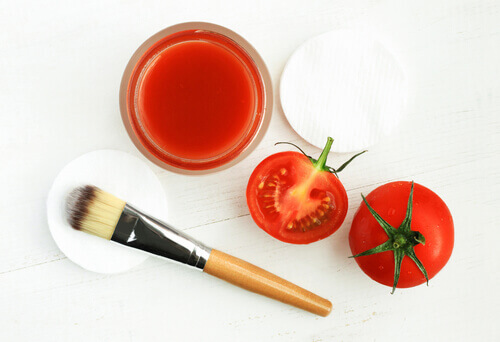 Tomato has properties that clarify the color of our skin.
Ingredients
1 tablespoon of tomato juice (10 g)
1 teaspoon of lemon juice (5 ml)
Preparation
Mix the tomato juice with the lemon juice
Gently apply the mixture over the eye bags
Let sit for 10 minutes and rinse with water
Do this procedure two times a day.
6. Egg and glycerin mask
Ingredients
1 egg white
1 tablespoon of liquid glycerin (10 ml)
Preparation
Beat the egg white until it is a white color and mix with the liquid glycerin
Once you have that mixed, apply to the contour of your eyes.
Let sit for 5-8 minutes and rinse with warm water.
7. Mask for tired eyes and under-eye bags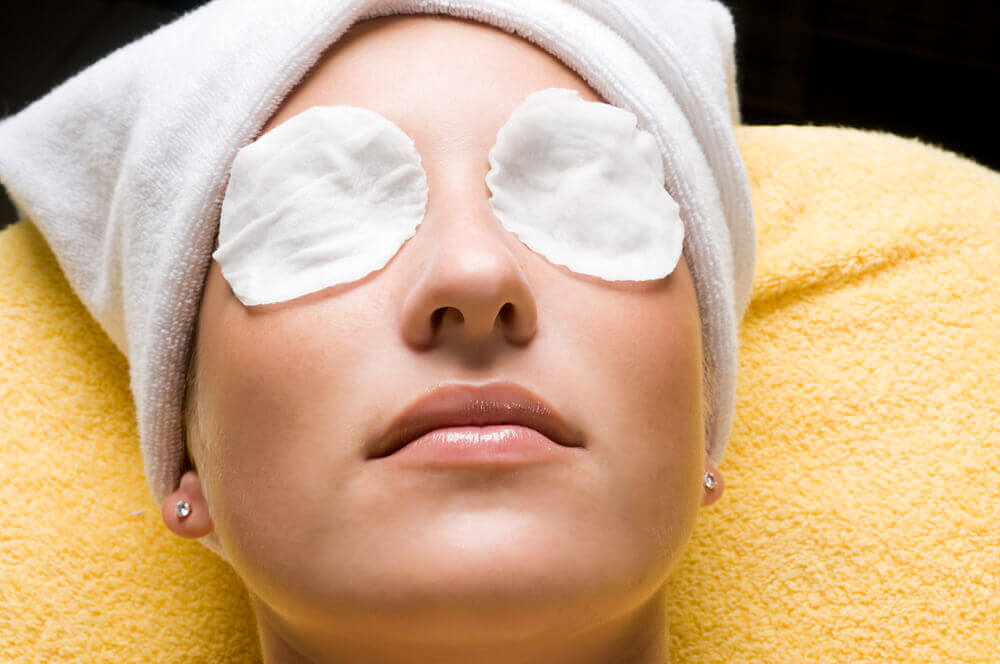 This mask is also great for people with allergies, smokers, those who experience hormonal changes and even those with hereditary eye bags.
Ingredients
1/2 cup of water (125 ml)
1 potato or apple
10 basil leaves
2 paper towels
Note: An alternative to the basil leaves is celery leaves.
Preparation
Heat the water and add the basil leaves
Grate the potato with the skin on (quickly, because the potato oxidizes)
Put the grated potato on the paper towels
Wrap it up, forming a ball
Put one ball over each eye and let sit for 15 to 20 minutes
Put the basil water in the fridge to chill it
After the 15 to 20 minutes has passed, remove the potato and rinse with the basil water.
8. Papaya and milk mask
This mask is very good for eliminating even the most noticeable under-eye bags. Use whole milk for dry skin and skim milk for greasy skin.
Ingredients
1 1/2 cup of papaya (225 g)
1/2 cup of milk (125 ml)
Preparation
In the blender, mix the papaya with milk until you form a paste.
Apply the mixture below your eyes (directly or using a cotton ball)
Let sit for 15 minutes and then rinse your face with water
Repeat this mask once a week
9. Mint leaf mask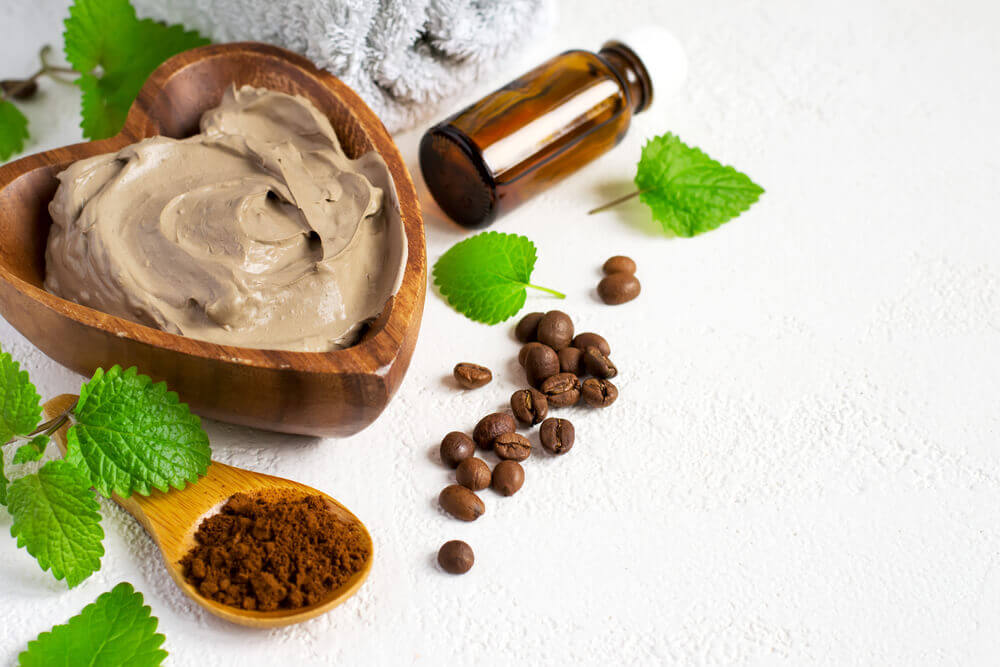 This mask diminishes eye bags until the puffiness disappears completely.
Ingredients
Preparation
Crush up the mint leaves until you have a paste and apply it to the affected areas.
Let sit for 15 minutes and rinse with water.
Main tips for avoiding under-eye bags
Follow a diet rich in red meats, egg yolks and citrus fruits.
Reduce salt consumption, since it causes liquid retention.
Avoid consumption of saturated fats.
Sleep and rest properly.
Sleep with your mouth open and with a pillow to help with blood circulation.
Drink enough liquids so that you are properly hydrated.
Decrease alcohol consumption.
Don't forget to properly hydrate your face.