How to Make Gelatin Remedies to Calm Joint Pain
Gelatin can be a very effective remedy for providing collagen to joints and reducing joint pain. Although it's more effective to consume it, you can also apply it topically.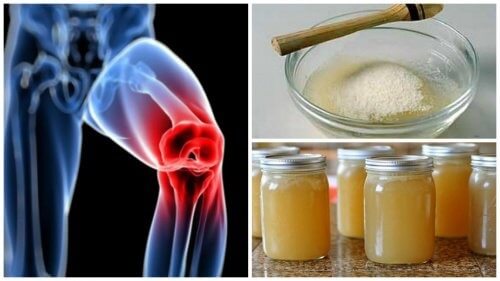 Almost no one is exempt from joint pain.
While they're more common in athletes or people that physically exert themselves, it is also proven that they can be caused by injuries, genetic conditions and being sedentary.
Individuals that have to deal with joint pain generally have difficulties performing their daily activities. In fact, they sometimes also experience limited movement.
This could indicate a considerable reduction in collagen levels. Collagen is a protein that builds up the primary base in cartilage tissue, bones and tendons.
But fortunately, the catalogue of natural medicine has a very effective remedy for stopping wear on joints and for calming pain. 
And that remedy is gelatin. It is recommended by a wide array of health professionals.
And today we'd like to share with you the primary benefits of using gelatin, along with the remedies used for this purpose.
What are the benefits of using gelatin for joints?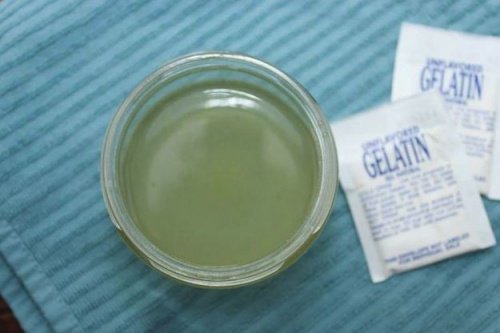 Gelatin is a very common and inexpensive food found on the market that is used for several different culinary purposes. It is also used in health and beauty treatments.
From the nutritional perspective, it has a significant amount of proteins, which come from the processing of animal collagen.
Thousands of people have incorporated it into their diets for joint health because it contains nutrients that restore and protect connective tissues.
It is estimated to be present in 90% of the proteins in animal skin and skeletal system, and in 2% of mineral salts and the rest of water.
These compounds allow it to be used for therapeutic purposes, especially because they make it easier for the body to synthesize collagen.
That's why regularly consuming gelatin protects joints and provides extra protection for nails, hair, teeth and skin.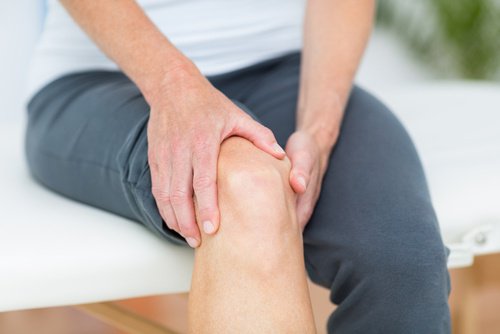 It is recommended for treating conditions affecting the connective tissues in the body, like osteoarthritis. Its nutrients help reduce inflammation and repair worn cartilage.
It contains essential amino acids like arginine and glycine, which the body needs to create muscle mass.
It is a cholesterol-free, fat-free food, which also supports diets to increase the metabolism and to lose weight.
It contains substances that improve digestion of heavy foods, which helps calm abdominal inflammation and gas.
Applied as a treatment, it provides elasticity and strength to tendons and ligaments to help prevent injuries.
And if that weren't enough, its nutrients strengthen the immune system and prevent the development of several diseases.
Gelatin remedies for calming joint pain
To care for joint health, we recommend consuming 10 grams of gelatin a day.  This can be obtained via pastries, smoothies or other recipes.
But if you want to strengthen these therapeutic effects, we suggest a series of remedies designed exclusively for calming joint pain.
Gelatin and cold water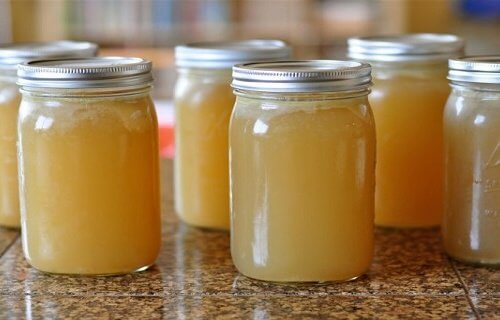 This remedy should be taken every day before breakfast, at least half an hour before eating. It can be combined with fresh orange juice to get a better taste and for improved absorption.
Ingredients
1/2 Tbsp. non-flavored gelatin (5 grams)
1/2 glass ice water (100 mL)
1/2 glass warm water (100 mL)
Directions
Pour the gelatin into the ice water and let steep over night.
The next day, add the warm water and heat in a double boiler.
Once completely dissolved, remove from heat and consume.
Milk gelatin
Natural milk gelatin is another alternative for increasing gelatin consumption for health.
This food lubricates cartilage and ligaments to keep them strong and protected.
Ingredients
2 Tbsp. non-flavored gelatin (20 grams)
3/4 glass cold milk (150 mL)
Directions
Dilute the gelatin in the cold milk and steep overnight.
If you would like to sweeten it, add a bit of honey.
Heat in a double boiler, without bringing it to a boil.
Remove from heat, allow to cool and drink.
This treatment is done for at least 3 consecutive weeks.
Gelatin compresses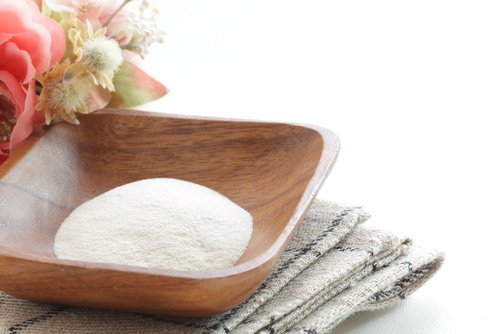 Gelatin compresses don't provide the cartilage a lot of nutrients, but they are a great option for calming pain and inflammation.
Ingredients
1 Tbsp. non-flavored gelatin (10 grams)
1 liter water
1 wide bandage
1 sheet plastic wrap
Directions
Soak the bandage in hot water, fold into several sections and add the non-flavored gelatin.
Wrap this around your painful joints and cover with plastic wrap.
Allow to set for 20 minutes, then repeat every day.
Remember that you shouldn't consume too much gelatin, because this causes stomach, liver and arteriosclerosis problems.
Follow these recommendations and reap the benefits of gelatin's properties.