This Lavender Lemonade Will Heal Headaches
Drinking this lavender lemonade can help reduce headaches and control anxiety, thanks to the beneficial properties in lavender.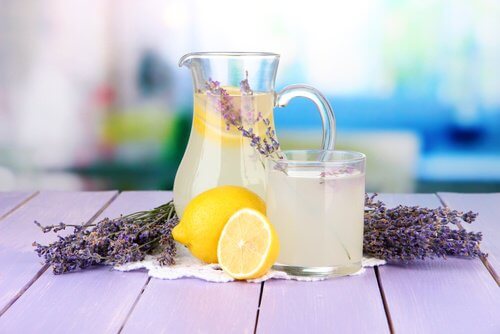 Because we have so many worries, routine and stress, thousands of people suffer from constant headaches and anxiety.
Having so many obligations, household chores, and the constant exposure to annoying sounds creates a very strong tension that translates into this type of pain.
The big problem with all of this is that it can interrupt your daily chores. In fact, it can unleash another set of physical and emotional symptoms.
That's why it's absolutely necessary that you pay attention to the first signs, and try to get treatment before it becomes a greater problem.
But taking too much of these medications is also harmful, and it can lead to different side effects in the body.
Fortunately, there are several alternative remedies that can help calm you down without running this type of risk.
And that is true with this delicious lavender lemonade. It has anti-inflammatory and relaxing properties that have earned it a very special place in treating headaches.
Lavender has more than 150 active components that make it great at improving health and preventing diseases.
Why lavender lemonade to calm the mind and headaches?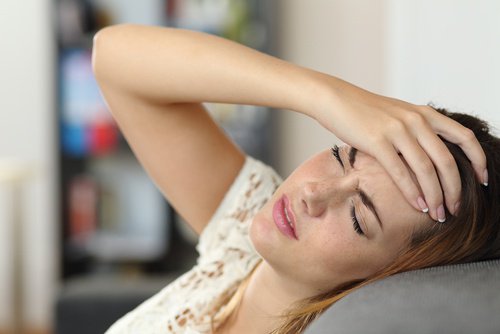 Lavender lemonade is a traditional remedy that uses lemon's amazing properties along with the benefits from the lavender plant.
This herb is known for its amazing aroma, but it is also valued for its several applications in physical and mental health.
It is characterized by its sedative powers, which help quickly reduce symptoms caused by anxiety and tension.
The essential oil is extracted from the flowers and is considered to be one of the best oils around when it comes to health.
A lot of people have decided to use it because it is the best aromatherapy and bodily relaxation oil.
Some of its primary properties include:
Anti-inflammatory
Anti-fungal
Anti-depressant
Antimicrobial
Antispasmodic
Analgesic
Detoxifying
Tranquilizer
That's why it's not strange that, when added to this lemonade, it helps control pain, nerves and other chemical reactions caused by stress.
Because we know that some of you out there haven't tried it yet, we'd like to share with you a simple recipe for making it at home.
How to make lavender lemonade
There are two very easy ways to make this natural lemonade: the first is to use essential oil, the second uses the plant.
Both recipes are great and have the same properties, it just depends on how easily you can find the ingredients.
Lavender lemonade with essential oil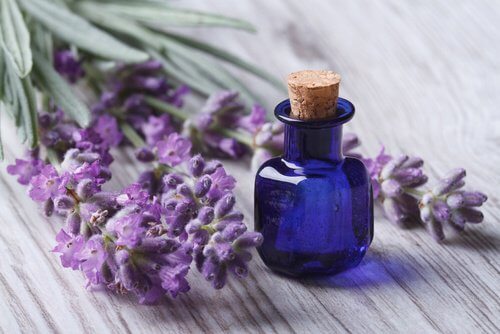 One or two drops of lavender essential oil will be more than enough to share their properties with this drink.
Ingredients
1/2 c. honey (170 grams)
10 c. water (2.5 liters)
1 drop lavender essential oil
6 lemons
Lavender branches for decoration
Directions
Pour the 10 cups of water into a large jar or pot.
Then squeeze the juice from the 6 lemons and pour it in.
Add the honey, stir well, then add the lavender oil.
Add the lavender branches for decoration, then serve.
You can drink between three and four glasses a day.
Lavender lemonade with the plant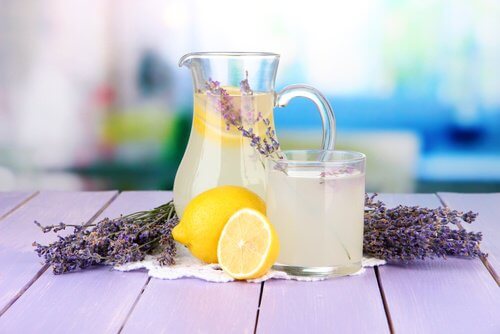 Rather than using essential oil, we're going to prepare a lavender infusion which we will then convert into lemonade.
Ingredients
1 Tbsp. lavender flowers (10 grams)
1/2 c. honey (170 grams)
5 c. water (1.2 liters)
1 c. lemon juice (250 mL)
Directions
Bring one cup of water to a boil. Once boiling, add the lavender flowers.
Simmer for 20 minutes, then strain with a strainer.
Add the remaining water and lemon juice.
Sweeten with honey, then stir so that everything is well blended. Serve.
Drink three times a day.
Because this is a low-calorie drink, you can rest easy in incorporating this into your diet.
Drink as soon as you have the first signs of headaches, or as a preventive measure, when you are under a lot of stress.