How to Make Homemade Aloe Vera Gel
Before making your own aloe vera gel, it's important to store the aloe stalks in water so that they release their aloin. This substance can be toxic.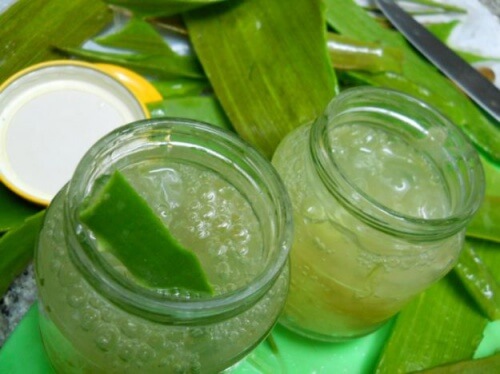 Aloe vera gel is one of the cosmetics industry's most valued plants because of its various benefits for body health.
It has astringent, antibacterial, and hydrating properties which, when applied to the skin, promote regeneration to keep skin young and blemish-free.
It's also one of the best natural fresheners and wound-healers, making it perfect for treating sunburns and other skin damage.  These injuries could leave marks and lead to premature aging.
A large part of aloe is comprised of water, but it also contains a significant amount of vitamins A, C, and E, which are antioxidants that prevent oxidative damage.
These, along with several other reasons, have turned aloe vera into a basic ingredient for a ton of on-the-market treatments that use these benefits for cosmetic purposes.
In order to get the most out of these qualities, however, the best thing to do is to use it in its 100% natural state.
That's why we are going to share a simple recipe with you below for homemade aloe vera gel, along with how to use it.
How to make homemade aloe vera gel
Aloe vera gel is easy to make, and most importantly, it's useful.  Although you could already buy it as a commercial product, it's best to make it organically to protect the environment and avoid chemical preservatives.
Ingredients
3 aloe vera stalks
1 Tbsp. lemon juice (10 mL)
1 Tbsp. wheat germ oil (10 mL)
Directions
First, water the plant daily for five days before preparing your gel.  This will ensure that it is in the best state possible when you harvest it.
After the recommended time, cut off three stalks, or however many you find necessary to extract the gel.
Once ready, remove the side spines and place them in a bowl of water for at least 24 hours.  Change the water every 3 to 4 hours so that each stalk releases a substance known as aloin, which could be toxic.
After 24 hours have passed, remove the stalks from the water and extract the pulp.  Then continue with the gel preparation.
Use a knife to open each stalk on one side.
Then, using a spoon or spatula, extract the gel and set aside in a bowl.
Add the lemon juice and wheat germ oil, which serves to strengthen the aloe's properties by providing vitamin E and other antioxidants.
Once everything is ready in the bowl, mix at a medium-high rate until it becomes a white, thick cream.  Do not use egg beaters, but you can use a blender if you like.
Lastly, pour the product into a hermetically-sealed glass container and refrigerate for longer keep.
Application

 For whatever reason you choose to use it, just use the amount you find necessary and spread it over the affected area.
It's always a good idea to repeat the application process three times a week in order to notice results in a short amount of time.
How can I use aloe vera gel?
The greatest benefit of this natural product is that it can be used every day for various different reasons, to care for skin.
It has unique nutritional properties and does not create any negative side effects when used topically.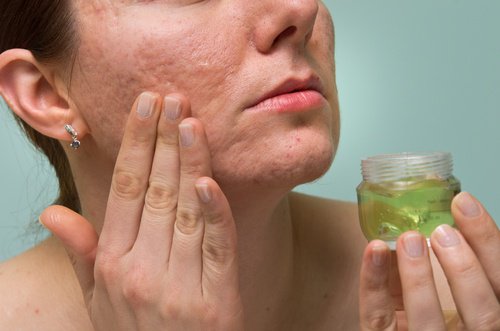 It can be used to:
Clean, moisturize and regenerate skin.
Cleanse clogged pores.
Prevent various grades of acne.
Calm irritation and inflammation.
Reduce blemishes, scars and blisters.
Prevent pimples, black heads, and white heads.
Reduce the negative impact of sun rays.
Calm burns.
Prevent and lessen stretch marks.
Control itching and flaking associated with seborrheic dermatitis and psoriasis.
Prevent premature aging.
Tone and firm.
Reduce bacteria.
Treat dryness and cracking of the heels.
As you can see, making a natural aloe vera gel is not difficult at all and it can be very useful when it comes to skin beauty.
You now have a recipe and various different uses for aloe vera gel.  Now you can make it one of your best friends for keeping your skin radiant and beautiful.