The Countless Benefits of Garlic and Honey
When preparing this treatment, it's important that both the garlic and honey are organic to maximize their effects and obtain the desired results.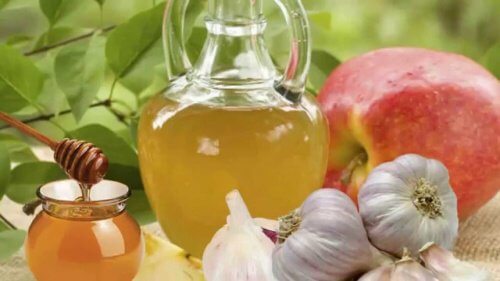 There's nothing like a natural treatment for any minor discomfort or ailment that you experience.
In addition to being a natural option, you can usually make it at home with products you have on hand. In today's example, we're going to be talking about garlic and honey.
For those of you who don't already know, garlic and honey can be mixed together to make an amazing treatment for your health. It's able to fight colds and the flu, detox your body, strengthen your immune system, and more.
Properties of garlic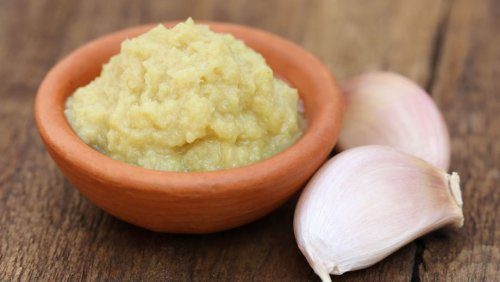 First of all, we want to highlight the benefits of garlic – and there are many.
Garlic has been scientifically proven to help prevent or control the following:
Atherosclerosis
Heart attack
Heart disease
Cholesterol levels
Blood pressure levels
It's also a very beneficial product if you're trying to control symptoms of diabetes, prostate issues, and osteoarthritis.
Garlic is a potent option for detoxing the body, helping you eliminate toxins and strengthening your immune system, as long as you take it on a regular basis.
Garlic is rich in vitamin B6, manganese, selenium, and fiber.
We recommend reading: 6 things you should know about diabetes



Properties of honey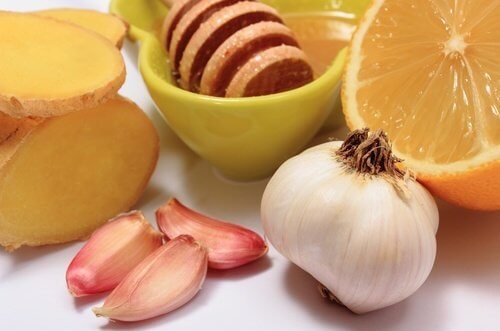 Honey is a product that's
rich in antioxidants, enzymes, minerals (iron, zinc, potassium, calcium, phosphorus, magnesium, and selenium), as well as vitamins (B6, thiamine, riboflavin, and niacin).
It's an excellent product for facilitating digestion.
Honey helps you maintain your ideal weight, thanks to it being a substitute for sugar.
Its vitamin and mineral content helps balance your cholesterol levels.
Honey is a great source of energy.
How to make a natural honey and garlic treatment
Ingredients
1 head of garlic (10 or 12 cloves)
1 cup of honey (335 g)
Utensils
Wooden spoon
An 8 oz sealed glass jar (an empty marmalade container will work, for example)
Preparation
First, you need to peel the garlic cloves.
Then, add them to the glass jar.
Pour the honey over the garlic and use the wooden spoon to remove any bubbles that might appear.
Store this in a cabinet or other dark place, at room temperature, for one week. After this time, it's ready for consumption.
Recommendations
To get the most benefits from garlic, you should always eat or use it raw. Otherwise, you lose some of its properties.
It's best to consume this mixture every day on an empty stomach. This will help prevent disease and eliminate your symptoms of colds or the flu.
If possible, try to leave about half an inch of space at the top of the jar.
If you seal the container properly, this mixture can last for up to two years. It's durable, easy to make, and effective.
Read also: 8 moisturizing hair masks made with honey
Benefits of consuming this mixture of garlic and honey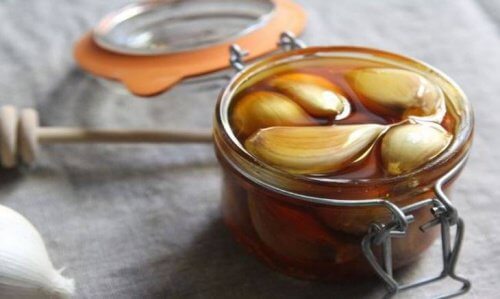 To get the maximum benefits from garlic and honey, you should
consume this for seven days in a row, then wait a couple of weeks before repeating.
1. It helps control bad cholesterol (LDL)
Thanks to the allicin that's released from raw garlic when it is crushed, it will detox your blood and eliminate any excess cholesterol.
This mixture also helps keep triglycerides at bay, which can go up due to an unhealthy diet.
2. It strengthens your immune system
As we have said all along, this mixture is perfect for strengthening your immune system.
Thanks to the antimicrobial and antifungal properties of both garlic and honey, you'll boost your body's response to viruses, bacteria, and other types of pathogens that invade the body.
3. It reduces inflammation
Garlic and honey will help reduce inflammation and act as a natural painkiller.
It's an ideal remedy for people who suffer from arthritis, fluid retention, and muscular disorders.
4. It decreases blood pressure
Both garlic and honey help decrease your blood pressure, improving your cardiovascular health.
Consuming this mixture on an empty stomach every day is a great way to naturally control this aspect of your health.