7 Beauty Tricks Using Vaseline
Thanks to its oily texture, Vaseline has multiple uses within our beauty routines. It can be a substitute for moisturizing creams, anti-wrinkle lotions or even makeup remover.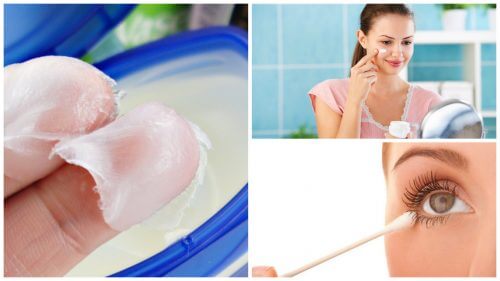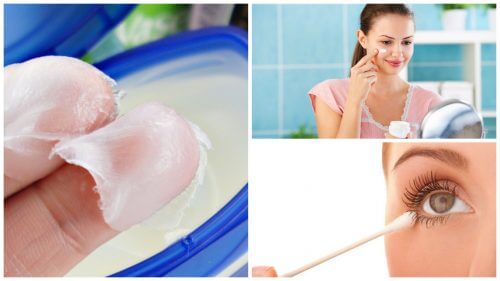 Have you heard about all of the great beauty tricks using vaseline?
Vaseline, also known around the world as petroleum jelly, is a mult-iuse product that can be taken advantage of domestically and cosmetically.
It's a colorless and odorless ointment whose oily consistency offers added skin moisture without exposing it to harmful chemicals.
Plus, believe it or not, its high content of antioxidants and essential minerals allows it to posses many aesthetic benefits that serve to complement any beauty routine.
Its emollient properties help reduce harshness and impurities that tend to accumulate over time, besides leaving the dermis softer and protected.
Also, it's much cheaper that other treatments sold in the market and can be applied more than once.
Since many people don't know how to use it, we'd like to share 7 fascinating ways of using Vaseline as a beauty ally.
Try them!
1. Anti-Wrinkle Cream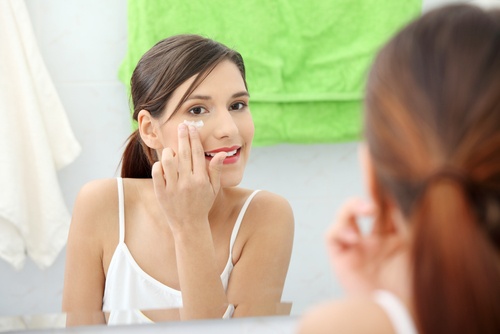 Petroleum jelly has a high concentration of vitamin A and E (two nutrients with antioxidant properties). Therefore, Vaseline is a cheap solution for preventing premature wrinkles.
How to Use It?
Apply a small amount of Vaseline over the most sensitive areas of your skin until it's well absorbed.
Repeat its use 3-4 times a week.
2. Eyelash Treatment
The nutrients found within this oily product are ideal for strengthening the roots of your eyelashes. This way, you can prevent loss and favor their growth.
Instead of spending large sums of money on expensive treatments, it's worth incorporating this product into your daily beauty routine to experience its benefits.
How to Use it?
Dab a small amount of Vaseline on a cotton swab. Immediately apply it, starting at the roots of your eyelashes working your way to the tips.
Repeat its use every night to get best results.
3. Cuticle Softener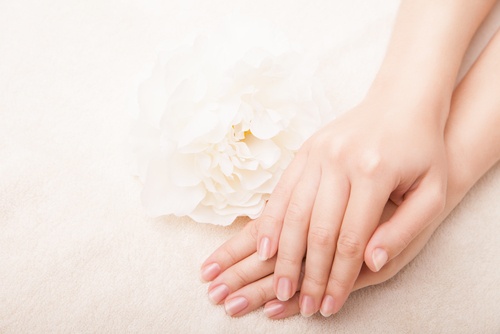 The chemical composition of Vaseline makes it a great ally to nurture and take care of your cuticles, which  protect your nails.
Using it as a moisturizing cream adds extra nutrients that will help strengthen your nails after a few days of use.
How to Use It?
Take a small portion of Vaseline and apply it over your cuticles until absorbed.
Use it 2-3 times a week.
4. Make Up Remover
Because of its oily consistency and nutrient-rich composition, Vaseline can replace makeup remover products that are distributed throughout the stores.
Its properties eliminate all traces of makeup and simultaneously and leave your skin soft, clean and rested.
How to Use It?
Apply a  small amount of Vaseline over the areas you put makeup on, and once absorbed, remove with a soft cloth.
Use it every day before going to sleep.
5. Scar Treatment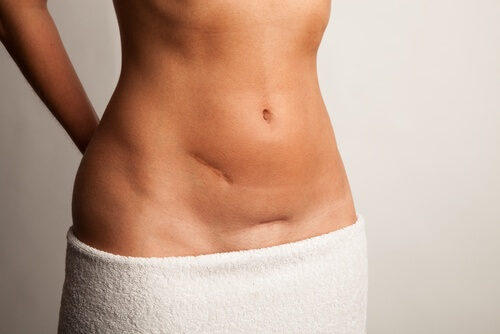 Constant application of this product over your skin is an effective and economic solution against scars that aesthetically affect the body.
Its high concentration of vitamin E and fatty acids help repair damaged skin, improving the process of tissue repair.
How to Use It?
Apply a little bit of Vaseline over the desired areas you wish to help scar and massage until it's absorbed.
Repeat up to 2 times a day, a minimum of 4 times a week.
6. Remedy for Damaged Hair
Vaseline contains beneficial nutrients for your hair health. Hence, it's an interesting alternative to conditioners and creams used for the repair of damaged hair.
It is also recommended for easily untangling hair and sealing split ends.
How to Use It?
Take the amount you think necessary and apply it starting midway and work it down to the end of your hair.
Let it stay on your hair for 20-30 minutes.
Then, rinse and wash with your usual shampoo.
7. Hydrating Foot Cream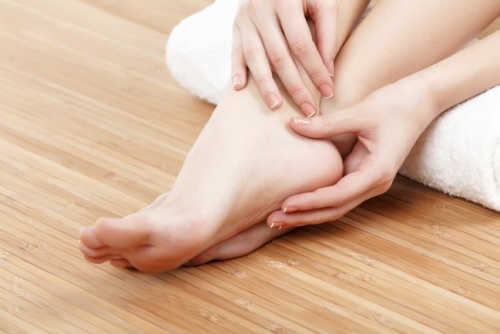 The emollient and hydrating power of Vaseline is also a good option for alleviating dry and callus-filled feet.
Daily use of this ingredient will soften any rough areas and also remove dead skin cells along with any other impurities.
How to Use It?
Apply a generous amount of petroleum jelly on your feet and massage until completely absorbed.
Cover them with socks and leave them on all night.
Repeat its use at least 3 times a week.
As you can see, there are many ways of transforming this product into a beauty companion capable of making your hair and skin even more beautiful.
Try this out and enjoy all of its benefits for yourself!