5 Tasty Smoothies You Can Have For Breakfast
When you have these smoothies for breakfast, you'll be getting an energy and vitamin boost without spending much time making or consuming them.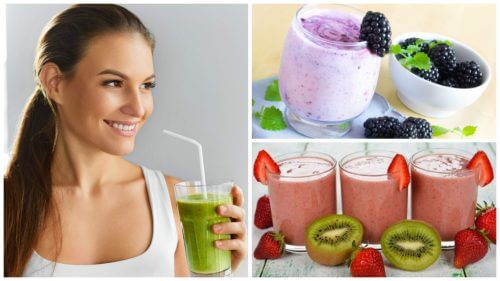 Breakfast is one of the most important meals of the day. While it has been ignored for a long time, now it's clear how essential it is for keeping your weight at a proper level.
Having it daily is vital for replacing the energy and nutrients your body loses overnight while keeping up your physical and mental performance.
Despite this, many people still think it's not important and even harbor the false belief that by not eating breakfast, they can save calories.
The truth is that breakfast will actually help optimize your calorie and fat burning. If that weren't enough, it will keep you from getting overly hungry.
In addition, since it gives your body a significant amount of essential nutrients, it's a fundamental part of controlling  your glucose levels and preventing fatigue.
However, we know a lot of people don't have time to make breakfast at home everyday. That's why we'd like to share 5 delicious smoothie recipes you can replace it with.
Ready to try them?
1. Blackberry ginger smoothie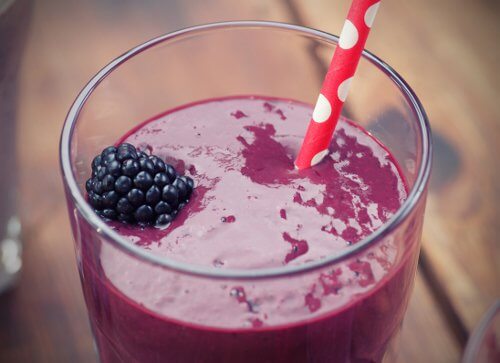 This blackberry ginger smoothie is high in antioxidants, which are a great way to start the morning.
The interesting combination of ingredients provides your body with significant amounts of vitamins, minerals, and essential amino acids. These increase your mental and physical productivity over the course of your long day.
Ingredients
8 blackberries
A natural yogurt (125 g)
1 teaspoon of fresh ginger (5 g)
1 tablespoon of honey (25 g)
Instructions
First, put the berries in a blender and process with the natural yogurt and fresh ginger.
Be sure to process until creamy and lump-free, then sweeten with the tablespoon of honey.
Consume for breakfast or whenever you are hungry.
2. Papaya coconut milk smoothie
This tasty smoothie doesn't just have an amazing flavor. In addition, it's also a remarkable source of essential nutrients.
Both the papaya and coconut milk are good for you digestion and contain antioxidants. Thus they're able to help detox your body.
Plus, since they both have natural sugars in them, this smoothie is an energy-packed way to start your day happy.
Ingredients
2 slices of ripe papaya
1 slice of pineapple
A cup of coconut milk (200 ml)
1 teaspoon of honey (25 g)
Instructions
First, cut the pineapple and papaya into pieces and add to a blender.
Then, pour the coconut milk in and process everything for a few seconds.
Once well-mixed and lump-free, serve and sweeten with the honey.
Enjoy as a breakfast replacement.
3. Strawberry kiwi yogurt smoothie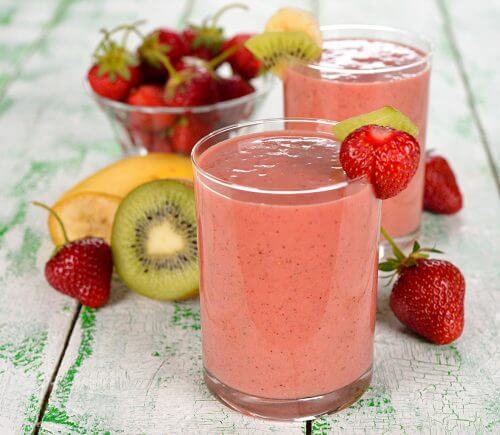 Strawberries, kiwi, and yogurt come together in this simple, nutritious smoothie containing antioxidants, probiotics, and fiber.
This smoothie improves your digestion. Meanwhile, it fights the tiredness you tend to feel your first few hours at work.
Ingredients
5 strawberries
1 ripe kiwi
1 natural yogurt (125 g)
A teaspoon of chia seeds (5 g)
A tablespoon of honey (25 g)
Instructions
Fist, wash the strawberries well, peel and slice the kiwi, and process in a blender with the natural yogurt.
Once well-mixed, serve.
Add a teaspoon of chia seeds and sweeten with honey.
5. Peach almond milk smoothie
This breakfast replacement smoothie combines ingredients full of vitamin C, potassium, and high biological value protein. It will support your metabolism.
The antioxidants, fiber, and essential minerals in it act together to improve your digestion, the detoxifying processes of your body, and your performance.
Ingredients
2 fresh peaches
A cup of almond milk (200 ml)
1 teaspoon of almond butter (6 g)
1 tablespoon of honey (25 g)
Instructions
First, cut the peaches into several pieces and process in a blender with the almond milk, almond butter, and honey.
After a minute (and once creamy) serve.
You can have it solo or along with whole grain bread.
5. Green coconut oil smoothie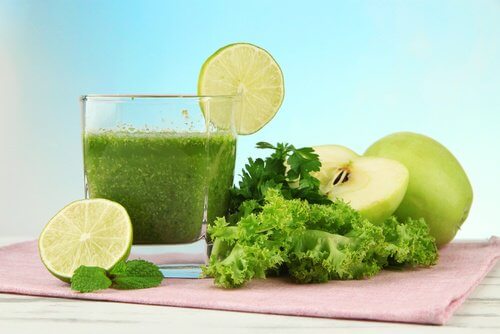 Green smoothies are always a great choice to recharge your energy first thing in the morning.
Their mixture of ingredients is high in chlorophyll, fiber, and antioxidants. Thus, it will offer your body excellent support as it cleans your blood and performs metabolic processes.
They're also ideal for improving your digestion and reducing inflammation.
Ingredients
2 kale leaves
1 green apple
1/2 cucumber
A tablespoon of lemon juice (10 ml)
1 teaspoon of fresh ginger (5 g)
A tablespoon of coconut oil (15 g)
1 cup of water (200 ml)
Instructions
Add all ingredients to a blender and process until smooth.
Divide the mixture into two servings, one for breakfast and the other for mid-morning.
As you can see, you don't have to invest much time in getting a healthy, high-quality breakfast. Make any of these recipes and enjoy a varied, nutritious breakfast every day!