Healthy Morning Weight Loss Routine
Did you know that breakfast is the most important meal of the day? Eating breakfast gives you energy, kick starts your metabolism, and helps you avoid eating too many calories during the day.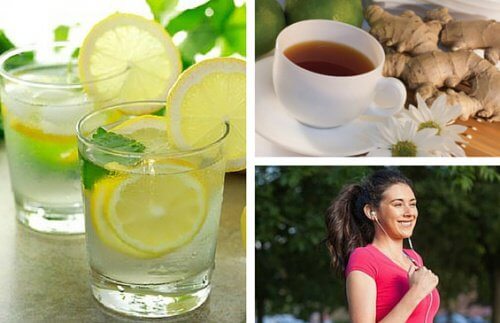 Losing weight is one of the hardest tasks you can take on because it requires a total change in your lifestyle along with constant effort to maintain your results.
When you realize that you've been putting on those extra pounds, you need to apply all of your willpower to help burn fat, trim your figure, and improve your overall quality of life.
Fortunately there are plenty of ways you can achieve your goals in a short amount of time – all it takes is patience and dedication in order to succeed.
If you've been looking for a good way to lose weight and don't know how to do so in a healthy way, pay attention to today's article. We'll share four things you can incorporate into a morning weight loss routine.
Why does the morning matter?
The morning hours are the best time for the body to burn extra fat, but you might be missing out in your rush to get to work, finish cleaning the house, take your children to school, or fighting traffic.
At night, your body is at rest to rejuvenate itself, meaning that by the morning it's ready to face the new day.
From the instant you open your eyes and even through breakfast time, your metabolism is ready to activate and provide your body with the nutrients it needs in order to function at an optimal level throughout the day.
That's why it's a good idea to know how to take advantage of this important time when it comes to weight loss. Are you ready to start your morning weight loss routine today?
Want to know more? Read: 5 mistakes you make in the morning
Your New Morning Weight Loss Routine
1. Get up earlier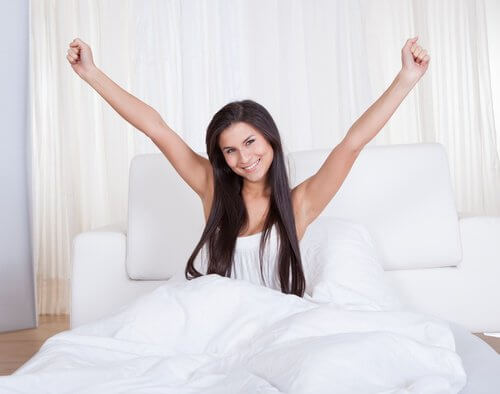 Getting out of bed even just an hour earlier than usual can be a herculean effort, and is one of the things people find the most difficult to achieve.
But if you can manage it, this is an important step when it comes to burning excess fat because you have more time to dedicate to your body before going to work, school, etc.
Just think for a second of all the things you could get done if you incorporate one extra hour into your morning weight loss routine…get a little exercise, have a good breakfast, make a healthy smoothie, and more.
2. Drink something to energize your body
Once you've achieved the first goal, you can start trying some other healthy habits during this extra time that will benefit your body.
The first thing you should do when you wake up is to make a natural beverage that detoxes your body and activates your metabolism.
Warm water with lemon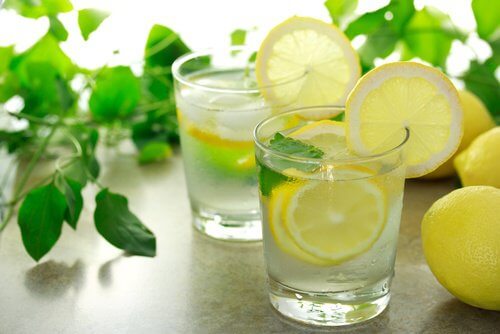 This drink helps purify and cleanse the body, promoting good organ function.
All you need to do is squeeze the juice of one lemon into a cup of warm water. That's it!
Ginger tea
Ginger tea helps reduce inflammation, contains antioxidants, and helps cleanse the body, making it an ideal complement to a weight loss diet.
Add a piece of fresh ginger root to a cup of boiling water and let it steep for 10 minutes. Add a bit of lemon juice before drinking.
3. Get some exercise
After you've enjoyed your early morning beverage, it's time to get your body moving through exercise.
Running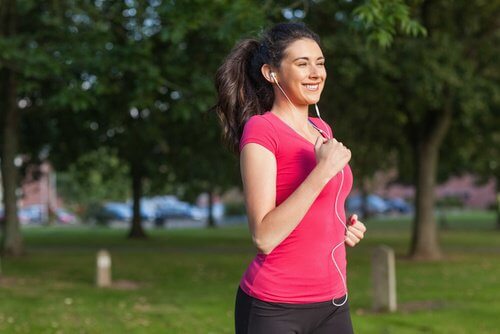 If you're able to, jogging or running for at least 10 minutes is highly recommended.
Walking
If you prefer to walk, try keeping a brisk pace for 20 minutes. If you have a treadmill or stationary bike at home, that's perfect! You can opt for that when the weather doesn't cooperate.
Don't forget to read: Benefits of walking 30 minutes a day
Home exercise morning weight loss routine
To complement your cardiovascular workout, it's a good idea to develop an at-home exercise routine to firm, tone, and shape certain parts of your body.
Some of the exercises you can do include:
Squats
Lunges
Leg lifts
Scissors
Pushups
Stretches
4. Eat a good breakfast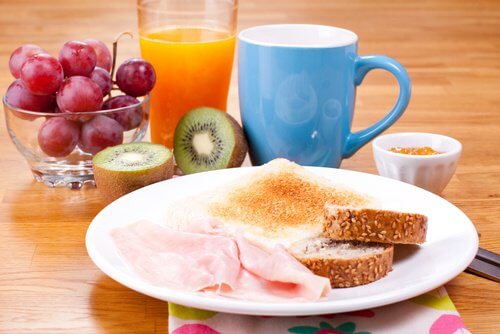 If you're trying to lose weight,
under no circumstance should you ever skip breakfast
– it is possibly the most important meal of the day.
A good breakfast will boost your metabolism and help you feel full, keeping you from eating excess calories throughout the day.
A healthy breakfast should include:
Cereals or grains
Protein
Fruit
Fiber
Plenty of fluids
You should also try to eat slowly, chewing your food well to help your body digest it properly and absorb the beneficial nutrients.