8 Tips and Treatments for Sagging Breasts
To keep your breasts firm and smooth it's important that in addition to doing strength exercises, you choose the appropriate bra and avoid bad habits that can negatively impact them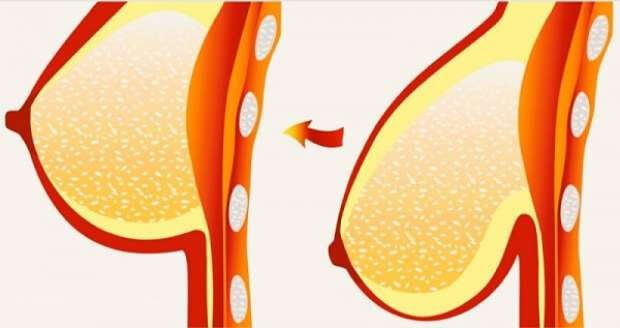 No matter what shape or size breasts you have, they can be one of your most prominent and seductive feminine attributes.
While it's natural that over time they will begin to lose their firmness, many women want to adopt better habits to delay that process.
Thanks to this, there are countless products, techniques, and surgical procedures that have been developed.
Unfortunately, most of them are very expensive and beyond the reach of many of us.
There are, however, plenty of tips and natural techniques that can help you strengthen your breasts and keep them firm and toned.
Today we want to share the top 8 treatments for sagging breasts that you can begin to include in your daily routine. Don't miss out!
1. Localized exercises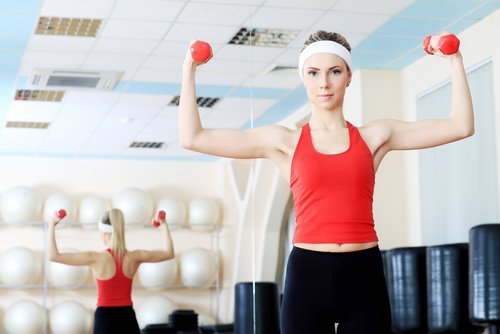 Exercising the muscles around your bust is one of the
best natural ways to keep them looking beautiful.
Although there are many different routines designed for this purpose, we'll share three easy movements you can try:
Pushups
Doing pushups helps you strengthen the muscles of your chest that lie beneath the bust.
This activity helps firm your breasts and reduces any excess fat found in the surrounding tissues.
See also: Exercises to tone your arms
Exercises with hand weights
Exercises with hand weights not only strengthen your bust but also prevent sagging skin around the arms.
With one in each hand, perform a variety of hand weight exercises for five to 10 minutes.
Opening the chest
Hold your hand weights out in front of you with your elbows bent and your arms on each side.
Stretch your arms out in front of your chest, then return to the starting position. Perform three sets of five to 10 repetitions each.
2. Maintain good posture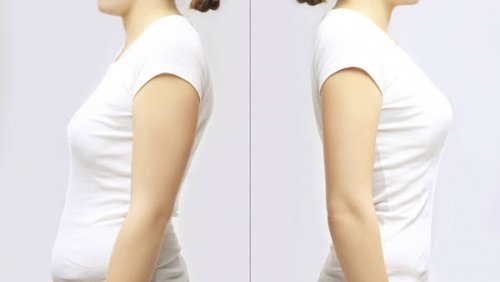 The benefits of having good
posture
go far beyond simply avoiding muscle injuries. Your breasts will immediately become more firm, and your figure will look more svelte.
3. Ice therapy
Ice therapy is a great way to tone your skin and firm your breasts. Be sure to wrap the ice in a cloth so it doesn't come into direct contact with your skin.
Perform a gentle circular massage with the ice on your breasts, carefully applying light pressure.
Do this for five minutes every day to get the best results.
4. Olive oil massage
The use of olive oil not only tones your skin, it also hydrates and improves circulation in the areas where you apply it.
When you use it on a regular basis it will strengthen muscle fibers and break down stretch marks.
5. Natural mask for the breasts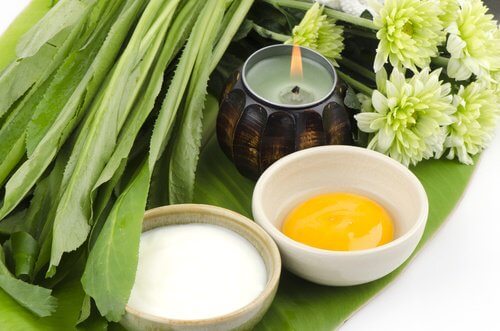 This mask made with all natural ingredients can nourish your skin and prevent breasts from beginning to sag at an early age.
We should note, however, that it's only intended as a complement to regular exercise and good nutrition.
Ingredients
1 tablespoon of plain yogurt (12.5 g)
1 tablespoon of any oil that's rich in vitamin E (15 g)
1 egg
What should you do?
Add all ingredients to a bowl and mix them well with a spoon.
Spread this mask onto each breast using a gentle massage.
Leave it on for 30 minutes before rinsing with cold water.
Try using the mask once a week.
6. Choose the correct bra
There are plenty of different types of bras designed to enhance your breasts and make them look more attractive.
But it's important that you choose the right size and fit, avoiding bras that are too tight or loose.
Visit this article: 5 habits that cause breasts to sag
7. Clay mask for the breasts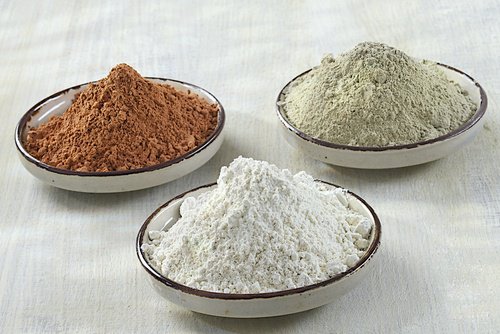 Another treatment you can try at home involves
harnessing the incredible properties of clay.
Ingredients
2 tablespoons of clay powder (20 g)
1/4 cup of water (62 ml)
What should you do?
Mix the water and clay powder until a thick paste forms.
Spread this mask onto the breasts in a thin layer and leave it on for 30 minutes.
Rinse with cold water and use this treatment up to two times a week.
8. Avoid bad habits
There are several unhealthy habits that have been linked with a higher likelihood of experiencing sagging breasts.
Some of the most common are:
Smoking
Excessive consumption of alcohol
The use of tanning beds
Wearing loose bras
Eating a diet that's high in fat
Leading a sedentary lifestyle
Remember that to see any positive results you have to be consistent with your efforts. Absolutely nothing will happen if you try these tips once and forget them forever.