Natural Blueberry and Yogurt Detox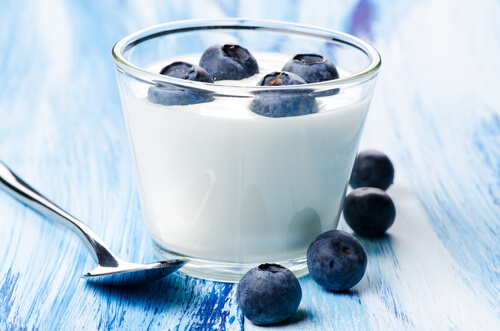 Detoxifying the body is an important process by which many harmful residues can be eliminated, which can be built up and accumulated after having ingested some foods, medications, or ones that the body has absorbed from the environment.
Today, we are going to learn a fantastic blueberry and yogurt detox recipe!
Benefits of Detoxifying the Body With Blueberries and Yogurt
These fruits are truly surprising due to the high quantity of properties and benefits they contain and provide the body with when used as natural detoxicants.
Blueberry juice is a very powerful natural formula that helps protect the body from a large quantity of harmful elements, as well as also helping combat free radicals because it contains polyphenols and flavanoids.
The frequent consumption of blueberries is essential to strengthening the immune system, helping to reduce the risk of suffering from cancer, and above all to prevent all kinds of infections.
For its part, yogurt has many antibacterial properties that help the body to eliminate residues and harmful residues that build up primarily in the stomach.  It is equally important to help rebuild and regulate the intestinal and urigenital flora.
How Should a Detoxifying Diet Be Followed?
As detoxification of the body is such an important procedure, it is sufficiently convenient to choose one day of the week and focus on this task without any sort of interruption, so that you can properly eliminate the toxicants accumulated in the body.
This is quite a simple procedure.  You just have to have a diet based on fruits and vegetables that are rich in antioxidants, and at the same time, you should make sure that the detoxifying blueberry and yogurt element is not missing.
How to Prepare This Blueberry and Yogurt Detoxifier
This natural and delicious drink will help you detoxify the body in an effective, easy, and also timely manner.  The best is to drink it frequently and as much or little as you wish.
Ingredients
2 1/2 cups yogurt
1 cup milk
1/2 cup blueberries
Ice cubes
Procedure
The first thing to do is to add the milk, yogurt, and blueberries to a blender.  Blend for a few seconds at high speed.
Then, add the ice and blend for a few minutes more at high speed.
In this way, you will have a tasty, effective natural detoxifier made of blueberries and yogurt which is also nutritious and delicious.