Lose Weight with These Three Turmeric Recipes
Do you want to lose weight in a healthy way and at the same time reduce your salt intake? Then don't miss out on the following recipes with turmeric we're going to tell you about.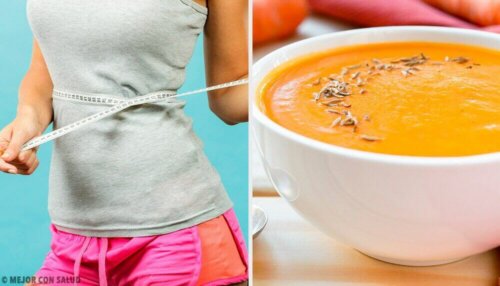 These turmeric recipes include a set of preparations that can help to vary your diet and, in addition, progressively reduce your salt intake. Furthermore, they can also help you lose weight in a healthy way. Are you curious? If so, read on because we'll tell you more about it below.
A brief note about these recipes
Instead of using salt, you'll use turmeric and other ingredients
By reducing the salt, you'll avoid fluid retention and the discomforts that come with it, including bloating
Turmeric is a spice that goes well with a variety of foods and can help enhance delicious stews, sauces, and all kinds of concoctions
It's said that because of its curcumin content, this spice can provide certain health benefits
1. Cream of carrot and turmeric soup
Ingredients
1/2 a ginger root
2 chives
2 medium carrots
4 c. of vegetable broth
1 packet of ground turmeric
½ c. of skim milk
1 tbsp. of coconut oil
Preparation
Firstly, prepare all the ingredients by grating the ginger root and scallion into a powder
Secondly, heat the pan over low heat
Thirdly, add the ginger and turmeric along with the skim milk
Then, add the vegetables (except the carrots) and let them boil
Lower the heat a little and let the ingredients continue to cook
Cut the onions into slices and mix them in with the rest
Cook all the ingredients together for 10 minutes
Lastly, serve and enjoy
2. Lose weight with turmeric and lemon tea
Ingredients
4 c. of water
1 tbsp. of turmeric powder 
1 tbsp. of either honey or lemon juice
Preparation
Firstly, heat the water over low heat in a bowl
Then, add the turmeric powder and stir
Lower the heat and keep it there for 15 minutes while stirring
Then, pass it through a strainer and make sure to strain the excess turmeric from the mixture
Let stand for about 5 minutes to cool a bit
Finally, add the spoon of honey or lemon juice to give it a sweet touch
3. Arugula salad with turmeric vinaigrette
Ingredients
½ a pomegranate
1 ½ c. of arugula
1  large ripe tomato
2 c. of walnuts without shells
2 tbsp. of lemon juice
6 tbsp. of extra virgin olive oil
1 tbsp. of ground turmeric tea
Preparation
Firstly, be sure to wash all the ingredients very well, use some lemon and vinegar to disinfect the greens
Secondly, once the ingredients are ready, place them in a large container, preferably a glass
Thirdly, chop the arugula and tomato into small pieces
Fourthly, remove the inside of the pomegranate and mix it with the tomato and arugula
Then, put the pieces inside the container and immediately add the nuts. However, don't forget to stir.
Prepare the vinaigrette by mixing the oil, lemon, salt, pepper, and turmeric. Then, mix and add the tomato juice.
Sprinkle the salad with the pomegranate seeds and dress it with the turmeric vinaigrette
Finally, if you like, add salt and black pepper and enjoy!
Ready to lose weight without getting bored?
If you're bored with your meals and you want to prepare other dishes in order to lose weight, go ahead! Experiment with turmeric and make delicious dishes. Also, keep in mind that these turmeric recipes can have many variations, so don't hesitate to take advantage of them.
What's important is that you maintain a moderate use of salt, which is the ingredient that usually poses several health risks, according to experts from the World Health Organization.
It might interest you...