How to Use Horsetail to Help with Hair Growth
Although it is more well known for its diuretic properties, horsetail can be a great ally for our capillary health since it helps with hair growth and it gives your hair strength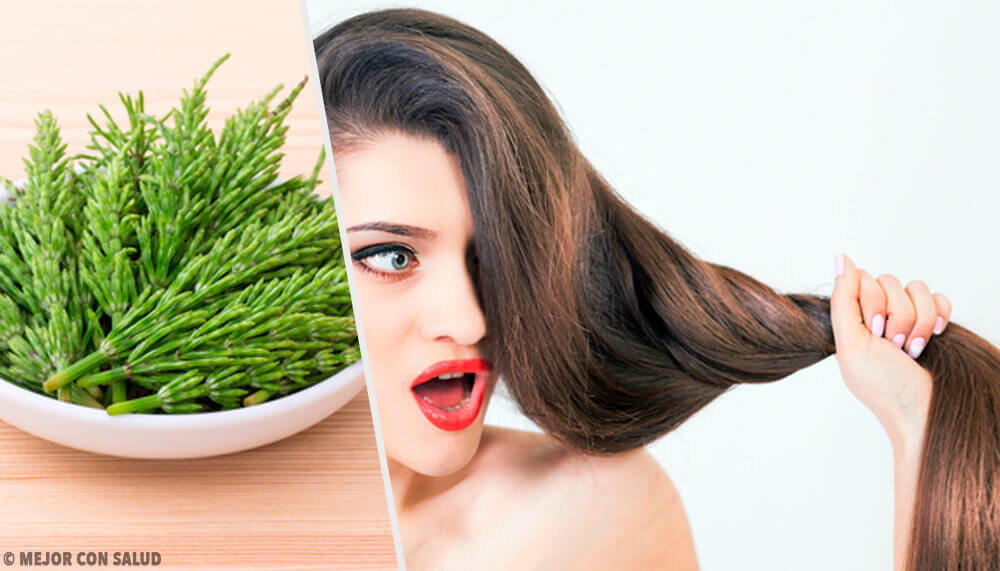 When it comes to style, your hair is a fundamental element. The more voluminous and strong it is, the better. With hair like that, you have more innovative hairstyles available to you.
The importance of our hair is so great that many women are afraid of cutting it because it will take so long to grow it back. Read this article to learn how to use horsetail to help with hair growth.
Hair grows about 1.27 centimeters a month.
Naturally, it's illogical to think that, after a radical haircut, your hair will rapidly return to its original length. That's why you should really think about it before you take scissors to your hair.
However, there are herbs that help with hair growth. Among them is horsetail thanks to its contents of proteins that accelerate the hair growth process.
If you want to help your hair grow quickly, this is one of the best options. It can also prevent the appearance of grey hairs.
How does horsetail help?
Horsetail, or equisetum arvense as it is known in the scientific world, contains a mineral called silicon.
This helps to form collagen and works to strengthen your bones, nails and, of course, your hair.
This mineral doesn't just make your hair stronger, but it also gives it shine and texture. Also, it contains selenium which regulates iodine, the element that is in charge of promoting hair growth.
It should also be pointed out that it contributes to the body in the following ways. Horsetail:
Decreases liquid retention,
Helps with weight loss,
Improves blood circulation,
Helps you prevent kidney stones,
Stimulates urine secretion, a process known as diureses.
So, how do you take the horse tail?
Horse tail tea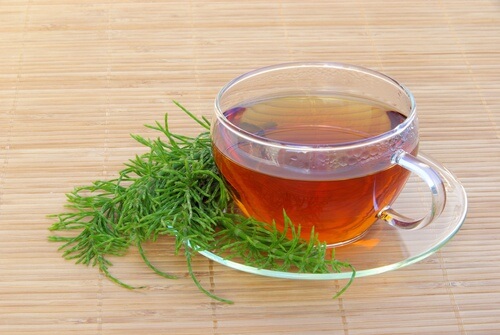 Ingredients
1 cup of water (250 ml)
1 tablespoon of horsetail (10 g)
Preparation
Heat the water and, once it starts boiling, add the horse tail and let the mixture sit for 3 or 4 minutes.
Turn off the flame and let the infusion steep for 10-15 minutes.
How to consume
This is one of the fastest ways that horsetail can take effect and help with hair growth.
However, it needs to be pointed out that, in high quantities, it can dry your hair out, making it weaker.
Note: Consumption of horsetail is not recommended for women who are pregnant or lactating. If you have any cardiovascular problems, you should speak with a specialist before taking this tea.
Horsetail rinse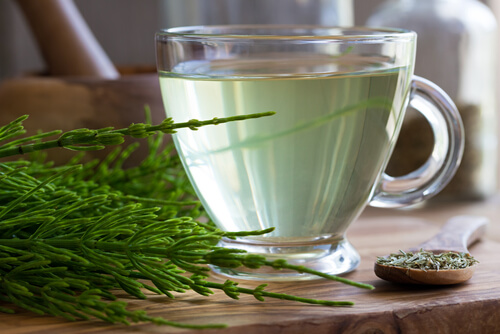 This is a fairly useful product since it can be used up to twice a week without you having to consume the tea version.
Ingredients
3 tablespoons of horsetail (30 g)
1 cup of water (250 ml)
Preparation
Add the 3 tablespoons of horsetail to a cup of hot water.
Let steep for 15-20 minutes.
After that time, apply it to your dry hair and let sit for 20 minutes.
Then, wash your hair out with a lot of water.
The effects can be seen fairly quickly since your scalp easily absorbs the nutrients from this product.
Horsetail capsules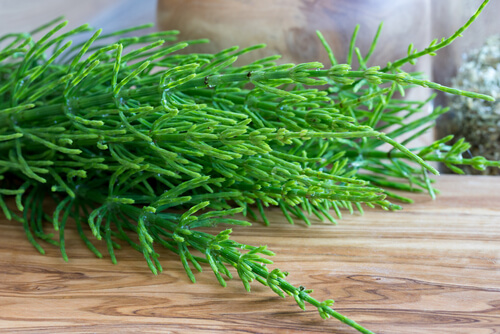 This is one of the simplest ways to get the nutrients from this plant. One horsetail capsule a day will help your hair regenerate more quickly.
The truth is that, with horsetail, you really can develop voluminous and shiny hair in the long run. The most important thing is that you don't use it in excessive quantities.
Patience is important during this process. That way, your hair can adequately regenerate and will look amazing and full of life.
If the properties of horsetail seem interesting to you, you should know that there are still many more uses for it. Among them are the facts that it:
Strengthens nails,
Prevents stomach inflammation,
Purifies the body,
Controls hemorrhages.
As you have seen, it's a fairly versatile plant that has many health benefits for the human body. Therefore, we recommended that you incorporate horsetail to help with hair growth.