Can Apple Cider Vinegar Help You Lose Weight?
Did you know that apple cider vinegar can be a great ally in fighting hunger and reducing snacking between meals, which will result in weight loss? Learn more in this article!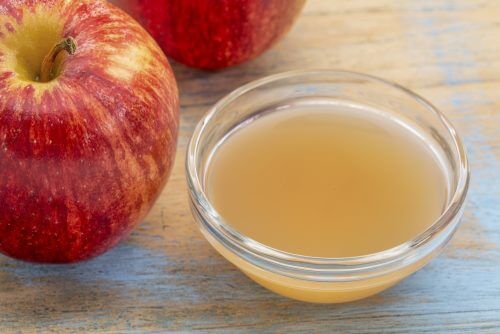 Apple cider vinegar is a product with multiple health benefits. It is currently coming back "in style" as a natural remedy and can be a great tool for those who would like to control their weight.
Some properties of apple cider vinegar
Thanks to its acetic acid, apple cider vinegar is an excellent intestinal cleanser that helps us treat constipation.
The bacterias that can cause gas and other pains in our bodies cannot survive after contact with apple cider vinegar.
Those people that suffer from slow digestion, or the tendency to bloat, will notice a change for the better with this remedy.
This natural remedy can help us lose volume and decrease our feeling of heaviness.
Another important benefit of this vinegar is its high percentage of potassium, which helps control our pH levels. 
Because of this, we get relief from the feelings of exhaustion, dizziness, cramps, etc. At the same time, it has a depurative effect with an added bonus of minerals.
So, the general feeling is that of greater lightness and clean digestive health.
How do I take apple cider vinegar?
Ingredients
1 teaspoon of apple cider vinegar (5 ml)
1/2 cup of water (100 ml)
Preparation
Add the teaspoon of apple cider vinegar to the half cup water and mix well. If it is too strong, you can sweeten it with a little honey or sugar.
Remember that this only works with apple cider vinegar; that from wine does not have the same properties nor does it give us the same benefits.
Some dangers of the vinegar
Vinegar as a treatment possesses a few dangers. It is important to take it with many precautions.
In other things, vinegar can interact with other medications and be very dangerous for patients with various illnesses, such as diabetes.
In any case, when using vinegar, it is necessary to dilute it with water so that its effects on our bodies are decreased.
Acetic acid contains a very aggressive compound that can potentially be very dangerous.
Likewise, vinegar has the ability to damage the enamel of your teeth, causing burning in the mouth and esophagus.
It can also be inhaled inadvertently, arriving at the lungs which can cause serious damage
Benefits of apple cider vinegar
We can take it as an ideal complement for our diets, although it should only be taken sporadically
As we have already stated, apple cider vinegar is ideal for the fight against weight gain.
Apple cider vinegar can also decrease your appetite. If we take a few tablespoons before each meal, we will notice a decrease in hunger and a decrease in the urge to overeat.
It is an ideal product for skin care. This vinegar helps increase hydration and the recuperation of the elasticity of our skin.
Thanks to its component of Vitamin A, apple cider vinegar has many positive effects when it comes to relieving dry skin and all of the mucous membranes in our bodies, especially those in our eyes.
Those who follow diets and complain about dry skin will find this product to be a great help.
Taking apple cider vinegar on an empty stomach
When our body goes the entire night without food, it quickly absorbs the first thing that goes into it when we wake up.
Because of this, taking apple cider vinegar on an empty stomach can be very beneficial, but again, we are going to remind you to only take it in moderation.
Apple cider vinegar on an empty stomach will produce the following results:
Stimulates the detoxification of the colon
Helps to control the balance of the lymphatic system, while also contributing to the blood flowing without obstacles
Allows for a decrease in arterial pressure, bad cholesterol (LDL), and triglyceride levels.
Apple cider vinegar on an empty stomach also prevents the contraction of blood vessels, as it increases nitric oxide levels
Lastly, it helps us achieve alkaline balance, which is fundamental for counteracting the effects of heartburn that comes from our daily foods