Five Colon Cleansing Detox Salads
Detox salads are one of the most popular colon cleansing choices. These recipes are healthy, nutritious, and taste great.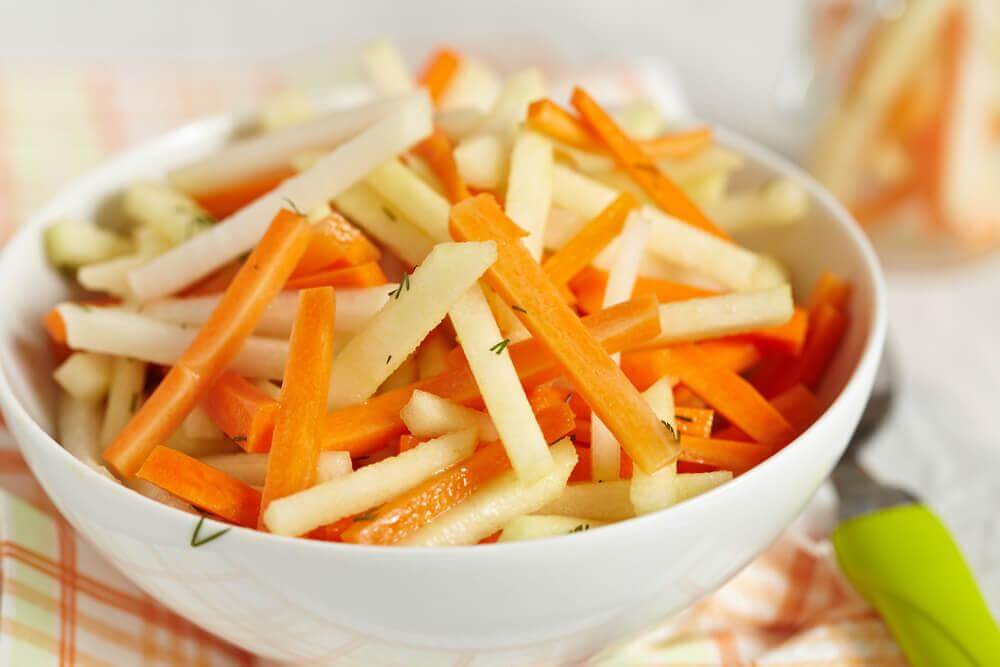 More toxins and fewer nutrients are the outcome of a digestive system that not functioning properly.  These five detox salad recipes that cleanse your colon, fight these conditions. This means that they'll eventually improve your physical performance and mood. When the body isn't eliminating waste as it should, you may experience a toxic megacolon.
Here are a few problems with this medical condition:
Being obese or overweight
Fatigue
Allergies
Premature aging
Constipation
Chronic diseases
As a result of an eating disorder, the digestive system becomes unable to break down food, the absorption of nutrients decreases, and toxins accumulate. A detox plan consists of cleansing the body through food.
A detox diet helps organs cleanse themselves. Apples, blueberries, walnuts, coconut, chia seeds, cabbage, and broccoli are perfect ingredients for detox salads. The goals consist on promoting a pH balance in the body, flushing out the buildup of harmful substances, and cleansing the colon and other organs.
Colon Cleansing Detox Salad
Ingredients
Olive oil
1 beet
½ a cabbage
1 carrot
1 lemon
Herbs (parsley, basil, oregano) (optional)
Salt
Preparation
Cut the beet, carrot, and cabbage into small pieces.
Season with the herbs.
Add lemon juice and then olive oil.
Add a pinch of salt and serve.
Carrot and Apple Salad
Ingredients
4 large carrots
1 stalk of celery with the leaves
2 small red apples
1 small onion
1 stem of cilantro
½ cup of raisins (60 g)
5 whole walnuts
Dressing Ingredients
3 tablespoons of lemon juice (45 ml)
2 tablespoons of linseed or sunflower oil (30 ml)
1 teaspoon of honey (7.5 g)
¼ teaspoon of spicy curry (2 g)
1 teaspoon of ground ginger (5g)
Preparation
Peel and grate the carrots after washing them.
Wash the apples, cut them into quarters, and remove the seeds. Grate with the thick part of the grater.
Add the finely chopped celery stalk, along with some leaves.
Add the finely chopped cilantro, sliced onion, chopped nuts, and raisins. Mix everything well in a bowl.
Prepare the dressing by mixing all the ingredients in a bowl.
Pour over the salad and stir well.
Spinach and Orange Salad
Ingredients
4 cups of spinach (120 g)
4 oranges
Alfalfa sprouts
Dressing Ingredients
1 orange
½ of a red bell pepper
1 celery stalk
Preparation
Wash the spinach, oranges, and alfalfa sprouts and cut them into small pieces. Set aside.
For the dressing, crush the peeled orange with the red pepper and previously chopped celery.
Pour over the salad and mix well.
Arugula Salad
Ingredients
1 orange
1 bundle of arugula (80 g)
2 small sweet pears
½ a pomegranate
Silvered almonds
Dressing Ingredients
½ of a squeezed lemon
1 tablespoon of honey (25 g)
3 tablespoons of olive oil (45 ml)
Preparation
Wash the arugula, remove the thick stalks, and let drain.
Lightly roast the almonds in a pan without oil (on low heat). Set aside.
Wash, peel, and cut the orange and sweet pears into small pieces.
Place the arugula in a bowl and add the oranges, pears, and roasted almonds.
For the dressing, pour the 1/2 squeezed lemon, honey, and olive oil into a bowl and stir until they're well mix.
Pour over the salad and stir well.
Vegetable and Fruit Salad
Ingredients
Spinach, lettuce
½ a cabbage
1 artichoke heart (optional)
Corn grains
1 apple
½ a broccoli
1 handful of almonds
2 avocado slices
Juice of ½ a lemon
Olive oil
Preparation
Cut the vegetables, apple, and avocado into small pieces and place in a bowl.
Add the corn grains and almonds.
Season with lemon juice and a little olive oil.
It might interest you...