Dyshidrotic Eczema: Everything You Need to Know
Dyshidrotic eczema is a condition that originates inside the body, although it's often associated with stress and allergies.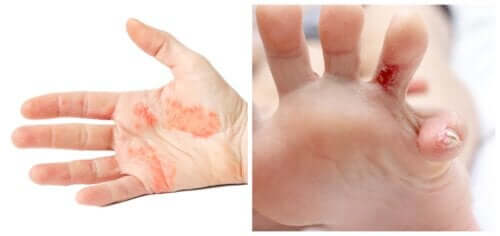 Dyshidrotic eczema, also known as dyshidrosis, is a type of skin inflammation that appears on the hand and feet in the form of small liquid-filled blisters. In many cases, the condition is chronic, is not contagious, and can include outbreaks as well as periods of remission. Often, dyshidrosis is seasonal, causing more outbreaks during spring and summer.
The cause of this skin disorder is internal, meaning it originates within the body. In fact, it's often associated with factors like stress and allergies. While it often appears for the first time in individuals between the ages of 15 and 30, it can affect people of any age or gender.
The causes of dyshidrotic eczema
Experts are unsure of the exact cause of dyshidrotic eczema of the hands and feet. However, they do know that certain factors can increase a person's chances of developing the condition. Among these factors, we can mention the following:
What are the symptoms of dyshidrotic eczema of the hands and feet?
This condition tends to appear first between the fingers and then extends to the palms of the hands. It can also appear on the soles and sides of the feet. At the same time, it's uncommon for dyshidrosis to appear on the back of the hands or the armor or other parts of the body.
The symptoms of dyshidrotic eczema of the hands and feet:
The evolution of dyshidrotic eczema of the hands and feet can vary. Often, it disappears on its own in just a matter of 3 or 4 weeks, though it tends to reappear. After a period without lesions, the following episode may last for weeks or even months.
The treatment of dyshidrotic eczema of the hands and feet
To date, scientists have yet to discover a treatment that's capable of providing a definitive cure for dyshidrosis. However, there are ways to treat and control outbreaks. In that sense, the treatments that those who suffer from this condition can apply to find relief are the following:
Recommendations for controlling outbreaks
Below, we'll provide a series of recommendations that may help keep outbreaks of dyshidrotic eczema of the hands and feet under control.
Given that stress is one of the factors that contribute to and worsen dyshidrosis, try to find ways to manage stress as best as possible. With that in mind, besides the above suggests, it's a good idea to keep stress, anxiety, and nervousness under control. For example, by practicing sports of applying relaxation and breathing exercises.
Yoga, tai chi, and medication can also be very helpful, so give them a try!
It might interest you...