Delicious Breakfasts for Losing Weight without Going Hungry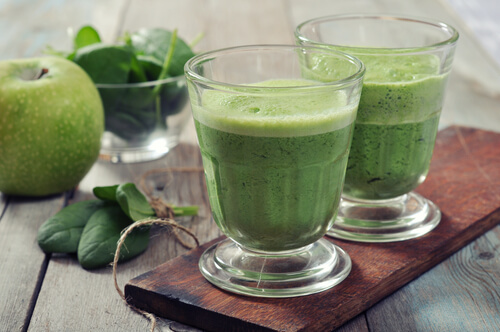 As the old saying goes, you should eat breakfast like a king, lunch like a prince, and dinner like a pauper.  And yet, breakfast is generally the meal that most people skip. In this article, we are going to explain how to prepare three delicious breakfasts, all of which are very healthy and complete.  Even though they are very nutritive, they also help with weight loss thanks to their fiber content.  What's your favorite?
Green smoothie
The healthiest and most effective way to lose weight is not to skip meals nor reduce your calorie intake too much, but to choose healthy foods that are rich in fiber and which are satiating.  That's why we are going to give you these ideas for delicious breakfasts for people whowant to lose weight but that don't want to go hungry throughout the morning: a green smoothie.
Although the name might surprise you, it tastes delicious and if you aren't very hungry when you wake up, you could also take it to go and drink it throughout the morning.  In order to make it, you will of course, need a blender.
Ingredients
Tender and fresh spinach or corn salad recipes
Half of one avocado
Half of one ripe banana
One glass of a plant based beverage (rice or oatmeal preferably) or unsweetened apple juice
1 tsp. linseed
Lemon zest
Agave nectar, honey, or purified stevia extract
Blend your ingredients until making a creamy texture.  If you want it to be more liquidy, add a little bit more of the beverage.  You could also change the ingredients according to the season and your tastes, adding or changing the nuts, seeds, beverage or fruit.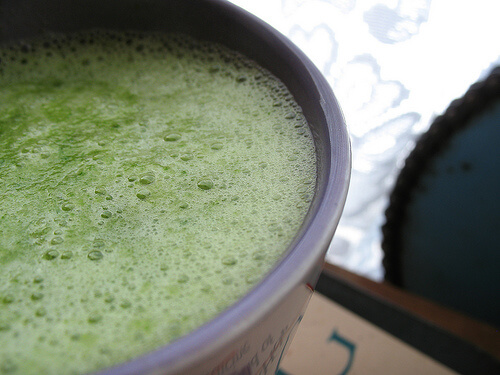 Budwig cream
In this case you need a very complete breakfast that will give you energy for the entire morning, which is why we're choosing the famous Budwig cream.  This recipe was created by Dr. Kousmine, that provides everything the body needs for the morning.
Ingredients
4 Tbsp. white ricotta-style cheese, or half of one plain yogurt.
2 Tbsp linseed oil
Lemon juice
2 tsp. nuts or raw and blended seeds (sesame, sunflower, pine nuts, walnuts, almonds, etc.)
1 tsp. honey or cane sugar
1 Tbsp. pollen
3 tsp. grapes or 2 dried figs
3 dates
2 tsp. raw and ground oatmeal, or oats that have been soaked over night
How to prepare it
Beat your cheese or yogurt with the oil, add the lemon juice and the remaining ingredients.  You could also add some fresh fruit and accompany it with a digestive infusion.
If you don't digest lactose products very well, you could substitute these for 3 tablespoons of a nut cream (almonds, oats, etc.) without sugar.  You can find these in dietary stores.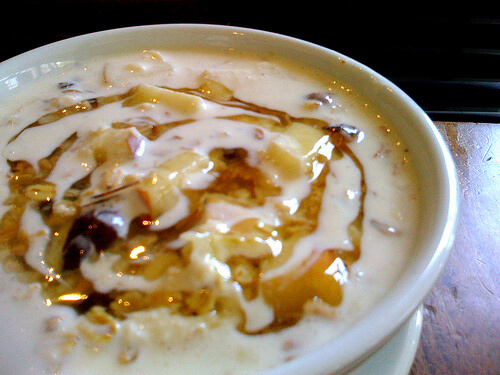 Sunday breakfasts: Saracen crepes
Everyone likes to make exceptions and give in to a few cravings, but if it is also healthy, you'll enjoy it twice as much.  So we suggest preparing crepes, but with wheat saracen flour or buckwheat.  These are frequently used in France and they have a high fiber content and is easily digested.  This recipe is also great for celiacs because it doesn't contain any gluten.
This grain helps fight obesity, depression, diabetes, and cardiovascular diseases.
Ingredients (for 8-12 crepes)
1 1/2 c. saracen flour
1 tbsp. sea salt
1 c. cold water (200 ml)
1 egg
Olive oil
Directions
Mix the water and salt
Add the flour little by little and mix until creating a smooth dough.
Add the egg and beat into the mixture.
Allow the dough to set in the fridge for 1 to 2 hours, at which time it will be ready to cook.
Fry in a pan with a bit of oil, on both sides, just like normal crepes.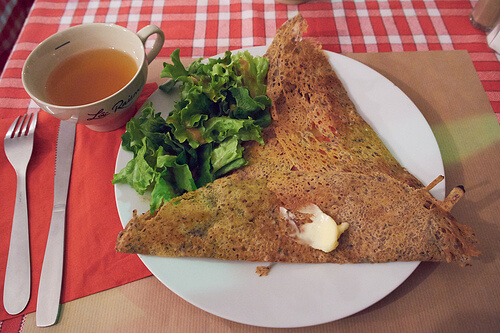 To keep this a health breakfast, we recommend not using any creams or sugar, and choose one of these options:
Sweet crepes
Pure, bitter cocoa, honey and yogurt
Apple, dates and walnut preserve
Light orange, orange zest, and powdered cinnamon jam
Savory crepes
Egg, lettuce and mayonnaise
Guacamole and queso frescho
Arugula and smoked or marinated salmon
Photos courtesy of artfulgourmetnyc, neil conway, Chinkerfly and vanessayavonne