Avocado Smoothie to Lose Weight and Gain Muscle
This avocado smoothie is an excellent source of healthy fats that are great at helping you lose weight while at the same time encouraging muscle growth when accompanied by exercise. Give it a try!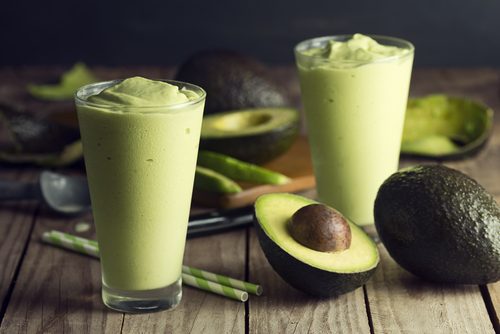 For those who wish to lose weight without being hungry all the time and build muscle more easily, we recommend trying this avocado smoothie. It's rich in vitamins, minerals, protein, healthy fats, and fiber.
Next, we'll talk about how to make it and also tell you about its many benefits for your health.
How can I lose weight and gain muscle?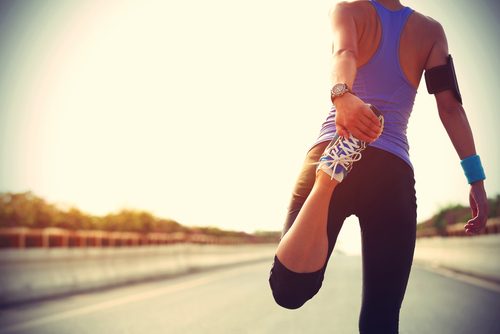 If you have the double goal of losing weight while gaining muscle, you'll have to focus on your diet and physical activity.
Firstly, your diet should be rich in high quality vegetables and protein. Don't forget healthy fats, too. Far from being fattening, these fats speed up your metabolism and calorie burning.
Secondly, you should regularly exercise at a medium level of intensity, two or three times a week, alternating or combining strength training and cardiovascular exercise.
You'll be able to achieve this double goal while at the same time always keeping your focus on being healthy, having energy, and maintaining a good mood.
Avocados
Over the last few decades, weight loss diets have usually been low-fat and low-calorie. But in the last few years the surprising role of healthy fats has started to be understood.
They are not fattening and actually activate your metabolism so that your body burns more energy.
However, it should be made clear that this only happens with natural, unprocessed fats, like extra virgin coconut oil, nuts, seeds, and avocados.
Avocados also have high levels of vitamins, minerals, fiber, and protein.
Protein is what helps you gradually get a more toned body without harming your body.
The benefits of green smoothies
To lose weight and gain muscle mass in a healthy way, you must increase your consumption of:
Green leafy vegetables like celery, arugula, watercress, spinach, lettuce, beet greens, etc.
High-quality protein
Healthy fats
You'll find all this in green smoothies, which have become very popular.
These smoothies can make a convenient, healthy, nutritious, and delicious breakfast or snack, since you can add all kinds of different natural ingredients without compromising flavor.
Avocado smoothie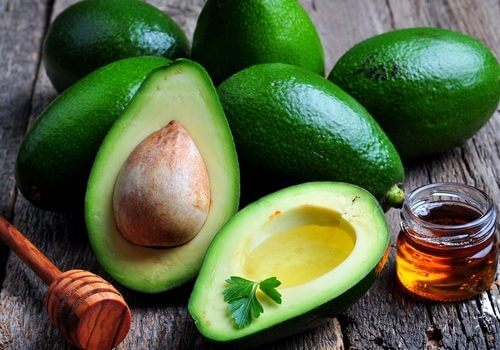 Ingredients
1 medium-sized, ripe avocado
A handful of raw leafy greens
1 fruit (ripe banana, pear, apple, or pineapple)
1 cup of water or vegetable milk (rice, oat, spelt, or almond) (200 ml)
You can sweeten the smoothie with a little bit of stevia, honey, or raw sugar.
Likewise, you can add many different healthy and nutritious ingredients to lose weight and add muscle, such as:
Prunes
Powdered maca
Hemp protein
Pea protein
Extra virgen coconut oil
Preparation
Peel the avocado and add to the blender along with the leafy greens, fruit, and liquid of your choice.
Blend well, at least a minute or two, until it's smooth and lump-free.
The texture will be creamy and thick, so if you like, you can add more liquid if you want it to be more drinkable.
Though the fruits add some natural sweetness to the avocado smoothie, you can sweeten it a little more, though you should always avoid white sugar.
When should I drink it?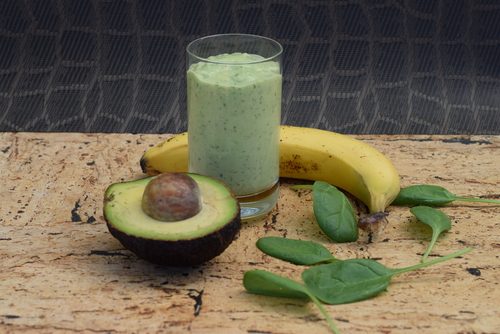 Drink the smoothie daily for a month to really notice its benefits.
Choose any of these times of day:
In the morning for breakfast, without any other food. But if you're still hungry, eat something solid, at least 30 minutes afterwards.
As a snack. This is a great option for people who get hungry before dinner. This way, you won't be starving at dinnertime, since the smoothie is so filling.
At least an hour before exercising. It'll give you all the energy you need, and it's also easy to digest, so it won't cause problems.
Right after exercising, within a half hour. This is the most effective time for building muscle mass.