Simple Ways to Remove Sweat Stains from White Clothes
Sweat stains not only make your clothing look bad, they're also really hard to remove. Try one of these simple tricks and see how your clothes look almost like new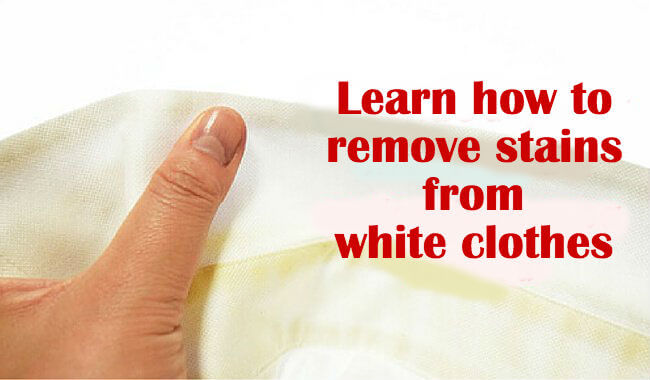 Most people like white clothing because it goes with everything and can match nearly any style.
But some people prefer not to buy it because they know that over time, those awful sweat stains will appear and be difficult to remove.
That's why a lot of times white clothing gets donated or thrown away because they think it's not possible to return it to its original appearance.
While water and detergent aren't enough to remove sweat stains, there are some natural products that can help you clean white clothes without damaging the cloth.
In today's article we want to share an easy way to do this without spending your money on expensive chemical products. Find out more!
Natural whitening with baking soda, salt, and vinegar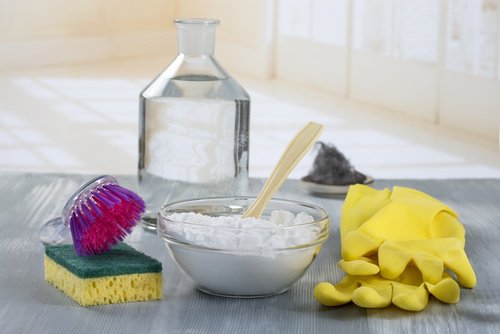 Thanks to their properties these three natural ingredients can
penetrate white fabrics to remove those yellow stains caused by sweat.
One of the great advantages over conventional cleaning methods is that it won't damage your fabrics and is also friendly to the environment.
We also suggest that you add a little hydrogen peroxide to eliminate even the toughest stains.
Ingredients
1 cup of vinegar (250 ml)
1 1/2 cups of baking soda (210 g)
1 tablespoon of salt (10 g)
1 tablespoon of hydrogen peroxide (10 ml, optional)
See also: 15 interesting uses for vinegar
How do you make it?
The first thing you need to do is add your article of clothing to a bowl filled with the vinegar and some hot water.
Leave it to soak for 20 minutes to reduce the majority of the unwanted stain.
In a separate bowl, mix the baking soda, salt, and hydrogen peroxide until you have a paste.
Remove the garment and wring it dry until it is just damp.
Spread this paste on the stain and rub it carefully, being sure not to put too much pressure on the clothing fibers.
Leave this on for 20 minutes before rinsing.
Finally, wash your article of clothing as you would normally and allow it to air dry.
Other tricks to remove sweat stains from white clothing
While the above tactic is very effective at removing most stains, some other tricks are excellent alternatives.
White vinegar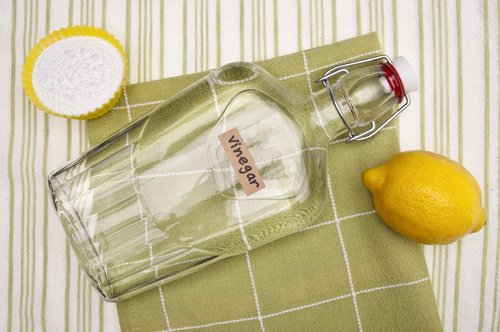 White vinegar on fabric not only removes stains from perspiration, but also those caused by the chemical compounds found in deodorants.
How should you use it?
Dilute half a cup (125 ml) in a liter of water and soak the article of clothing for 40 minutes before rinsing as usual.
Repeat this process if necessary.
Lemon juice
Lemon juice is one of the most widely used organic ingredients when it comes to green cleaning.
The antibacterial and whitening qualities of lemons can greatly reduce yellow stains and odors in clothing.
How should you use it?
Squeeze some lemon juice directly on the stain.
Leave it on for 40 minutes before washing with your regular detergent.
Slices of lemon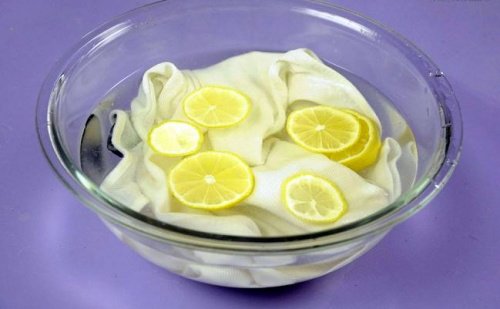 Another way you can take advantage of the benefits of lemons is by cutting them into slices
. The peel also contains essential ingredients that can help enhance the appearance of white clothing.
How should you use it?
Cut a lemon into several slices and place them in a bowl of water.
Add a teaspoon of hydrogen peroxide (10 ml) and soak the article of clothing for 45 minutes to an hour before rinsing.
Wash your garment as you would normally.
We recommend you read: 7 ways to use lemons for beauty
Baking soda
A simple paste made with baking soda can serve to eliminate stains from sweat or deodorant.
It will not only remove stains, but also soften your clothing and prevent bad odors.
How should you use it?
Make a paste with 10 g of baking soda and a little water and rub it anywhere you have sweat or deodorant stains on your clothes.
Leave it on for 20 minutes before rinsing.
Salt and rubbing alcohol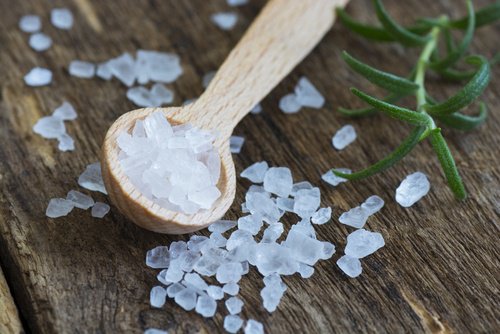 The simple combination of
salt and rubbing alcohol can help whiten any yellowed areas on fabric.
How should you use it?
Dilute two tablespoons of salt (20 g) in half a cup of rubbing alcohol (125 ml) and rub this onto the stain using an old toothbrush.
Let it sit for 30 minutes before rinsing.
To remove the entire stain you may need to repeat the process multiple times.
The success you have with these treatments may vary depending on the type of fabric and severity of the stain. Sometimes you may want to try multiple applications to get the best results.