The 6 Best Home Remedies to Alleviate Swollen Legs
Alleviate swollen legs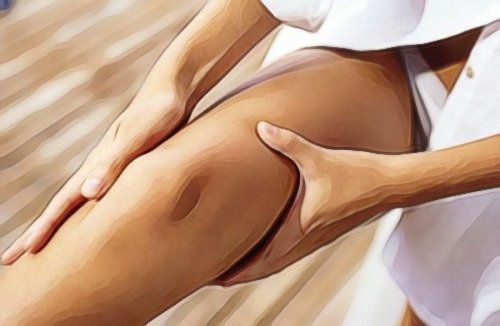 The majority of people have experienced swollen legs and the sensation of heaviness in their legs at least once. On occasion, this comes with the sensation of  "pins and needles, " numbness and difficulties in walking.
This is a very common symptom that usually affects women. This is related to problems of fluid retention, stress and circulation. Also, this can be a sign of more serious problems such as arthritis, edema or thrombosis.
Given that this can affect your quality of life, it's essential to pay attention and provide proper treatment. Luckily, there are some natural remedies that reduce the inflammation and other symptoms associated with this.
In this article, we want to share the 6 best remedies for swollen legs with you.
Check them out!
1. Apple cider vinegar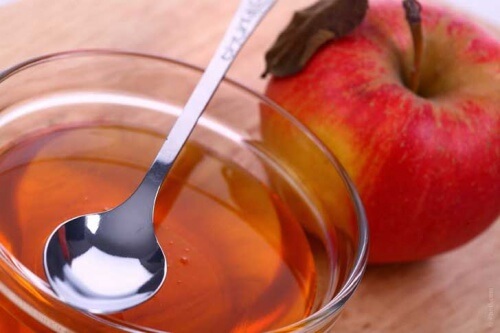 Apple cider vinegar has anti-inflammatory properties and it's a relaxant. This reduces the pain caused by swelling.
Ingredients:
1/2 cup of apple cider vinegar
6 slices of apple
What to do
First, dip a clean cloth into the vinegar and apply it to the affected areas.
Put some slices of apple on top of this and let it sit for 20 minutes.
After this time, remove it and  rinse the area with warm water.
Repeat this every night until the inflammation is under control.
Read this:  5 tips to relieve leg cramps
2. Mint
The properties of mint are a great help in the treatment of problems that affect the legs. Its direct use improves circulation, controls fluid retention and helps prevent the formation of varicose veins. 
Ingredients
2 tablespoons of mint
1 quart of water
Instructions
First, bring the water with the mint in it to a boil and allow it to boil for 10 minutes.
Then, apply to the affected areas with a soft cloth.
Do this every night before going to bed.
3. Hibiscus water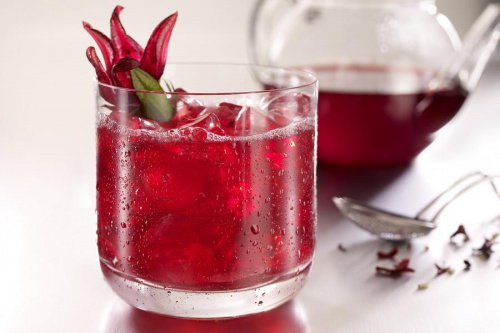 Consuming hibiscus water daily is one of the most effective ways to prevent and combat swollen legs.
This is drink with diuretic properties.  Thus, drinking this reduces edema, poor circulation and the accumulation of toxins.
Ingredients
6 hibiscus flowers
1 quart of water
Instructions
First, add the flowers to the water and boil for 10 minutes.
Then, turn down the heat and wait until it is cool enough to drink.
Drink 3 glasses a day.
4. Epsom Salts
Baths with Epsom salts are one of the classic remedies for swollen legs, feet and ankles.
This product relaxes the extremities, calms muscular tension, and stimulates blood circulation to balance out the inflammatory processes.
Ingredients
1/2 cup of Epsom salts
Warm water
Directions
Add the Epsom salts in plenty of water and soak your legs for 15 minutes.
Repeat this every night, especially after a very tiresome day.
5. Aloe vera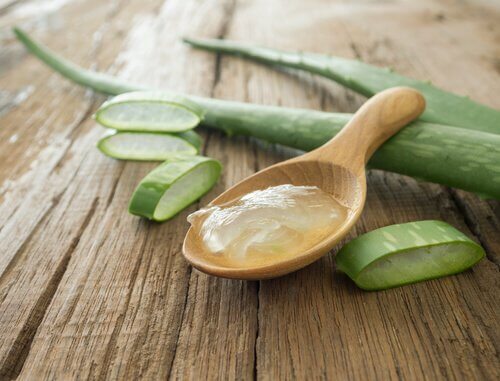 Aloe vera is a plant that has crystals with multiple medicinal benefits.  There just are as many internal benefits as external benefits.
What stands out is the powerful anti-inflammatory action, that when applied, decreases pain and tension.
It contains diuretic substances that minimize fluid retention and other ailments the affect the lower extremities.
It's also excellent for stimulating the blood, which is good for diminishing varicose veins and spider veins.
Ingredients
2 tablespoons of aloe vera
1 tablespoon of coconut oil
Directions
First, liquefy the aloe vera crystals and the coconut oil.  Use this mixture to massage your legs for 10 minutes.
Optional:  You can also add a couple of tablespoons of the pulp in you juice or glass of water to take advantage of the internal properties.
Repeat this until the your legs are better.
See this article: 5 tips to avoid fluid retention
5. Horse Chestnuts
Using horse chestnuts is one of the most effective alternative treatments to diminish inflammation of the lower extremities of the body.
Its extracts are anti-inflammatory and protect the arterial walls. They also facilitate the elimination of fluid in tissues.
Ingredients
1 tablespoon of horse chestnut shell
1/2 cup of lavender oil
1 tablespoon of horse chestnut peelings
Instructions
First, put the lavender oil in a double boiler. Then, add the chestnuts and heat for 20 minutes on a low setting to combine well.
Then, when ready and at a tolerable temperature, rub this over the affected areas by massaging in circles.
Repeat this every day.
As you can see, there are many natural ingredients that can help to relax the legs before we have problems such as swelling.  Nevertheless, take into account that relief isn't always immediate and it requires several applications.