Zucchini and Garlic Soup for Your Immune System
This delicious zucchini and garlic soup contains properties that help to stimulate your immune system. In addition, it's low in calories and can be a great addition to your weight-loss plan.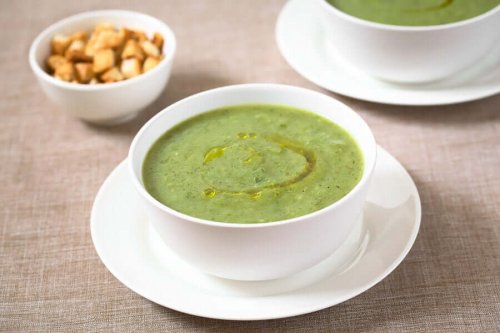 Did you know that you can stimulate your immune system with zucchini and garlic soup? Although there are plenty of other ways to increase your body's defenses, once you make this dish, it will soon become of your favorites! It's very low-calorie, full of nutrients, and delicious. You can't miss out on this one!
Zucchini and garlic soup: what you should know about its ingredients
Zucchini and garlic soup is part of the Mediterranean recipe book. Additionally, many vegans and vegetarians include it in their diets. However, you don't have to be on a special diet to enjoy it. If you want to, you can make it to accompany your lunch or dinner.
To make this zucchini and garlic soup you'll use many healthy ingredients like potatoes, onion, and basil.
Before we get started, we want to show you all the benefits of its two main ingredients. 
The benefits of zucchini
Zucchini is a type of cucurbit, a plant family that includes melons, pumpkins, and cucumbers. They are often considered to be vegetables, but botanically they are actually fruits. In any case, they are food that is full of nutrients that provide important health benefits.
For many years zucchini has been commonly used as a complement to alleviate colds, improve digestion, and reduce certain types of pain. Additionally, due to its vitamin, mineral, and antioxidant content, it's one of the best foods to strengthen your immune system.
The nutritional properties of zucchini
Zucchini contains a wide variety of vitamins, minerals, and other components that are beneficial for your body. In fact, every cup (223 grams) of cooked zucchini contains just 17 calories. 
Overall, this food is a source of:
Vegetable protein
Fat
Complex carbohydrates
Dietary fiber
Vitamins A, C, B6, and K
Minerals like manganese, potassium, magnesium, copper, and phosphorous
The benefits of garlic
Garlic belongs to the genus Allium, along with the onion. It's a bulb made of several segments, known as "cloves". For many centuries it has been used in cooking since it improves the flavor and aroma of foods.
However, it has also been the foundation of many natural remedies, since it has positive effects on the prevention and treatment of many illnesses. For example, due to its allicin content, it strengthens your immune system and reduces the risk of infection. It also promotes cardiac health and helps to improve circulation.
Among other things, eating garlic (especially raw) regulates blood pressure, promotes control of blood glucose, and strengthens cognitive functions. So, regular consumption of garlic is an excellent way to promote well-being. 
Some of its main nutrients are:
Minerals like manganese, selenium, calcium, potassium, copper, and iron
Vitamins B1, B6, and C
A small quantity of vegetable fiber
Vegetable proteins
Complex carbohydrates
Recipe for zucchini and garlic soup
Zucchini and garlic soup is the perfect dish to support the treatment of common illnesses like colds and the flu. Since it can boost your immune system, it's perfect for increasing your defenses and accelerating recovery from those infections.
Of course, you don't have to wait to be sick to enjoy this dish. If you like, you can make it occasionally for lunch or dinner.
Follow the steps below to make this delicious recipe!
Ingredients for zucchini and garlic soup
2 medium zucchinis
2 heads of garlic
Extra virgin olive oil
2 potatoes
1 onion
4 cups of vegetable or chicken stock (1 liter)
Salt and pepper to taste
Fresh basil
Preparing zucchini and garlic soup
To start, pour a little olive oil into a large pot or frying pan.
Next, finely chop the onions and garlic and add them to the pan.
Then, add the potatoes and cook for a few minutes.
Add the vegetable or chicken stock and salt and pepper to taste.
Let it boil for 30 minutes, and then let it sit off the heat.
Once it cools a little, blend it all and then add the chopped zucchini.
After that, let it simmer for 20 minutes until the zucchini softens.
Finally, serve it sprinkled with freshly chopped basil.
What do you think of this zucchini and garlic soup?
If you want to take advantage of its many benefits, don't hesitate to try it! It's very easy to make and you can enjoy it with your whole family.
It might interest you...