Get Younger Looking Skin With These 5 Natural Treatments
Staying hydrated, eating a balanced diet, using the right products for your skin type and giving it a little TLC from time to time can help you have younger and healthier looking skin.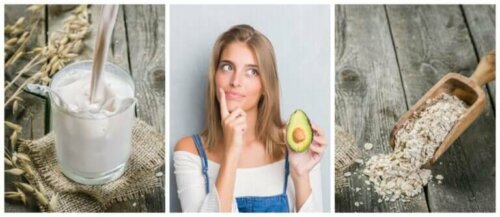 People often want younger looking skin, especially if it's starting to look dull and dry. This can quickly make us look tired, which is exactly what we want to avoid.
Having younger looking skin isn't simply a question of applying products that are rich in vitamin E or Q10. You need to learn how to maintain healthy lifestyle habits, and start paying attention to all the little day-to-day actions that can have a huge impact on your appearance.
Home remedies for younger looking skin
In this next section, we want to show you some home remedies that you can use to give your skin a little extra TLC and rejuvenate it naturally.
1. Oat skin treatment
Oat milk can help to cleanse, tone and reduce swelling, even if you tend to have sensitive skin.
The following facial treatment can be mixed with a little oatmeal to create a hydrating and rejuvenating face mask.
Ingredients
2 tablespoons of honey (50 g)
1/2 a cup of oat milk (125 ml)
Directions
Combine the oat milk with the 2 tablespoons of honey.
Carefully apply the mixture to your face. You can use a brush to help you.
Leave it to sit for 15 minutes and then rinse.
2. Papaya treatment for younger looking skin
According to one study, the nutrients in papaya peel extract can help to moisturize skin. Remember, papaya is a great source vitamins A, C, and E, as well as antioxidants that rejuvenate and moisturize skin.
While further evidence is still needed, experts continue to explore the different potential uses of papaya and other foods in the creation of skin care products.
Ingredients
1 slice of papaya
1 Tbsp. of honey (25 g)
Instructions
First, mash the papaya slice.
Then, mix the papaya puree with the honey.
Gently massage the product over your skin.
Leave it to sit for 15 minutes.
Finally, remove with warm water.
3. Banana treatment
Bananas contain moisturizing and repairing compounds that can help your face look new again. Topical application fights small wrinkles and lines that appear around the eyes, neck and chest.
Ingredients
1 ripe banana
1 Tbsp. of honey (25 g)
2 Tbsp. of water (20 ml)
1 Tbsp. of oatmeal flour (10 g)
2 Tbsp. of cream (20 ml)
Instructions
First, mash the ripe banana into a creamy paste.
Add the two tablespoons of cream, the honey, and the oatmeal flour.
Add two tablespoons of water and mix to your liking.
Spread the product over your face, neck and chest.
Let it sit for 30 to 40 minutes, then rinse.
Repeat twice a week.
4. Orange peel mask treatment for younger looking skin
Although most people simply throw them away, orange peels have essential oils and active ingredients that can benefit the skin.
Citric acid, vitamin C and antioxidants can reduce oxidative stress and boost skin health, helping it look young, clean and healthy.
Ingredients
1 orange peel
Water (however much you need)
1 Tbsp. of coconut oil (15 g)
2 Tbsp. of garbanzo flour (20 g)
Instructions
Firstly, dry out the orange peel. Once dry, grind it into a fine powder.
In a bowl, mix it with the garbanzo flour, coconut oil, and a bit of water.
Once blended into a thick cream, spread it over the areas you want to treat and allow to work for 20 minutes.
Remove with warm water.
Check out this article too:
5. Avocado treatment
Avocados are one of the most inexpensive remedies for rejuvenating sin.  Their essential oils moisturize skin and help maintain its natural pH.
They're recommended for dry or sensitive skin. According to popular belief, they can also help to reduce the appearance of blemishes, scars, and superficial burns.
Ingredients
1/2 ripe avocado
1 Tbsp. of honey (25 g)
3 Tbsp. of cooked oatmeal (30 ml)
Instructions
Scoop out the flesh from the avocado.
Mix it in a blender with the tablespoon of honey and the cooked oatmeal.
Wash your face and apply a thin layer of the mixture.
Leave for 20 minutes, then rinse.
Finally, rinse with lukewarm water.
Repeat twice a week.
Things to remember
Before you use any of these home remedies, be sure to consult a dermatologist. Remember, every skin type will react to ingredients differently, and it's important to take your individual needs into account in order to choose the right treatment for your particular case.
If a professional authorizes the use of one or more of these treatments, try to follow their recommendations carefully while maintaining a healthy lifestyle.
Remember, not all skin is the same. For example, the skin around the eyes is much more delicate than the skin on the rest of the face, so it's best to avoid applying skincare products to this area.
Remember that hydration and nutrition are also really important when it comes to caring for your skin.
There are a number of ways to get younger, healthier and more radiant looking skin. You shouldn't rely one just one product, or the treatments mentioned in this article.
It might interest you...