Check Out The Wonderful Properties of Chickpeas
Chickpeas are chock full of vitamins, minerals, and fiber. Read more below to learn about the properties of chickpeas and how they increase your health.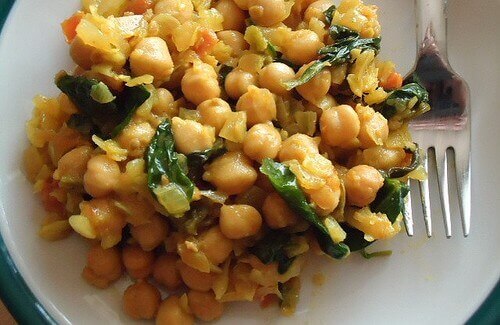 Chickpeas are one of the main ingredients in Oriental and Middle Eastern cuisine. Containing a great variety of nutrients, including fibers, proteins, and vitamins, this fantastic legume can be found in stores and supermarkets in their whole form (raw or cooked), or in already-processed flour form.
Let's learn about some of chickpeas' health-giving properties as well as ways to use them in dozens of different dishes. 
Chickpeas nutritional information
One portion consisting of 100 grams of chickpeas cooked without salt carry carbs (sources of energy), dietary fiber (great for cardiac and digestive health), proteins, fats. In addition chickpeas also offer plenty of Vitamins A, B6, C, E, and K, calcium, phosphorus, potassium, zinc, magnesium, iron, and sodium.
The two principal benefits of chickpeas
Since it contains dietary fiber, chickpeas serve to reduce the levels of bad cholesterol in our blood, which in turn diminishes arterial pressure and the quantity of triglycerides. Therefore, it can reduce the risk of heart attack, cardiac diseases, and cerebrovascular accidents.
On the other hand, its components are also excellent for digestive help, increasing the size of feces. For example, for people suffering from diarrhea, there is nothing better than a plate of chickpeas to stabilize and strengthen the intestines. In turn, it helps to prevent and treat hemorrhoids.
Other advantages associated with chickpeas consumption
People with iron-deficiency anemia can count on chickpeas to increase their iron levels, as iron is one of the principal components of this legume. They are also recommended for people who do a lot of sports or exercise and spend a lot of this essential mineral in physical activity.
Chickpeas are also a great source of potassium, which makes them great for circulation, the regulation of arterial pressure, and also recommendable for some people who suffer from hypertension.
They can also help prevent rheumatic ailments and arthritis as well as cramps.
Also,
Diabetics can also consume chickpeas and take advantage of their benefits, because thanks to their high levels of zinc, they allow the body to absorb and store insulin. This mineral is wonderful as well for general physical growth, strengthening the immune system, the creation of scabs and healing of injuries, and the metabolization of proteins. Zinc also helps to combat fatigue, and is responsible for transporting Vitamin A to the eye's retina.
Those who struggle with constipation should also consume chickpeas for their high levels of fiber.  Chickpeas are also great for controlling obesity and preventing colon cancer.
Thanks to the folic acid content of this legume, it is also a great food for pregnant women or women who are nursing. It can also help people who smoke or drink alcohol to better absorb Vitamin B9.
Finally, it is well-known that chickpeas' Vitamin K content helps improve blood's ability to coagulate and the metabolism of bones.
Easy recipes with chickpeas
If you are interested in incorporating chickpeas' many nutrients into your diet, you can try the following recipes:
Hummus: this is the most well-known Middle Eastern specialty featuring chickpeas. Put one cup of cooked chickpeas, two chopped cloves of garlic, cumin, olive oil, chopped parsley, salt, and the juice of one full lemon into a bowl. Add a bit of water and blend, in a food processor if you have it. Once transformed into an even paste it is done. In order to serve, pour a little more olive oil and some powdered chile pepper on top. It can be eaten as a dip with pita bread or vegetables (or both!) and makes a delicious appetizer
Falafel
Chickpea bites (falafel). Put a cup of chickpeas in a bowl and leave them overnight. Cook until boiled. Separately, mix an onion, two cloves of garlic, cilantro, pepper, cumin, and chile. Blend the boiled chickpeas in a blender or with a hand mixer and allow to chill in the fridge for an hour. Taking small amounts, form them into balls to be cooled in vegetable broth.
Burgers
Polenta and chickpea hamburgers: cook and puree the chickpeas. Boil water with salt and prepare the polenta. When it is almost fully cooked, add the chickpea puree. Add one grated carrot and onion. Let cool and place in a tray for one hour. Mold them into hamburger form and then fry with a bit of vegetable oil or in the oven.
We hope you liked our article, for more information on health and remedies click below!
It might interest you...