What Are the Risks of Knee Surgery?
Knee surgery is generally a safe procedure. However, as with all surgery, there are some risks. We'll share the risks of knee surgery.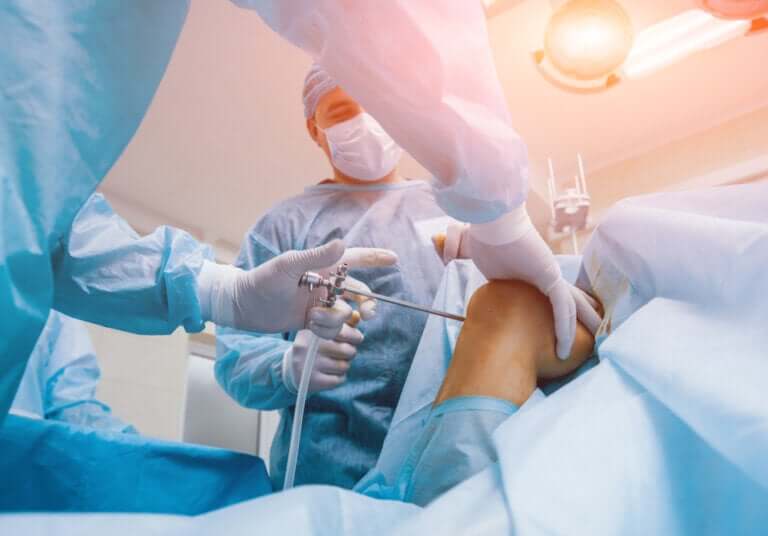 In some cases, knee surgery is the only option when it comes to treating or resolving issues with this joint. This procedure can carry some risks and it's generally only considered if there's no other alternative. So, what are the risks of knee surgery?
Knee problems tend to show up in young people because of sports or as a consequence of work-related activities. In older people, knee pain is usually the result of degeneration caused by aging.
Pain in this joint can seriously affect mobility and our quality of life. In these cases, it's common to get knee surgery in order to solve the problem. Also, if the knee is significantly injured, there's no other option but to operate on it.
Types and risks of knee surgery
There are several types of knee surgery. Each one is specific to the needs and conditions of each patient.
Total or partial replacement: This is the most common type of knee surgery and involves removing the joint and replacing it with a prosthetic. The prosthetic is typically made of plastic, ceramic or metal parts. This type of surgery is done when there's irreparable damage to the knee.
Arthroscopy: This is a minimally invasive knee surgery that removes or repairs the damaged menisci, a cruciate ligament, or trims pieces of torn cartilage. In addition, it's also useful for performing synovectomy, which is the removal of the joint's lining.
Osteotomy: This is for when there's damage to only one part of the knee. In this operation, the surgeon will modify the shape of the bones and reposition them to avoid weight being put on the affected part. Also, they'll do this when a break in the joint still hasn't healed completely.
Risks of total or partial replacement
In most cases, partial or total joint replacement is very effective in solving knee problems. Like any surgical intervention, there are some risks. The following are the most common:
Thrombus formation: This is the most common complication. The surgeon always takes precautionary measures which generally include blood-thinning medication, leg elevations, exercises, and compression stockings.
Infection: About 2% of patients contract an infection in the two years following this knee surgery. You can prevent these infections by taking antibiotics during or after surgery.
Osteolitis: This is the breakdown of the bone next to the implant and usually requires surgical intervention.
Implant fracture: This is a rare complication that can be prevented by avoiding excessive or inappropriate physical activity.
Others: In very rare cases, you may have an allergic reaction to the implant's metal. Improper implant placement can cause dislocations or an outside force could cause parts to loosen or shift.
Risks of arthroscopy
Arthroscopy has very few risks. This is because, as we've already noted, it's a minimally invasive knee surgery. Some of the complications that could come from it are:
Anatomical damage: Cartilage, ligaments, tendons, or other structures can suffer damage as a result of surgeon error or because of the patient's anatomical abnormalities.
Infection: This complication is very rare and antibiotics can help control it.
Limited movement: This is usually temporary and is very rarely permanent.
Thrombi: Surgeons will try to prevent their formation using anticoagulant measures, as we previously mentioned.
Complications with anesthesia.
Injury to the arteries, veins or nerves: If these complications do occur, they're minimal and almost never serious.
Risks of osteotomy
Osteotomy is a rare type of surgery. It involves removing or adding a wedge of bone in the tibia or femur to remove weight from the damaged area of the knee. 
These are some of the risks:
Infection: In the bone or soft tissue around it. You can use antibiotics to treat it.
Joint failure in the bones: This usually requires further surgery.
Nerve or blood vessel injury: These injuries can vary in severity.
Partial pain relief, but not total.
Knee stiffness. 
As you can see, although knee surgery carries some risks, you'll be able to see an improvement and return to normal life. However, the patient needs to get adequate rest and follow their doctor's instructions in order for that to happen. 
It might interest you...