What Are Plaque Disclosers?
Bacterial plaque revealers are used to improve dental hygiene. In this article we tell you what kinds are available, as well as how and when to use them.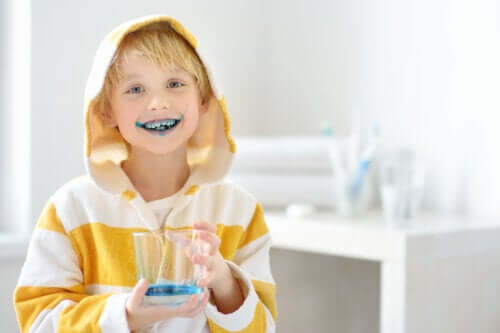 Maybe you're not sure what plaque disclosers are used for and how to use them. In this article, we'll tell you everything you need to know about these substances that stain the biofilm on your teeth.
Bacterial plaque, also called biofilm, is a thin, translucent, sticky film formed by bacteria and sugars that build up and adhere to tooth surfaces. When it forms, it may not be visible to the naked eye.
If it's not properly removed by brushing, it accumulates, turning yellowish white and giving the area a rough texture. It mostly builds up on the necks of the teeth and around orthodontic appliances, two areas that are difficult to access during dental hygiene routines.
The presence and buildup of plaque can cause several problems in your mouth, such as cavities, gingivitis and bad breath, among others. That's why it's so important to get rid of it completely. This is where plaque disclosers come into play; they can be a great help when it comes to dental hygiene.
What are plaque disclosers?
As already mentioned, when plaque forms on your teeth it's transparent; this makes it difficult to see and can make the tooth falsely appear clean. Plaque disclosers are substances that stain the biofilm to make it visible. In this way, it's easier to remove.
Knowing where the plaque is makes it possible to know which areas of your mouth need more attention, and thus improve your hygiene techniques. These agents are very useful in preventive routines and as motivation about the importance of oral care.
Characteristics of plaque disclosers
Plaque disclosers contain special dyes that color the biofilm red, pink or purple to make it visible. They're made with different substances such as erythrosine, fuchsin, sodium fluorescein, phloxine or malachite green, among others.
They come in different presentations, which we'll detail below. The main characteristics of effective plaque disclosers are:
Easy to use.
Don't irritate the mouth.
Biocompatible and water-soluble.
Don't sting the gums or contain allergens.
Pleasant taste.
Color contrast: the intensity of the color should vary to distinguish between new and old plaque.
The coloration lasts long enough.
Easy to remove after use.
Types of plaque disclosers
As already mentioned, there are different types of plaque disclosers on the market. This means you can choose the most suitable option for your particular needs. Here we'll tell you about the most common.
Chewable tablets
These are tablets that you chew until they dissolve completely. As saliva that your mouth has produced circulates, you should rinse 3 or 4 times with water. Then take a look at your teeth.
They stain the plaque red. In addition, there are the well-known two-tone tablets, which stain the oldest plaque blue and the most recent violet-red.
Nowadays they're not so widely used because the color stays on the teeth for a long time. In addition, it's difficult to stain the entire oral cavity; their effectiveness depends on the patient's skill in using them.
Gel discloser
This type of plaque discloser is for professional use. Dentists use it in their clinics, applying it with microbrushes or sponges.
It's very useful to determine a patient's risk of cavities. The gel stains the different forms of plaque in three different shades:
New: red-pink color
Mature or old: blue
Acidic: light blue
Disclosing liquid
This is a very easy-to-use home method. Place 2 or 3 drops of the product in your mouth, move your saliva over all your teeth for one minute and then rinse to remove the excess.
It comes in two types:
One-color: stains all plaque a single color.
Two colors: it stains mature plaque blue and more recent plaque red.
In addition to staining the teeth, it colors the tongue and gums, so it's best to use it before going to bed. Dentists also use a photosensitive liquid in their clinics.
The latter is different as it can only be seen when lit up by a light-curing unit. The advantage is that no residue is visible at the end of the visit.
Rinses
These are one of the most popular plaque disclosers for home use because they're very convenient and easy to use. Just rinse with 2 teaspoonfuls at home before brushing your teeth, like a dental mouthwash.
Rinse for 30 seconds and after spitting it out, you'll see the stained plaque.
How to use the plaque disclosers
We've already talked about how to use each of the different kinds of plaque discloser. With all of them the idea is to mix the coloring substance in with your saliva so that it gets distributed around all tooth surfaces.
The time you need to keep it in your mouth will be stated on the package and in some cases you'll need to rinse with water several times to remove the excess. Then you'll be able to see the stained tooth surfaces, which shows you which areas you need to pay a bit more attention to reaching with your brushing.
You should brush thoroughly until all the stained areas are gone. After you finish, you'll need to rinse again several times to remove all the dye. It's best to use it at night, before going to bed, because your tongue and gums may also be stained.
When should you use them?
We've already talked about the purpose of plaque disclosers: so that you can see that film of bacteria that builds up on tooth surfaces and is invisible to the naked eye. This makes it easier to clean your teeth, as you can see what areas need to be cleaned.
They can be used before brushing to show which areas you need to concentrate on. The discloser guides your technique so you brush thoroughly and correctly.
Alternatively, you can use them after brushing as you usually would. This allows you to evaluate the effectiveness of your brushing and see which areas you need to pay more attention to.
In addition, plaque disclosers are a product that motivates people to take more care when brushing. Especially in the case of children, who may not understand the importance of brushing something that looks clean. They also add a little fun and playfulness to dental hygiene.
Both children and adults can use them and they work on the surfaces of natural teeth and on restorations, dentures, orthodontic appliances and implants. They're very useful for orthodontic patients to visualize the plaque that accumulates around braces; it's often difficult to get the brush into all the little spaces between and behind them.
A good addition to your dental hygiene routine
Now you know what plaque disclosers are all about. And although you don't need to use them every day, visualizing the places where bacteria accumulate will allow you to improve your oral hygiene.
Your dentist will be able to advise you on how to use them and at what times. They're easy to find in pharmacies and you can choose whatever type you prefer.
It's worth thinking about this aid for proper dental hygiene. You already know that good oral health care prevents many diseases and gives you a radiant smile.