What Are Clear Aligners?
Clear aligners are innovative orthodontic devices. They're very attractive because they're more aesthetic than traditional braces. In this article, discover everything about them!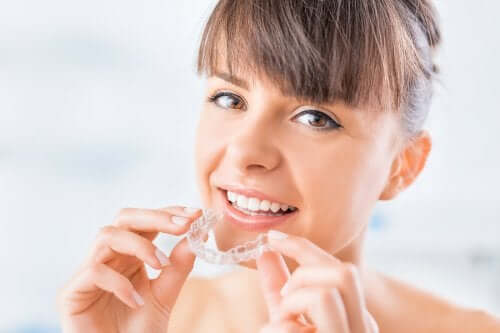 Clear aligners are orthodontic devices that consist of transparent dental braces used to adjust your teeth. They're very innovative and attractive because they're more aesthetic than traditional braces that usually cover most of the tooth. But what exactly are they? What are their advantages? Find out in this article!
What is orthodontics?
Orthodontics is a branch of dentistry that studies, prevents, and treats abnormal size, position, and shape of our teeth and jaws.
It aims to correct these alterations to achieve optimal oral health and harmony between the smile and correct teeth alignment.
Orthodontists usually resort to different devices to correct teeth. The most commonly used devices are braces. The latter are metallic or ceramic structures which dentists attach to the teeth in order to correct their positioning.
Above them, orthodontists place different types of archwires of different thicknesses. These archwires allow patients to move their teeth as they generate frictional forces with the braces.
Thanks to scientific advances, orthodontics has come a long way and has managed to perform these movements through invisible aligners that are embedded in the teeth. Thus, they're practically unnoticeable.
Orthodontics is a treatment that helps correct maxillofacial structure disorders.
What are clear aligners?
They're an orthodontic treatment that makes use of invisible braces called aligners. To plan these treatments, the orthodontist needs to make a mold of the patient's teeth, as well as a 3D representation of the teeth and a computerized model of the current and desired teeth positions.
The aligners are made of 0.5 mm thick thermoplastic material, which means they're barely noticeable. To assist teeth movement, apart from the clear aligners, orthodontists adhere little transparent balls called splints to the teeth.
The splints help the aligners make the movements they were planned to make. They'll need to be substituted with the other aligners in 10 to 15 days. In addition, treatment ranges between four months to two years, depending on the degree of correction each patient requires.
It's important to know that this type of orthodontic treatment can't solve all problems. It's recommended for small adjustments, correction of rotation, etc. Orthodontists recommend traditional braces for people who require a lot of correction.
Advantages of clear aligners
It's a very aesthetic treatment.
They avoid friction, wounds, and sores that traditional braces and archwires may cause. Thus, it's a more comfortable treatment for patients.
It allows for better hygiene. Patients have to remove the aligners before brushing, which allows them to brush their teeth normally, as if they didn't have braces. Brushing with traditional braces is more difficult, resulting in plaque buildup near the gums that causes gingivitis and often gum inflammation.
Dentists create the aligners using a mold of the patient's teeth, meaning that treatment is fully customized.
By allowing better hygiene, patients run less risk of cavities, gingivitis, and staining.
For small adjustments, clear aligners achieve the same results as traditional braces. In fact, in some cases, the results can be far quicker than with traditional braces.
Clear aligners draw attention because it's a more aesthetic treatment than traditional braces.
Disadvantages of clear aligners
Patients have to wear the aligners for at least 20 hours a day to achieve the desired effect. They can only remove them before eating and brushing.
If the patient doesn't wear the aligners due to carelessness, the treatment may take longer and this can even worsen the condition.
Patients with bruxism wear down the aligners a lot more, meaning they need to be changed more often.
Clear aligners are more expensive than traditional braces.
Both children and adults can use this treatment. You should always keep in mind that orthodontics is a secondary treatment to other oral pathologies, meaning that you must first take care of fillings, dental cleaning, root canals, and other oral health problems.
Conclusion
Clear aligners are an innovative orthodontic treatment. They allow patients to achieve their desired results and ensure improved aesthetics and comfort.
By predicting the treatment with 3D software, orthodontists can be much more accurate in the treatment, as it allows them to control the patient's evolution a lot more.
It might interest you...