Weight Loss and Liver Cleansing Smoothies
Smoothies made with natural ingredients (like fruit and veg) can not only help your gastrointestinal system function properly, but can also help you to lose weight.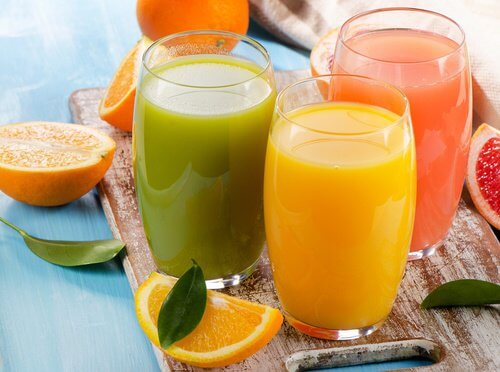 Natural smoothies are becoming one of the healthiest (and easiest) ways to satiate your appetite, and resist the temptation to eat candy, snacks, drinks and processed foods. In short, they can encourage you to improve your eating habits, helping you lose weight and improve your health. In this article, we'll show you some of the best smoothies to start this new stage in your life.
By combining the properties of different types of fruit and veg, these drinks promote gastrointestinal transit, and the expulsion of retained fluids and built-up waste. In turn, they help reduce inflammation in the abdomen. In doing so, they can also help you lose weight.
However, you have to keep in mind that, for these smoothies to be effective, you'll need to drink them as part of a healthy lifestyle. There's not much point in drinking natural smoothies if you're going to lead a sedentary lifestyle, eat an unhealthy diet, and maintain other bad lifestyle habits.
Ideal smoothies to help you lose weight healthily
Lemon, parsley and celery smoothie
Green, leafy vegetables like celery and parsley are known to provide the body with essential vitamins, minerals and antioxidants that are really beneficial to your general health.
By combining celery and parsley with lemon juice, you can create a healthy twist on classic lemonade. You'll need:
Ingredients
1 lemon
5 stalks of celery
1 cup of water (250 ml)
1 cup of chopped parsley (45 g)
Preparation
Squeeze the lemon to obtain the juice.
Wash, drain and chop the celery.
Wash and drain the parsley. Then, dice it as finely as possible. 
Place all the ingredients in a blender and blend to produce a smooth mixture.
Serve and drink in moderation.
Papaya and lemon smoothie
Papaya contains an enzyme known as papain, which helps to improve your digestion and improve liver function.
Or, as explained by experts at the Spanish Nutrition Foundation "[papain is a] proteolytic enzyme, similar to the pepsin found in our gastric juices. It has the ability to digest food proteins, and is responsible for softening the hard pulp of the papaya. Sometimes, it is even incorporated into certain meat broths."
Ingredients
1 small papaya
The juice from half a lemon
Water (as necessary)
Preparation
Squeeze the lemon to obtain the juice.
Cut the papaya into small cubes. 
Place all the ingredients in a blender and blend until smooth.
If it's too thick, add a little water and blend it again. If it's too runny, add a little more papaya.
Serve and drink in moderation.
Carrot and red cabbage liver cleansing smoothies
Another ideal smoothie to help you lose weight in a healthy way is this carrot and red cabbage recipe.
Because this smoothie has a fairly strong taste, some people sweeten it by adding fruit (like an apple, a banana, or a few cubes of fresh pineapple). Others choose to add a little ginger and, instead of blending it with water, add a valerian infusion.
Ingredients
6 carrots
3 leaves of red cabbage
Water (as needed)
Optional: 1 apple or banana
Preparation
One hour in advance, soak the carrots in water. This helps to hydrate them.
Wash with plenty of water and drain the ingredients well.
Peel the carrots and then cut them into slices or small cubes.
Place all the ingredients in a blender and blend until smooth.
If you want, you can add a few ice cubes. 
Serve and drink in moderation.
We recommend you also read:
Beet and cranberry liver cleansing smoothies
This last weight-loss smoothie recipe contains cranberries. They're rich in antioxidants, which help keep the body healthy.
Ingredients
1 beet
The juice from 1 lemon
Ice cubes (to taste)
1/2 cup of cranberries (100 g)
Preparation
Wash, drain and squeeze the beet to obtain the juice. Set the juice to one side.
Blend the cranberries, lemon juice and ice cubes in a blender until well mixed.
Add the beet juice to the mixture and blend for a few seconds until smooth.
If you want, you can also add a touch of honey to sweeten it a little. 
 Serve and drink in moderation.
Final tips
Instead of adding water to your smoothies, you could use mild teas instead (mint, pennyroyal, ginger, cinnamon, chamomile, valerian) to produce more interesting results.
Avoid adding sugar or sweeteners in general. If you decide to add some honey, do so in moderation.
Drink these smoothies as part of your breakfast or as a healthy snack, but never as a substitute for a main meal.
If you have doubts or questions about how to improve your eating habits and lose weight, consult your doctor or nutritionist.
It might interest you...